Perfect Strangers Series: Shiraz, Iran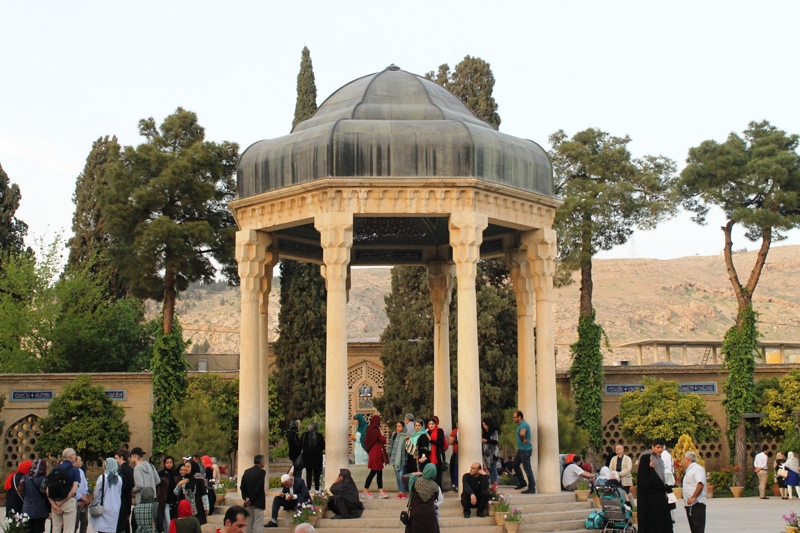 It was my last day in Shiraz. My plan to see zurkhaneh, a traditional Persian gymnasium, on  that day could not be fulfilled  as it was not open.  So  I decided to spend my relaxing day arranging my next trip to Kashan, a city about a two-hour drive from Isfahan.  I already had my Shiraz-Isfahan bus ticket. But my Kashan leg trip was still open.
Everyone was out, only Maryam's mother and I were at home. In the morning she was already busy in the kitchen preparing  breakfast for us. I asked her if I could help her. She said that it was not necessary. Although she spoke in Farsi, I could understand her words by her gesture. I helped her make the table anyhow. 
 It was only her and me that sat on the table for breakfast. While eating she said that she always spent the time just by herself when everyone was out of the house. I actually loved to make conversation with her, but my lack of Farsi prevented me from doing so.  
Again, we had  a big breakfast like yesterday. She kept offering me to take the dishes on the table. I told her that her home-made food was  perfectly delicious. After finishing breakfast, I helped her a bit although she didn't let me.
Having Siesta
I spent my morning between checking emails and making phone calls. It was a clear morning so  I went outside the house to see what kind of trees were planted in the house garden.  In the springtime, the leaves were blossoming. It was green everywhere. 
I still didn't find a place to stay in Kashan as all historic bed and breakfast were fully occupied. I was not surprised if historic bed and breakfast had been the  favorite  spots for tourists.  It was just not my lucky day. After some research, I could find a homestay in Kashan. Although it was not my ideal solution, that was my last  option as I really wanted to see the historic houses again in the city. When I visited Kashan in 2014, I fell in love with its historic houses. Therefore when I had the chance to come back to Iran, I decided to see those houses again. The homestay owner in Kashan would arrange a car and a driver to pick me up from Isfahan bus terminal. I was relieved that I could find a place to stay in Kashan and my transportation arrangement was done.  So now I could pack my luggage. 
While in the yard, I saw Maryam's mother was picking up some leaves from a bush. She was preparing a dish for lunch using the herbs from the garden. Oh, my stomach was still full from  breakfast and she would offer another big meal soon.
I was right, by midday she called me for lunch when I was outside, "Iji, let's eat!"  I ended up joining with her on the table. Staying at Maryam's house for a few days, I learnt about Iranian home-made food. Her mother always came up with something new on the table. When I asked about the names of the food, she would answer and gladly explain about them. Unfortunately my memory for foreign words was not so good, so I forgot their names now. I saw fresh leaves on the basket, they were just picked up from the garden. Again, it was a mouth watering lunch.  Later on, Maryam's elder sister came and joined for lunch as we were about to finish. 
For the first time on my trip in Iran, I had siesta and it was good. My bus from Shiraz to Isfahan would depart at midnight and I was sure I would not  sleep well in the bus. 
I was ready when Maryam got home. As planned, we would go to Hafez tomb. I was happy  to visit the tomb for the second time. I was curious if there was any change in the complex or in the tomb where Hafez, a famous Persian poet, was buried. 
Hafez was a celebrity in Persian literature. Everyone in Iran  knew his name and his works as well.  He had great influence at the hearth of Iranian people who read his works. The nation was very proud of the Muslim poet who was born in Shiraz. Each year on October 12th, Iran commemorates the national day of Hafez.
 Hafez  was the pen name of Khwāja Shams-ud-Dīn Muḥammad Ḥāfeẓ-e Shīrāzī, a  poet, mystic, and scholar who lived in the late 14th century. He memorized Quran, the Muslim holy book, by listening to his father's recitation when he was very young. The name hafez was his honorific.
The complex of Hafez tomb has become a kind of pilgrimage site. There were a lot of visitors and  most of them were tourists. The well-tended garden, the complex of Hafez tomb, seemed to welcome everyone: the tall green trees and pines, the blooming flowers and thick green grasses.  In the late afternoon of mid spring, the weather was so nice.  Although it was crowded, the atmosphere was peaceful. I could sense that everyone enjoyed the ambience in the garden.  
Under the roof that was supported by six columns, the tomb of Hafez was situated. Local and foreign tourists surrounded the tomb. Some foreign tourists grouped with their guides listening to the explanation.  Stepping on the stairs we were approaching the tomb. 
Different from three years ago,  when I visited it,  Hafez's tomb was now protected by the glass sheets so visitors could no longer touch the marble of his tomb. I considered myself lucky when I visited the tomb  three years ago, it was not covered by the glass sheets.  I could sit by the tomb and touch the marble.  Maryam picked up a small book from her bag and it was the book on the poetry of Hafez. She started to read it by the tomb. 
As the day was getting darker, more visitors were coming in. Then, we visited the book shop of Hafez. I asked the shop keeper if they had a book of Hafez in English. Luckily they had the translation of Divan of Hafez. It was said that Divan of Hafez, a collection of the poetry, has been the most widely-copied and widely-read book of poetry in the history of Islam.  I thought the book was the best souvenir that I could bring home from Shiraz.  
On my first visit to the tomb three years ago, I didn't go around the garden,  this time Maryam and I took a walk in the complex. And as the sky was dark the lamps in the complex were lit. The garden turned out to be more beautiful.  I was happy to pay a visit to Hafez's tomb again.  
Goodbye
The whole family was all home as we arrived.  Maryam's elder brother came in with his wife and son. So now, I met all the core family members of Maryam.  Maryam's mother, as always, prepared dinner for all of us. Unfortunately, his brother family didn't join the dinner.
Like on  my first day of arrival at home, the family member who joined dinner was complete: Maryam's father, her mother, and her two other sisters.  It was really a nice dinner as everyone was on the table, but deep in my hearth I was sad to leave such a lovely family of Maryam.  The family had welcomed  me wholeheartedly, and especially her mother who fed me with the best food during my stay.  
After finishing dinner, her mother went to the kitchen and she carried a big bottle of home-made pickle for me. "This is for you," she said smiling.  I could not refuse a gift that was presented from the bottom of the hearth. Since it had liquid I needed to pack it very well. Later on at my home, whenever I opened the bottle of pickles, my mind abruptly went to the home of Maryam and her mother who made it. Before leaving, I asked to have a group photo with the family member.
 Since  I didn't want Maryam to stay late because of driving me to the bus terminal.  So by 11 pm, we were ready to go to the bus terminal. Initially it was only me and Maryam that would go, but then suddenly her mother  also wanted to join. Both Maryam and I said that we were perfectly fine, but she insisted on coming with us. 
I said goodbye to Maryam's father and Mitra.  I hugged her, it was just like yesterday when I met Maryam and Mitra for the first time. "Goodbye Iji, please take care," Mitra said. I thanked all of them for their cordiality. They all walked to the car.
Driving at night in Shiraz was smooth. Luckily the weather was not so chilly.  "If you come to Shiraz again, please stay with us," Maryam interpreted what her mother said to me while she was driving.  I nodded and said thank you to her mother. 
Despite the language barrier, I made a connection with her mother especially today when I stayed at home most of the day.  She was such a lovely woman with a great hearth. I remembered  when I first met Maryam and Mitra three years ago, they brought nice refreshing drinks that her mother made for me. 
At the bus terminal, we said goodbye. I hugged Maryam and of course her mother for the last time.  I was sad they when I left them behind walking to my bus to Isfahan.  Maryam's family showed me a genuine hospitality and  a warm hearth that I would never forget.
Ends