Perfect Strangers Series: Tehran, Iran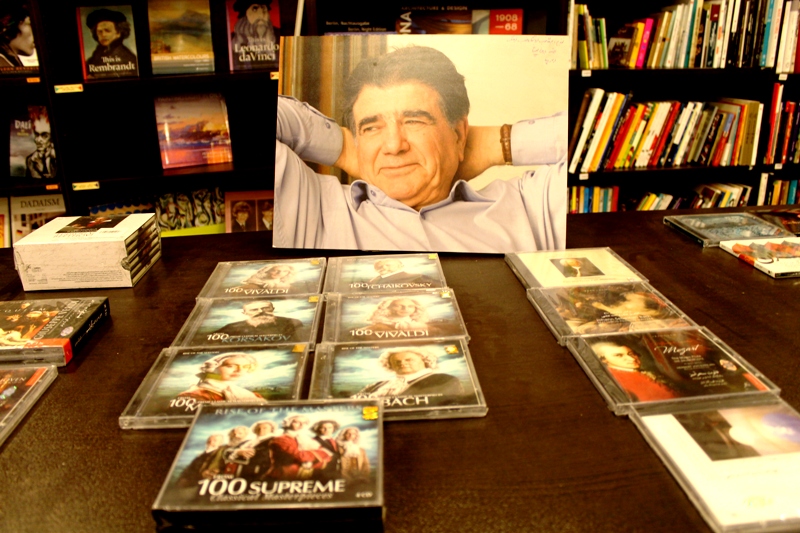 Sahla: Tehran, Iran
My flight from Khorramabad to Tehran was finally confirmed. The departing time was changed though I never received any notification. While waiting for my departure, I went to a small shop in the airport. I just realized that I didn't have a souvenir that was typical Khorramabad or Lorestan. As it was my last chance to be in Lorestan, my only option was shopping in the airport.
Ali's mother accompanied me to the shop. It was a small one. Sweeping on the displayed items, my eyes caught the hanging scarfs. With the tip of my fingers I touched the scarfs to sense its fabric. Then an Iranian lady beside me said, "That motif is typical Lorestan." She seemed to read my mind as I was looking for something with a Lorestan character.
"Yeah," I responded, moving my head towards her. 
"And the price is not bad either," she added looking at the price tag.
"Oh, thank you, I think, I will take this," I smiled at her. She nodded. Then she spoke with Ali's mother.
"We have a special price for you if you buy three pieces," said the shop attendant.
I did end up buying three pieces of the scarfs. I was happy to have souvenirs from Lorestan to bring home. 
I went  back to the seat waiting for my aircraft while the number of  passengers was  getting bigger. We were all relieved when we saw the aircraft just landing. That was the aircraft that would take all passengers to Tehran.  
The time to leave finally came. After saying goodbye to my host, Ali's mother and Elham, I walked down to the aircraft on the runway. My trip to Iran would end soon. The flight was actually my last domestic trip before I flew back to my country.  
The flight from Khorramabad to Tehran was short.  It only took one hour and some minutes. When I was above the biggest city in Iran, I was kind of thinking about what I would do in Tehran while waiting for my flight to Indonesia in the evening. 
Landing in Mehrabad domestic airport, I proceeded to the luggage claim area. There, I met again  with the lady who I talked to  in the shop in Khorramabad airport. She noticed and smiled at me. She asked where I was going. I told her that I would fly back to Indonesia in the evening. She further asked what I was going while waiting for the flight. I said I still thought about that. 
Out of the blue she said that I could come with her to her house while waiting for my next flight. For a moment, I slightly had a thought how  she could trust a person that she barely met in the airport.  But I realized she was from Lorestan, a province that is famous for its hospitality. And she had the chance to talk with Ali's mother briefly.
My gut feeling said yes. I welcomed her impromptu invitation. As we didn't know each other's name, we introduced ourselves. Her name is Sahla. She was a native of Lorestan but lived in Tehran. 
Sahla ordered the taxi and we went to her apartment that was centrally located in Tehran.  On the way, we talked a lot. I told her briefly about my entire trip in Iran, the cities I had visited and the people I met. She was impressed with my stories. She told me that in a few months she was traveling to migrate to Canada to join her husband.
Sahla was a real perfect stranger for me. She had an authentic good vibration. Similar to the other girls I met on my entire trip in Iran that year, she was just like an old friend of mine. 
The traffic was not bad, we didn't spend a long time on the taxi.  Sahla's apartment was located not far from the most famous avenue in Tehran, ValiAsr Street. She lived in a small cozy apartment that had a small courtyard. Although located in the city center, it was quiet. 
Sahla offered me to take a nap, but I preferred to talk with her. We had a very  interesting conversation. As a Tehrani she could give me a different perspective of how to live in Iran. I told her that  I would  buy the paneer, the unforgettable cream cheese that I ate for breakfast in a hotel in Kerman. In addition, I also wanted  to  buy a record of  typical Iranian music.  Then she made a phone call. She eventually called her best friend to join us.
Geranaz, Sahla's best friend, came afterwards. She was a smiling lady. She was in fact familiar with my country, Indonesia. When she worked in one of Emirati countries before she got to know Indonesian friends there. We talked a while before going to shop.
The three of us went out together. Having stayed in some smaller cities in Tehran before, going out in Tehran refreshed me. People in the street, the shops, the atmosphere, it was just all different.  First, Sahla took me to a book store that also sold records. It was a big store and there was a section for books in English. I was interested in seeing the books in English. Although the collection was limited, it was good to see the kind of  books displayed. Other collections were books in Farsi that I didn't understand. Then I went to the music section. I asked  Sahla for  her recommendation of Iranian music that I could bring home. She suggested a record of Shajarian. Shajarian was a famous Iranian musician who passed away recently. I bought one of his records. It was a nice visit. I thanked Sahla for taking me to the bookstore. 
Following Sahla's suggestion, we continued walking to a shop that sold many kinds of nuts as I intended to buy some to bring home. 
Feeling enough for shopping, I thought I had all what I needed. However, I still missed  the cream cheese. "I know a place," said Geranaz. She led us to a shop. And she was right. The cream cheese that I was looking for was available there. I was so happy. I bought quite a number of it. When it was time to pay in the cashier. Geranaz didn't allow me to do it. She insisted on paying for it as it was her gift for me. I could not refuse it as she really insisted.
Each of us carried a plastic bag for my shopping. It was really good shopping. I was satisfied. Moreover, I had the chance to see the street life in Tehran including the street singer. I started to imbibe the atmosphere of ValiAsr street: the street vendors, the traffic and its hectic as well. 
We went back home as I needed to repack my luggage with my new stuff. Geranaz could not stay long as she had another appointment. I thanked her much for her gift. She was a perfect stranger that I met in a very short time.  We hugged and said goodbye. 
After repacking my luggage, I  went to take a shower to prepare for my flight. Sahla didn't only give me a shelter to stay, she also fed me. Although I was not so hungry, she prepared food for us. "Your flight was in the evening, better to eat now," she said smiling.
We both enjoyed spaghetti that she prepared. While eating, again we talked about a lot of things.  "I already reserved a taxi for you, you could leave at around 5 pm from here," she said. "Thanks again for all your help," I told her. 
"You are welcome," she replied. 
"By the way, here is a souvenir for you, Iji" she handed me a well-made glass of brass. 
I received the beautiful brass glass from her. Later on, whenever I used that glass I remembered her, her openness and genuinity.
Her phone rang. It was a call from the taxi driver who just arrived. The farewell had come. I was really sad to leave Sahla, a perfect stranger that I only knew less than eight hours, and Geranaz, who I even knew shorter. They were both kind hearted.
Before getting on to the taxi, I hugged Sahla for the last time. Her treat was the climax of my entire trip in Iran. Despite some obstacles in my trips, I could say that my  complete Iranian trip was actually perfect and Sahla just made it more perfect. The way she treated me despite me being a stranger  just confirmed that hospitality still takes its toll in Iran. The openness and genuine hospitality that Sahla and Geranaz offered and showed were extraordinary and unforgettable. 
Tehran as the seal of my domestic journey in Iran was a good closing. In the taxi on my way to the airport, I smiled flashing back on my memories and the figures that I met. And I already heard a call to come back.
Ends