Perfect Strangers Series: Copenhagen, Denmark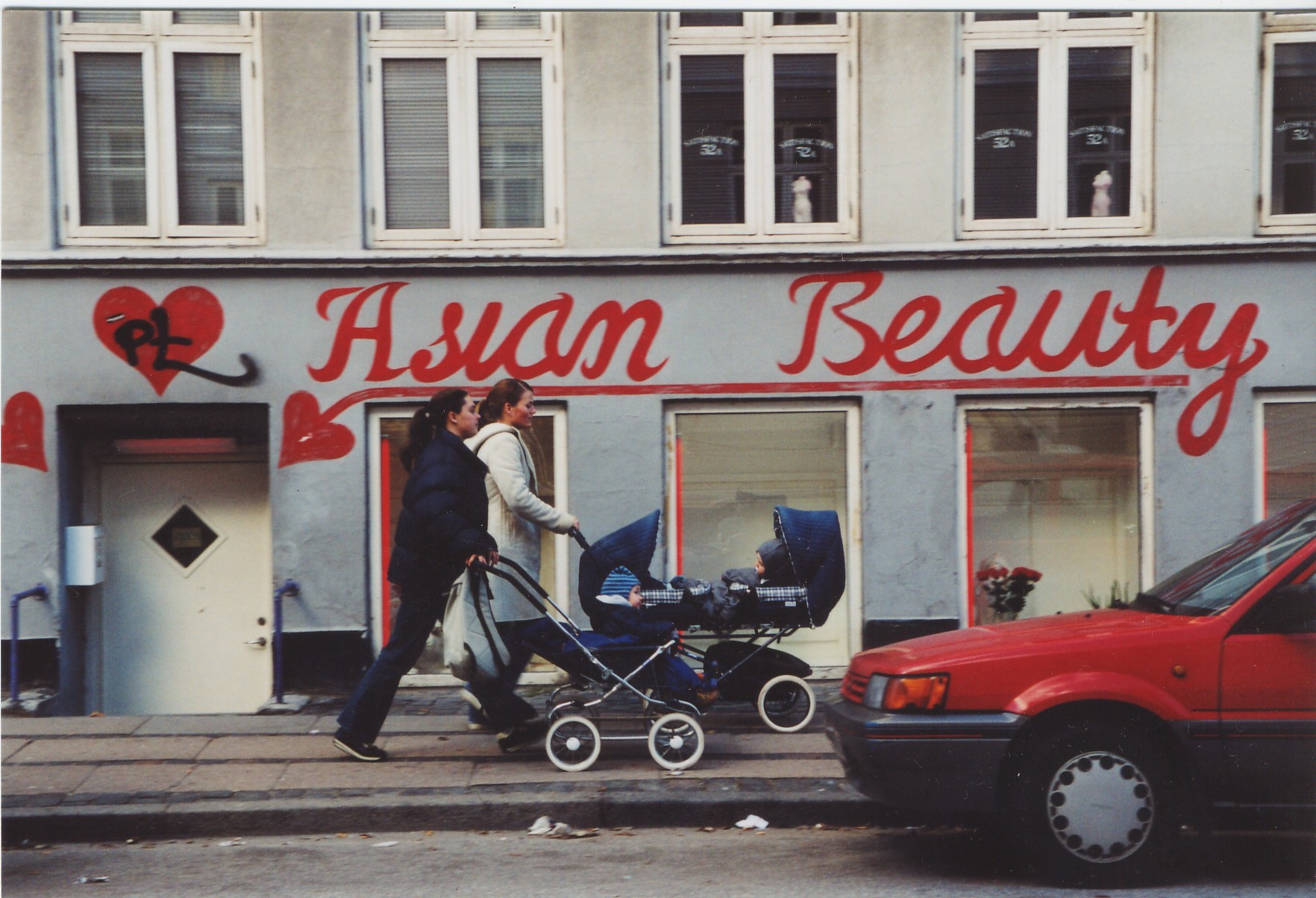 Visiting a red light district intentionally out of curiosity was my project of the day. Pernille was confident that it would be okay for me to pay a visit to the area. It would be my first exposure to go to see such an area in a European land. When I was in Germany, in some cities, I passed and saw some commercial buildings stamped with Bordell Haus in front of them. But I didn't get the chance to roam the area.
ISTEDGADE
The red light district of Copenhagen was located in Vesterbro, an area in the west of Copenhagen, not far away from the Copenhagen Main Train Station. I went to Vesterbro in the early 2000. Back then it was not a recommended place for tourists. Vesterbro was a working class residential area with crimes and drugs issues. Now, Vesterbro has been transformed into an area for culinary delights and shopping. There are now upmarket boutiques, cafes, restaurants and organic shops. I haven't seen Vesterbro after it has been face-lifted. It must have been totally different now.
Pernille and I went to Vesterbro by public bus in the evening. After getting off of the bus, we walked on foot on Istedgade. It was a straight street flanked with old buildings of Copenhagen. Building with a facade of square windows, typical of Danish architecture. Like other districts in Copenhagen, Vesterbro also had the block system. A cluster of buildings with another cluster of buildings was separated by a street. We passed a porn shop where sex toys were displayed on its window. All kinds of dildos were openly displayed. After visiting a sex boutique for women in Copenhagen, seeing the sex shop in Istedgade didn't lure me to enter. As we moved forward, we also passed another sex shop that was located under a restaurant. "You see, this is just normal," said Pernille referring to two different commercial businesses that were situated side by side. The surrounding buildings looked old.
As we kept walking, I didn't see many people though we passed some people on the street and I could not tell whether they were the locals or visitors like us. Then we passed a shop with neon lights blinking in front of it, it was a brothel. The house music was blasting from inside and its entrance was lit with colorful lights. The night life had not started yet. We kept walking. We saw some street sex workers and passed another brothel. On the street, I saw how a transaction was going on between a client and a street sex worker, .
We had walked a long way on Istedgade. Sometimes we stopped just to see what were offered in the window. We passed Copenhagen Gay Center that is already closed now, and other sex shops. Still I didn't see people as many as in the other streets of Copenhagen. Probably because it was a Saturday night, so the business was a bit slow. Moreover, all activities happened behind the doors. After strolling a quite long way, I was thirsty and I would buy a drink. As we moved, we were looking for a kiosk. But we could not find one around. "Danish shops closed already," said Pernille. Pernille was sure we would find a kiosk as Vesterbro was an area where many immigrants lived. "Their shop usually shuts later," Pernille added. And yes, we finally spotted a small kiosk in the corner.
MEETING A DETECTIVE
We entered a small kiosk attended by a non-Danish. In the shop, there were only the cashier who was a non-Danish and another man talking with the cashier. From his appearance the man by the cashier, I could tell, was from South Asia. He looked surprised at us. I picked up a bottle of mineral water from the rack, while Pernille browsed what was available on the other side of the rack. The man could not hide his curiosity to see us, two girls roaming around in Istedgade in the late evening tempted him to ask questions. While we were paying in the cashier, the South Asian looking man asked us.
He asked where I came from, he thought I was a Japanese, and what we were doing in the area. I responded him and told that I was a writer and wanted to see the area. Then, he rhetorically said to both Pernille and me, "Do you know that this is a dangerous area at night? There were junkies and crimes on the street. Last night there was an incident in the street. I suggest both of you go home soon," he said in a warning tone. Pernille and I looked at each other. My thought flashed back to our steps behind where on the way we did not see many people in the street. We did pass some people on our way. And I just realized that we did not see any girls like us roaming on the street.
The man then gave his business card. I glanced at it. His first name was Anil and he was a private detective.We talked for a while. He said that the area was not recommended for night walking. The junkies sometimes fought on the street, and it was also a place for narcotic transactions among the junkies. I looked at my wristwatch and it was eleven already.
Pernille and I thought it was time to go home as we already finished our walk. The public bus was no longer serving so we took the taxi and rode home. After a few days in Copenhagen, it was the first time I took the taxi in the city.
As we were sitting in the taxi, I thought we were brave enough to walk around. "You won't believe it, during the day, it was just like a normal neighborhood," Pernille told me. And Pernille was right about it.
The other day before I returned to Germany, Pernille and I had the chance to see Vesterbro again, but this time it was during the day light. We were downtown and Pernille thought it would be good to just stroll some parts of Istedgade so I would get a picture of how the area looked during the day.
NIGHT VS DAY
And Pernille was right, under the sunlight, Istedgade was just like another neighborhood in Copenhagen. The sex shop was sandwiched between other business enterprises. These enterprises were closed when we were walking in the area on the other late evening. The windows of the porn shops were just left uncovered, and so were the brothel houses. People passed by them and didn't pay close attention. In comparison with the situation at night, there were more people in the street, including the women with children. We also passed some non-Danish people in the street. "It was also an area where many immigrants lived," Pernille added. The contrast situation with the night was there was no street sex worker on the street. It was safe during the day. And today, in Istedgade you can find Michelin restaurant and cafe shops, there are few worn out buildings left now.
Despite being the first country on earth that legalized pornographic images in 1967-1969, during my stay in Copenhagen, I only saw porn images in places where they were common like in Erotica Museum, erotic boutique or red light district area. The TV programs were just normal, but there were no censorship for sexual scene. Porn movies were only available in paid TV meaning you needed to subscribe. Even when there were movies with porn scenes, they would be featured late and they were on TV cable.
In addition to that, Denmark was also the first country in the world that legally recognized the same-sex unions in 1989. The law was updated in 2012 with the same sex marriage law. "The same sex couple now can marry in the church," Pernille told me about the recent development.
I only stayed a couple of days in Copenhagen, my impression and observation did not entirely reflect the exact conditions. But being a person from a conservative country where hypocrisy against sexuality could not be circumvented, seeing how porn, eroticism and sexuality were openly and liberally managed in Denmark was blasting on one hand, but impressive on the other hand.
To be Continued