There are a lot of kampung or traditional neighborhoods in Indonesia, but very few is like Ampel in Semampir Subdistrict, Surabaya, the capital of East Java Province Indonesia.
What makes Ampel unique? Ampel is a blend of a cultural harmony, Islamic values, old architecture and trade and business at the same time. Located in the north of Surabaya, Ampel has been destined as an area for religious tourism by the government of East Java.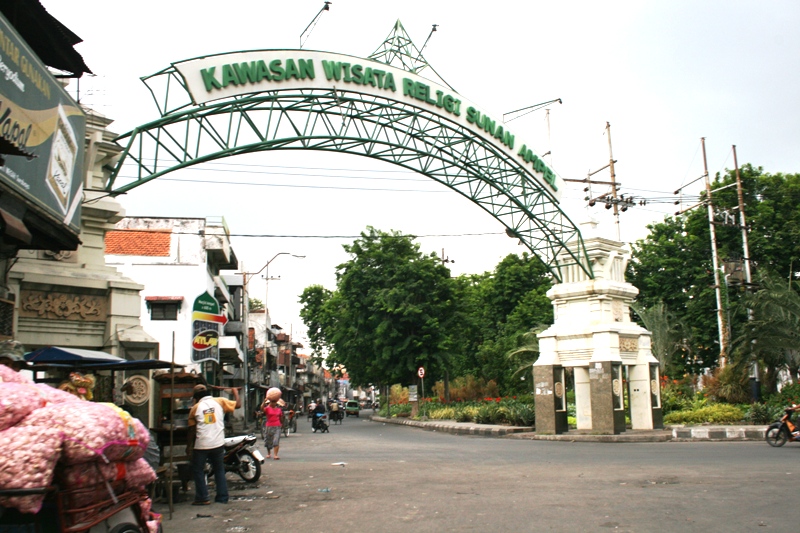 Ten thousands of people flock to Ampel every year to make their pilgrimage to the tomb of Sunan Ampel, the number of pilgrims reaches its peak during the fasting month of Ramazan. In addition, people also come to visit Masjid Ampel, the third oldest mosque in Indonesia.
Who is Sunan Ampel?
The early propagation of Islam in Indonesia has been through a unique and relatively peaceful process. History has shown that these early propagators are sociologically and culturally genius as well as educationally very ethical. Historically most of these propagators are foreigners and one of them was Sunan Ampel who has been considered as the pioneer for propagating Islam in Java.
Sunan Ampel (1401-1481) is a highly respected Islamic ulama who propagated Islam in Indonesia in particular in Java. He was the son of Ibrahim Al Ghazali a.k.a Ibrahim Assamarqandi a.k.a Maulana Malik Ibrahim, a very prominent ulama from Samarkhand in Central Asia. Ibrahim Al Ghazali's father was Shaikh Hussein Jumadil Qubra, a descendant of the family of Prophet Muhammad (PBUH) from the line of Hazrat Imam Jafar Assadiq, the great great great grandson of Prophet Muhammad PBUH.
Shaikh Hussein Jumadil Qubra asked his son Ibrahim Al Ghazali to travel to South East Asia to propagate Islam. Al Ghazali then traveled to Champa. According to the Encyclopedia van Nederlandsch Indie, Champa was in Indochina, while according to Stamford Raffles (1781-1826), a British author, Champa/Jeumpa was located in today Aceh.
Ibrahim Al Ghazali made the King of Champa convert to Islam peacefully as a result the kingdom of Champa was also Islamized. The King had two daughters, Devi Chandrawulan and Devi Dvaravati. Chandrawulan then married to Ibrahim Al Ghazali while Dvaravati married to King of Majapahit Bhre Kertabhumi. Chandrawulan and Ibrahim Al Ghazli had two sons, Ali Murtadha and Muhammad Ali Rahmatullah.
At the time, there was an issue in the Kingdom of Majapahit where its noble people were involved in gambling and drinking which had become their habits. The situation had destabilized the kingdom. Upon the request of King Majapahit to improve the morality of his officers and the nobles, Ibrahim Al Ghazali and his two sons traveled to Kingdom of Majapahit in Java. Unfortunately, Al Ghazali got ill when he arrived in Tuban, East Java and died there. He was buried in Gresik. Ibrahim Al Ghazali was popularly known as Maulana Malik Ibrahim.
Al Ghazali's son, Muhammad Ali Rahmatullah, married to the daughter of the King, Devi Chandravati. Because of his current status as the King's son in law, Muhammad Ali Rahmatullah was called Raden Rahmat. The King granted the couple a land in Ampeldenta where he built a mosque and boarding school. He trained people to be the propagators of Islam he also educated the the officers of the Kingdom, the nobles about Islamic values. Muhammad Ali Rahmatullah a.k.a Raden Rahmat was becoming a respected leader in Ampeldenta. People called him susuhunan of Ampel shortened Sunan Ampel, a name to address a very respect figure. Sunan Ampel had successfully transformed the officers of the Kingdom into better personalities with improved behaviours. The King was happy.
Moh Limo: Teaching of Sunan Ampel
Sunan Ampel, an intelligent, culturally ethical propagator of Islam in Java, had targeted the social problem in Kingdom of Majapahit effectively and efficiently. He generated a simple philosophy that had transferred the demoralized officers and nobles of Majapahit Kingdom. He modified the prohibitions into a cultural term in Javanese language that can be understood well in the local language. The local people have called the teaching Moh Limo (five restrictions) that comprises of moh main (no gambling), moh ngombe (no drunk), moh maling (no stealing), moh madat (no drugs), and moh madon (no adultery).
Ampel Mosque
Ampel Mosque was constructed at about 1421. It was expanded several times, in 1926, 1954 and 1972. Currently the mosque's size is 46.8 x 44.2 square-meter. The mosque has Javanese architecture with three-layer roof and one minaret which is 50-meter height. The main interior of the mosque has wooden structure and it is supported by 16 pillars of teak wood which has 17-meter height .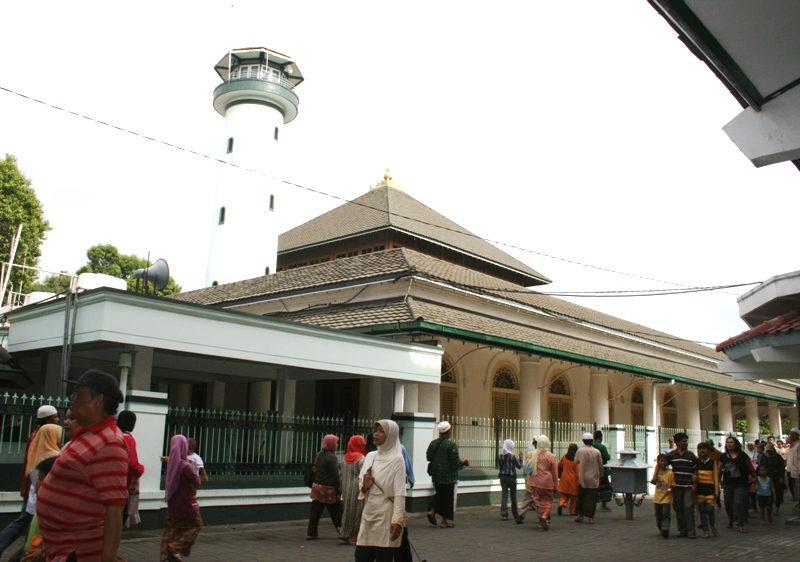 The mosque has adopted Javanese culture. It is surrounded by five gapuro that leads to the courtyard of the mosque. The word gapuro is taken from Arabic word ghafura that means mercy. Gapuro becomes a Javanese word that means gate. The philosophical meaning of this gapuro is a person needs to ask for mercy before entering the sanctuary of Ampel Mosque.
The five gates or gapuro were named according to the pillars of Islamic teaching such as Gapuro Poso (fasting), Gapuro Munggah (hajj pilgrimage) in the south, Gapuro Madep (praying), Gapuro Ngamal (good deeds) and Gapuro Paneksan (credo).
The mosque is usually crowded on Islamic holidays and on Ramazan especially on the last 10 days of fasting month Ramazan where people meditate in the mosque at night in a tradition that is called maleman.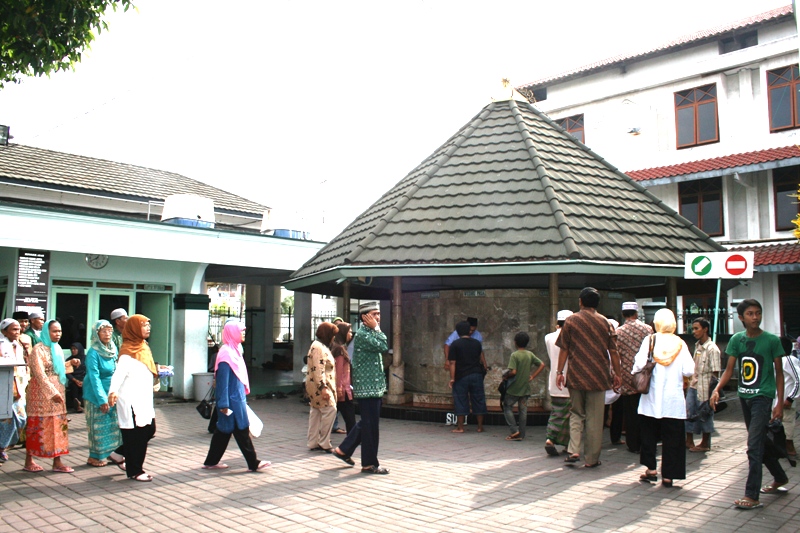 Tomb of Sunan Ampel
Sunan Ampeld was buried in the small complex of cemetery in the west of Ampel Mosque. His wife Devi Chandravati and his aides were also buried there. His tomb is the reason why ten of thousands people have flocked to Ampel. They come from different parts of Indonesia as well as other countries to pay a respect to him. The gate for women and men to the cemetery complex is separated.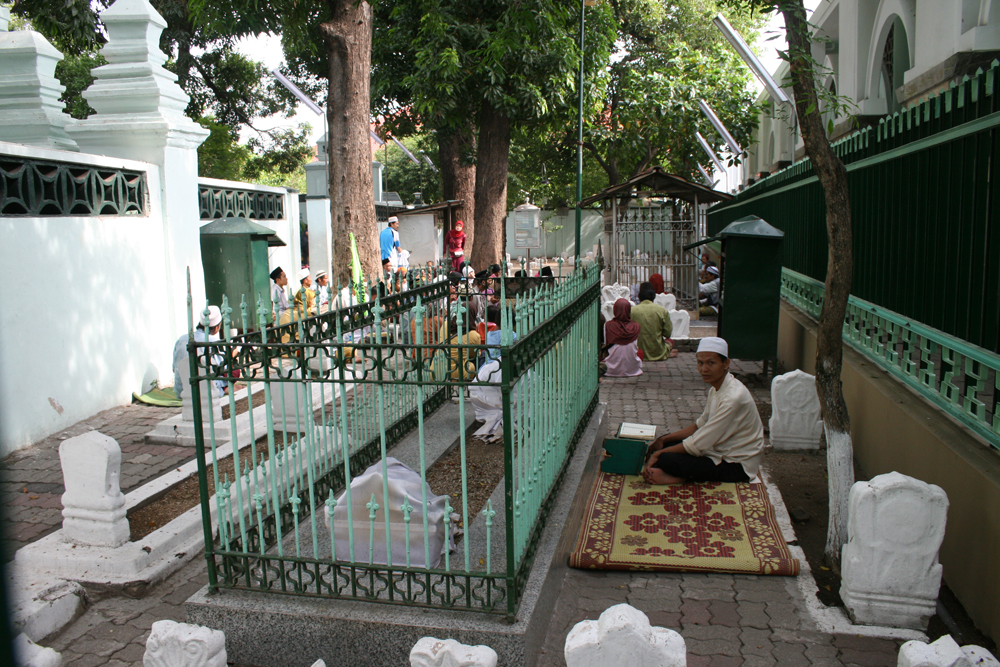 Cultural Harmony
The boarding school that Sunan Ampel established had attracted people to come to study with him. Later on, Ampel neighborhood also attracted people from other parts of the world to do business there. Many of these people came from Yemen, Oman, Hejaz and North Africa who migrated to Indonesia in 14th century. In Surabaya these Arab descendants formed a community or neighborhood that has existed until now. Since the community that lived in the area is Arab descendants, the village is called Kampung Arab (Arabic Village). The Arab community established residences around Masjid Ampel and made their business there. During the Dutch colonial time, the Dutch enclosed this Kampung Arab so the community remained there and could not mix with others. Kampung Arab in Ampel might be the biggest and the most prominent one of other Kampung Arab in Indonesia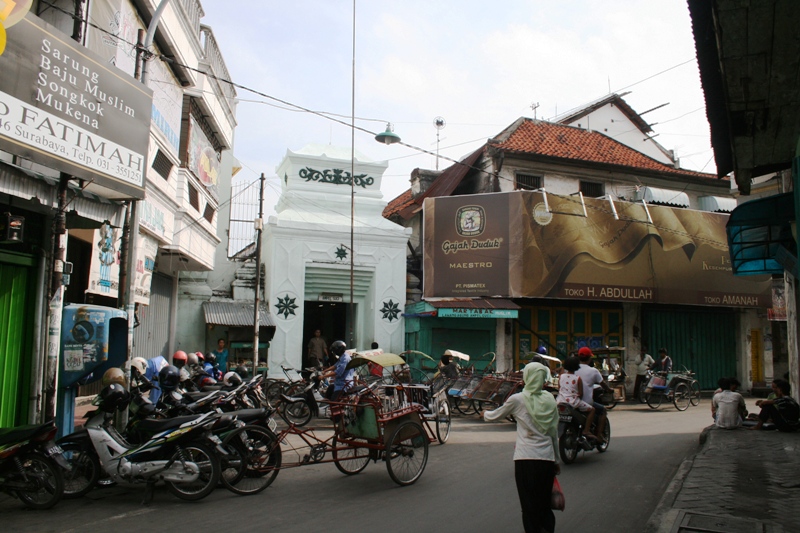 When the Dutch left, the Arab community remained to live there. The growing number of pilgrims that visit the tomb of Sunan Ampel and Masjid Ampel has generated business and this brought people from other area in Indonesia to find a living. Here, we can find people from other ethnics like Madura, Lombok and Javanese. In addition, the Arab people that live in Ampel are not exclusive, they have mingled with the locals culturally and socially. The existence of Arab community has given added values in terms of culture and business to the local community. The Middle East culinary was introduced to the locals such as kebab, roti maryam, nasi kebuli, kopi Arab, pukis Ampel as well as cultural performance like marawis, an orchestra of percussions and vocals.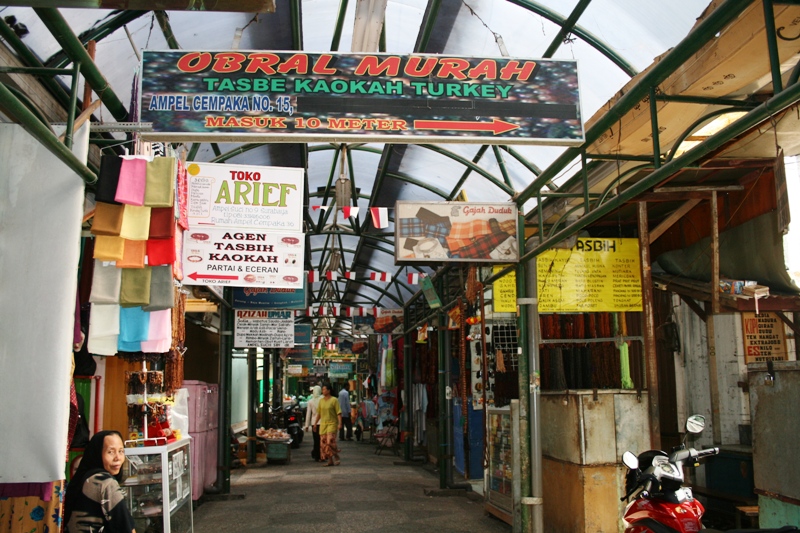 Old Architecture
The houses in Ampel are mainly old houses that have a mix of colonial and local architectures. Some houses have been renovated but most of them remain unchanged. It is nice to see the line of old houses that can be more than 100 years old. Weekend is close for business on Jalan Sasak, the main business street in Ampel. Only few shops are open. The shops on Jalan Sasak, in particular, sell garments, books, textiles, perfumes and other groceries. I stopped by at a book shop and I was surprised to find the collections of old books about Islam.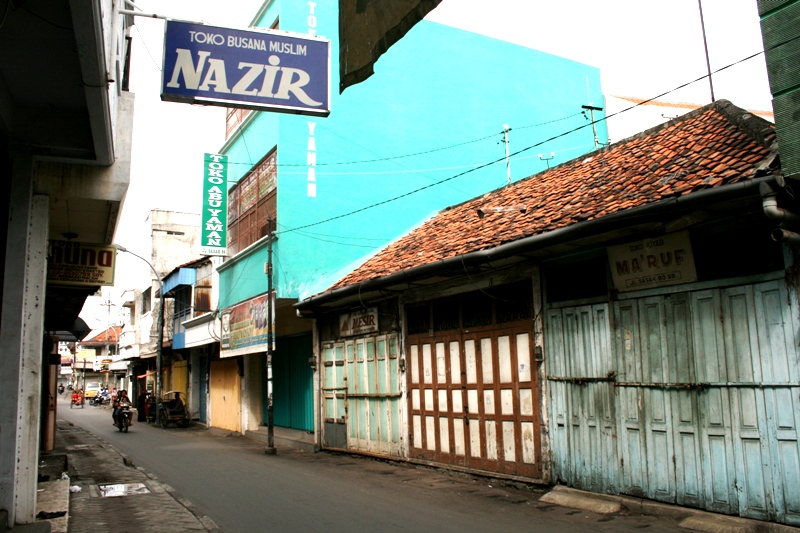 Bazaar
Jalan Ampel Suci is an alley that leads to Masjid Ampel. The alley is marked with a gate on Jalan Sasak. On the gate there are embossed symbol of flowers. I went to this alley on weekend when not all of shops were open. This is the place where you can find anything from scarfs, sandals, dates, olive oil, perfumes and even water from Zamzam well in Mecca. There are also some street vendors that offer traditional porridge and snacks. During the peak season shopping in Jalan Ampel Suci can be so crowded that you need to walk elbow to elbow.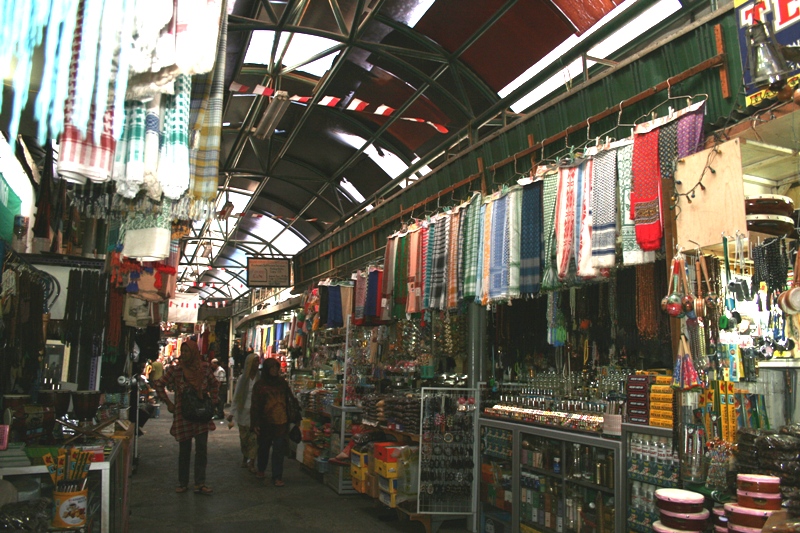 Tips to Visit Ampel
On Islamic holidays and Ramazan the mosque can be crowded, so avoid those days if you don't want to be in the big crowds.
Wear conservative dress and cover the hair for women when entering the courtyard of Masjid Ampel.
The entrance to the mosque is free, but there is a donation box where you can donate.
Bring your own plastic bag, in case you have to take off your shoes.
The cemetery complex can be crowded by the pilgrims who come in large groups.
If you want to buy something in the bazaar on Jalan Ampel Suci, bring cash
On busy seasons like Ramazan or weekdays in the bazaar where the crowd is big, beware of your belongings.
There are some beggars asking for pennies in the alley to the mosque, prepare your coins if you want to give them
Try the Middle East food and snacks in the local restaurants or street vendors.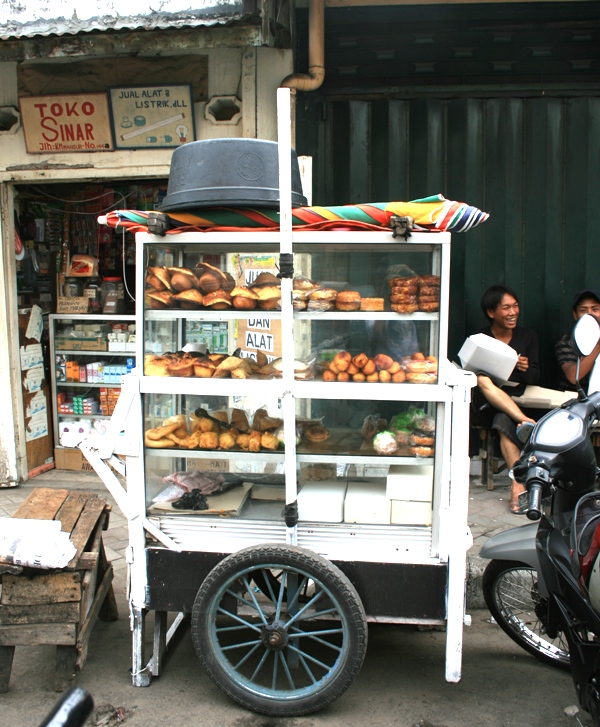 How to get to Masjid Ampel
Address: Jalan Nyamplungan, Semampir, North Surabaya
From Bus Terminal Bungurasih, Surabaya
Take Damri bus direction to Jembatan Merah Plaza. Get out at Jembatan Merah Plaza. Take becak or take angkot line JMK and get out at Jalan Nyamplungan.
From Bus Terminal Joyoboyo, Surabaya
Take angkot line D and get out at Jalan Nyamplungan
From Bus Terminal Bratang, Surabaya
Take angkot line WB and get out at Jalan Nyamplungan