Six Free Things to Do in Jakarta
Jakarta, the capital of Indonesia, is the most expensive and also the biggest city in the country. As a tourist, do you have free options to enjoy the city? Here are six things to do in Jakarta without spending a penny. Enjoy! Leave a message below if you have questions.
1. Riding the City Tour Bus
The Free City Tour Bus was initiated by former Jakarta Governor Basuki Tjahaja Purnama in 2015 as an effort to accommodate tourists to see highlights of Jakarta.
There are a number of options of this free city tour bus depending on your interest. Please see the complete guide and map in the following link: https://transjakarta.co.id/produk-dan-layanan/layanan-bus/wisata-kota/
Tips: You can take the bus for free, first look at the time schedule for the bus, it has different operation time on working days and holiday.
From Monday to Friday (9 bus stops): Bundaran Hotel Indonesia –Museum Nasional –Pecenongan –Pasar Baru –Masjid Istiqlal –Monas 1 –Monas 2 –Balai Kota –Sarinah.
From Saturday to Sunday (5 bus stops): Bundaran Hotel Indonesia –Museum Nasional –Sarinah –Masjid Istiqlal (Monas 1), Balai Kota (Monas 2)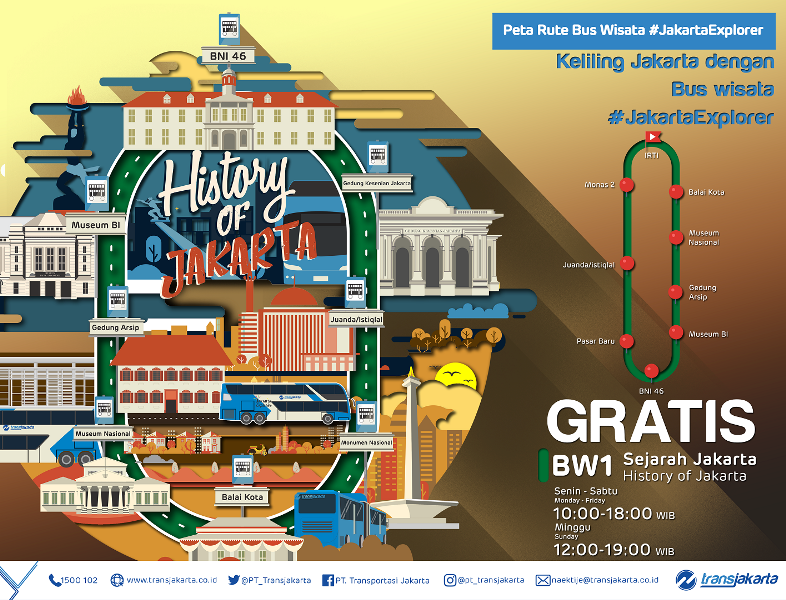 2. Visiting Galeri Indonesia Kaya
If you like Indonesian culture and technology, you have to visit Galeri Indonesia Kaya http://www.indonesiakaya.com. Established and managed by a private company, the Galeri offers the information about Indonesian culture in a modern way. It uses digital platforms such as the touching screen and video. Located on the 8th floor of Jakarta's luxury shopping mall, here you can learn about the traditional Indonesian instruments, culinary, art and culture. The Galeri also offers performances in its auditorium. It is free of charge. You can see the schedule online and make reservation. You can just have a go show if there are not many visitors.
Address: Grand Indonesia West Mall 8th Floor
Opening hours: 10 am to 10 pm
How to get there: If you take Free City Tour bus, you can stop at Bundaran Hati bus stop. From there, walk to Grand Indonesia.
3. Visiting Galeri Nasional Indonesia
Located in the center of Jakarta, Galeri Nasional http://www.galeri-nasional.or.id is run by Indonesian government. This is the gallery where national or international scale exhibition is held. There is also permanent exhibition throughout the year. The collections in the permanent exhibition include paintings, sculpture and happening arts.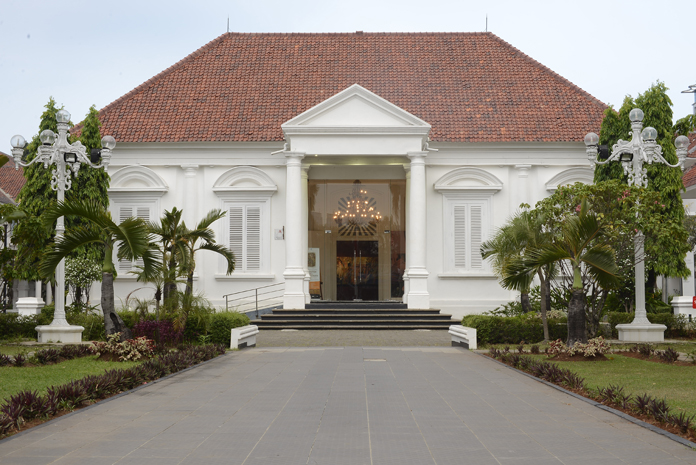 Address: Jalan Medan Merdeka Timur No. 14, Gambir, Jakarta 10110
Opening hours: 9 am to 4 pm, except Mondays
How to get there: The gallery is very close to Gambir Station. It is in the south of station. You just need to cross the street by the pedestrian bridge. The gallery is just in front the pedestrian bridge.
4. Going to City Parks
There are a number of parks in Jakarta. The popular ones are as follows.
a. Monas (Monumen Nasional) Park
It is the largest park in Jakarta. Heading to the park entrance, there are kiosks selling some souvenirs and street food type vendors. The park is shady with tall green trees.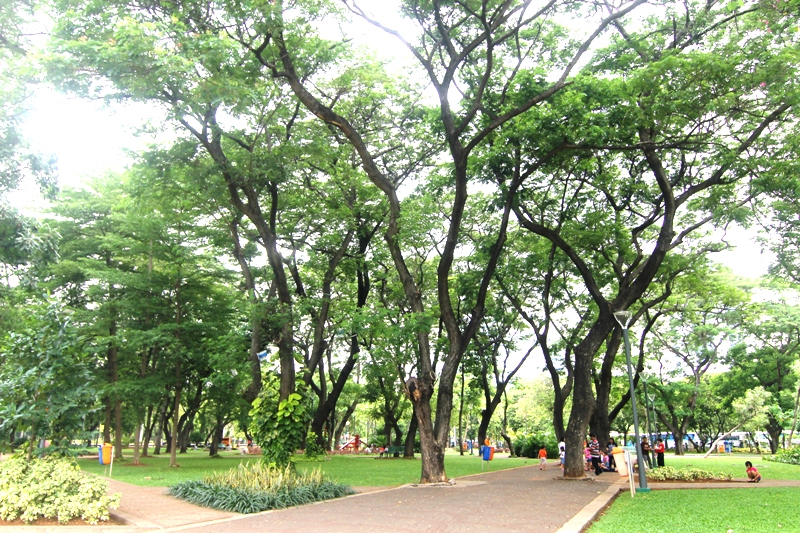 Address: Gambir, Jakarta
Opening hours: 7 am to 12 am
How to get there: The Park is walking distance from the Gambir Station. Just walk to the direction to Jalan Medan Merdeka Selatan. The entrance gate is across the City Hall (Balai Kota). Or if you take City Tour bus, you can stop at Balai Kota bus stop.
b. RPTRA Kalijodo (Kalijodo Park)
Kalijodo used to be a complex of brothel houses. The filthiest spot where sex seekers found pleasure from the low to high level of sex workers. In 2016, former Jakarta Governor Basuki Tjahaja Purnama made a spectacular move by wiping out the complex. He returned the function of the area as a public area.
Now if you go there, the former complex has become an open space for public. Djarot Saiful Hidayat, who replaced Governor Basuki Tjahaja Purnama, put four pieces Berlin Wall in Kalijodo Park. These pieces of Berlin Wall symbolize the unity of Jakarta citizens. The citizens were divided during the Governor election in 2017, where some candidates strongly use identity politic.
Address: Jalan Bidara Raya, Angke, Tambora, Jakarta 14450
Opening hours: 24 hours
How to get there: There are three city tour double-decker buses operated for Balai Kota (City Hall)-Kalijodo route. The bus operates from 11.00 to 19.00 from Monday to Friday, and from 09.00 to 23.00 on Saturdays and from 12.00 to 19.00 on Sundays. The best spot to wait for this double-decker bus is at Balai Kota bus stop.
c. Taman Menteng
This is a small park located in elite area of Central Jakarta. Nearby the park there are some shops and a department store. It is quite crowded by young people who just want to hang out and practice photography.
Address: Jl. HOS. Cokroaminoto, Menteng, Jakarta 10310
Opening hours: 24 hours
How to get there: The nearest bus stop to this park is Sarinah. From Sarinah you can take bajaj. The fare is about Rp 20.000.
5. Visiting Istiqlal Mosque
Masjid Istiqlal is the largest mosque in South East Asia. It is the mosque where Islamic state's events are held. On Islamic state's holidays, the prayers are held here. Interestingly, the architecture of the mosque was a Indonesian Christian architect Friedrich Silaban under the instruction of the first Indonesian President Sukarno in 1951. The mosque finished in 1978 and it was renovated in 1999.
Tips: A woman visitor needs to cover the hair and wears modest dress to enter inside the mosque. A man visitor, no shorts please.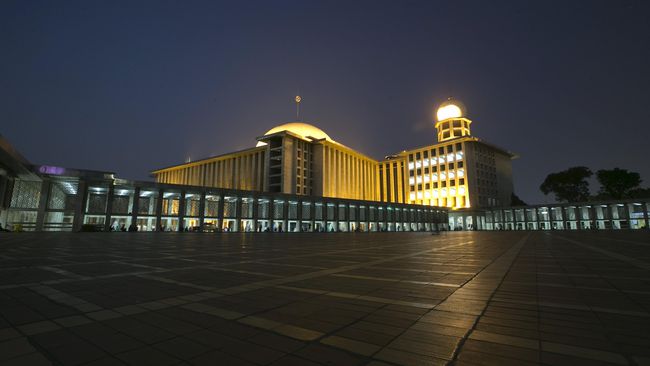 Address: Jl. Taman Wijaya Kusuma, Ps. Baru, Sawah Besar, Jakarta 10710
Opening hours: 24 hours
How to get there: Take transjakarta bus 2C, 6A, 6B from Gambir 1, and stop at Istiqlal. Or if you take the City Tour Bus, you can stop at Istiqlal bus stop.
6. Visiting Gereja Katedral
The cathedral is symbol of religious harmony in Indonesia. It is located just across the Masjid Istiqlal. It is a Roman Catholic church built in the early 20th century with a Gothic architecture.
Address: Jalan Katedral No.7B, Ps. Baru, Sawah Besar, Jakarta 10710
Opening hours: 6 am to 12 pm
How to get there: If you take the City Tour Bus, you can get off at Istiqlal bus stop and from there just walk down to the cathedral.