In my very early personal international travel in 2002, when I wanted to try to stay in a dormitory my ex-German boyfriend at that time challenged me with a question, "Are you ready to take a shower with just one curtain separating you with another person (who is also taking shower)?"  I had a flat face when I got that question as  I could hardly imagine that picture happening to me. In fact, I didn't know where he got that image.
Ever since I started my personal international travel where I needed to stay in a city, I had never stayed in a dormitory kind of lodging. I have not been a traveler with full bags of money, but situations saved me: I stayed by friends' houses.
But in 2015 I wanted to give it a try staying in a dormitory. I planned to see and visit Old Bangkok where the Skytrain doesn't travel there. I had been to Bangkok a couple of times but never stayed in  Old Bangkok, so I think it would be cool.
Picking up a dormitory was a careful decision because I didn't want to stay at Khao San Road, the famous backpacker kampoong, which is located in Old Bangkok.  After sweeping many websites and reading their reviews,  my choice fell on to Here Hostel. There were no stains on its review.  I made my booking online for two nights.  As I was not comfortable staying in a mixed dormitory for my first try,  I selected the ladies' room where one room was occupied by three ladies.  
The taxi took me to the hostel from Phaya Thai station, where I got off of the Airport Rail from Suvarnabhumi Airport. My taxi driver spoke limited English, but I showed him confidently the hostel's address that was written in the Thai language.
Just Not for Me
The driver seemed to be proud as he could find the hostel without any issue. " Thank you," he said when I gave him some tips as I was stepping out of the taxi. I was happy with the location of Here Hostel. It was in a quiet residential area near the Democracy Monument of Bangkok. It was basically in the government office area.  The hostel was not far away from the main road that was connected by public buses. The touristy Khao San Area–which I found out later– was about 30-minute walking distance in my pace.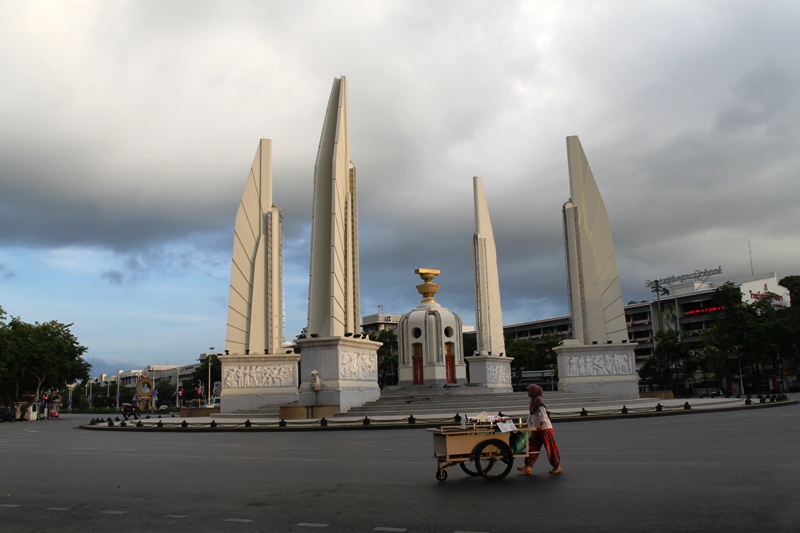 The hostel used to be an old house.   This two-story building was just renovated.  It was run by young Thai people.  
Outside the hostel entrance, I saw rows of sandals and shoes. Any guest needed to be barefoot inside the hostel.  Guests were mostly young people from different nationalities. 
My room was on the second floor on the corner in the alley.   I saw some doors with alphabets on them. The doors led to the rooms, among them were mixed dorms. I glanced to one room that was ajar. It was a mixed dorm, I was glad not to choose it. It was just not for me.
I was the first comer in my room. The room was clean and neat. I liked it. It was air-conditioned. There was no chair or cupboard to keep our belongings. Space was not too bad for three girls.
When booking the room, I requested to get a bed by the window, and it was granted. I was not claustrophobic but I loved to see the outdoors. I could not imagine staying in a room with a small window or without a window, it was just choking me. 
I navigated inside the hostel a bit.  Restaurant, lobby, and pantry were on the first floor. The shower room and toilets were clean. As I remember there were four of them. Some guests left their belongings like shampoo and soaps in the shower room. The girls' and boys' shower rooms were separated. In the pantry, I popped with two Indonesian girls who were visiting Bangkok. They stayed in the mixed dorm room. "The room is fine," said one of them. In general, I like the whole interior decor. It was stylish.
Never in my life, I was sleeping in the same room with strangers, but it was a challenge that I needed to win when staying at Here Hostel. Even though we were in the same room, there was no intense conversation among us, only saying hi and asking our country of origin. My roommates were from Korea and England. During the day, I was pretty much outside the hostel and I came back before it was too dark.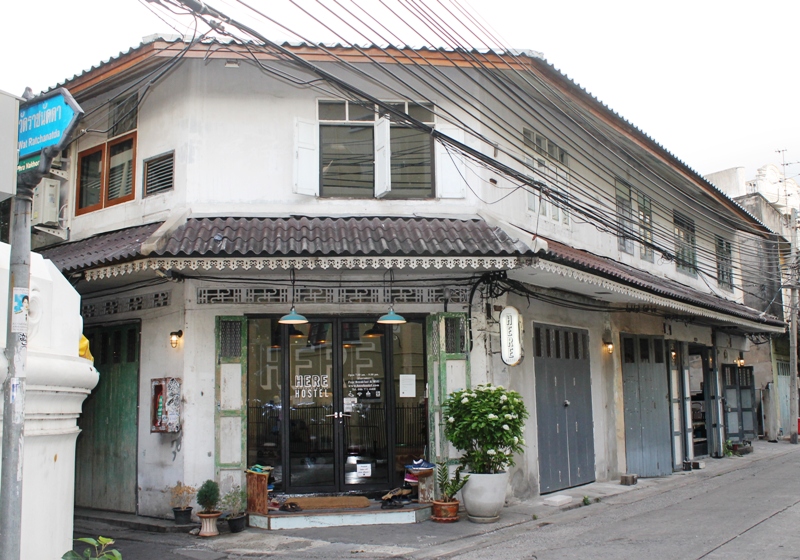 I had a ritual when I was going to shower. I needed to bring with me all the toiletries, a towel and my new clothes for a change. When the bathroom was next to me, it was not really a thing, but when it was downstairs on the other side, it was something. 
I didn't anticipate that turning on and off the lamps at night would be an issue. I am a dark person. When the lamp is turned on as I'm sleeping,  I can't sleep immediately. And it did happen in that room. At midnight my roommate wanted to find something in her luggage and she turned on the lamp for a while when I was sleeping, I woke up and could not get back to sleep immediately. Out of anticipation, I didn't bring the sleep mask.
Real Dorm Experience
As long as I thought my stay at Here Hostel was not my real experience staying in a dorm. Two years afterward, I had a transit in Bangkok. The transit time was about 23 hours meaning the airline didn't grant the passengers free accommodation. So I decided to stay in a dorm room –with all of its expectations. The location was important for me because I needed to get easy access to the airport.
Although my stay in Bangkok was only one night, I was happy because I could meet again my long-time friend Soko Tomita.  She is a friend of my cousin Citra Kamah. They met each other when my cousin worked in Fujitsu in Bangkok. Citra first introduced me to Soko in 2006 when I first came to Bangkok. Since then whenever I visited Bangkok, meeting Soko was like my schedule. So, on my short stay in Bangkok this time, I have communicated with her that she would accompany me to stroll down in infamous Cowboy soi in the evening (this will be in my other story, stay tuned).
The hostel that I chose was located just walking distance to Phaya Thai station, which was really good for me. Like before I selected it after sweeping reviews from the guests. My main concern was cleanliness and safety.
 My dorm room at Sleeplab Hostel was on the second floor. It was a girl dormitory with 6 bunk beds.  As always I requested the bed by the window. For a childhood memory reason, I chose the top bunk bed. The room was clean and my bunk bed was comfortable. My capsule was covered by a curtain which I didn't close completely at night as I wanted to have a window view.  From my bed, I could see people crossing the bridge and, of course, hear the roars of the vehicles.
I realize that the dorm room is designed for total city roamers as it is for sleeping only. It is usually empty during the day and will be occupied in the late evening. My expectation was challenged when the open or public space on the mezzanine could occupy 5 people only. There was also a small lobby. Outside was the main street. So when I was inside the hostel, I only had two choices to hang out: in my bunk bed, or in the mezzanine.
The boys' dorm was on the third floor with their own shower and toilet, but there was a case when one of the boys used the shower on the second floor for the girls. I found it out when the management stuck a note on the door of the girls' shower telling it was for girls only. Again, it was a matter of guest attitudes. At night when I wanted to go to the toilet, just like in Here Hostel, I needed to be in good shape because I had to pass other bunk beds and public areas. By the way, in most hostels, CCTVs were put in all strategic corners.
It was a good decision to stay one night only, as it was for gaining experience. It was not the matter of the hostel, it was just not my style.