This is the continuation of my previous travel story in Kerman.
I was happy with my trip to Lut Desert. Witnessing the sunset in the desert was one of my best trips in Iran in 2017. As the sky was about to get dark, we went back to the car and traveled back to the hotel in Kerman. It was expected that we would arrive at the hotel around 10 pm.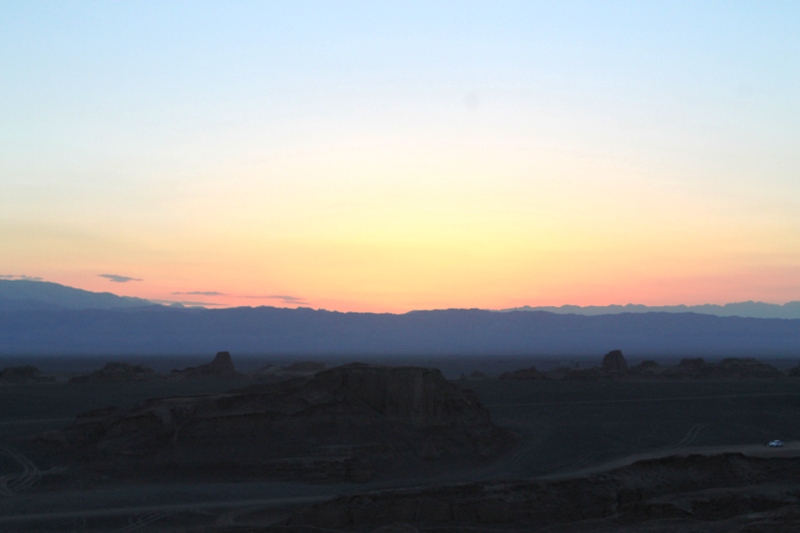 While we were still in the area of Lut Desert, our driver stopped on the way. He wanted to show us the underground water spring in the desert that is later channeled in the qanat system–an ancient water distribution system. We stepped inside an opened cave.  I was amazed to see a stream of water that came from springs. Using the light from the mobile phone, I could see a small stream. The underground water spring and the qanat system had answered my question about the water in Shahzadeh Garden in the middle of desert.
It was dark outside. We got back in the car. As the car drove, only the beam lights of the car led us on the smooth roads.  I looked from the window and had an imagination sleeping in a tent in Lut Desert. It must have been super cool.
We had a stop on a kind of rest area.  There were some other cars stopping by. We were there about 20 minutes and then continued the ride.  The driver drove at full speed all the way to Kerman. 
It was a trouble-free ride, and by 21.30 we were entering the city. Our driver was very good driver. He asked whether we wanted to stop by for dinner in one of the restaurants that we would pass. I asked Kak Nas if she wanted to join the dinner. She said that her family was waiting for her at home and so was the driver. Since they could not join  with me so I didn't plan to stop for dinner at the restaurant. "At the hotel there is a restaurant," the driver said.  I looked at my watch, it was almost 10 pm, and I was wondering whether the restaurant was still open.  Anyway, our car kept moving. Kak Nas got off in one of the street corners in the city. 
We arrived at the hotel after 10 pm. I gave the driver tip. He was the best driver in my trip in Iran so far. The hotel owner was at the reception. He asked about the trip, I told him it was perfect.  He looked happy with my answer. I paid him for the trip and as discussed before I also gave him money to buy my bus ticket to Shiraz in the morning.  I didn't mind paying a bit extra because I didn't have to deal with the hassle. Then I asked whether the restaurant was open. He nodded.
I went down to the restaurant with an empty stomach. Yes, the restaurant was open although the kitchen was ready to wrap up. The cook said that only the kebab was left. I said no problem, I was starving. 
It was really a long day for me, I was content with the entire trip. Lut Desert visit was really exceptional.  But in the morning I needed to leave the city to continue my trip to Shiraz. Another adventure waited for me.
Goodbye, Kerman!
After breakfast, I was preparing to check out. Kak Nas would accompany me to Kerman bus terminal. I settled my payment with the hotel, and the owner didn't include my dinner in the invoice, he said that it was a bonus for me. I thanked him for his hospitality. Kak Nas  arrived then  the hotel owner arranged for my pick-up to the bus terminal. He said that I could pay directly to the driver. It looked like he used the application for the booking.
Saying goodbye to a city was always a heartbreaking for me. However, I needed to continue my journey. I thanked the hotel owner who helped to arrange my trip. We got in in the city car and led to the bus terminal. Kerman in the morning was quite busy. Kak Nas made a brief conversation with the young driver, who happened to be a university graduate who was looking for a job.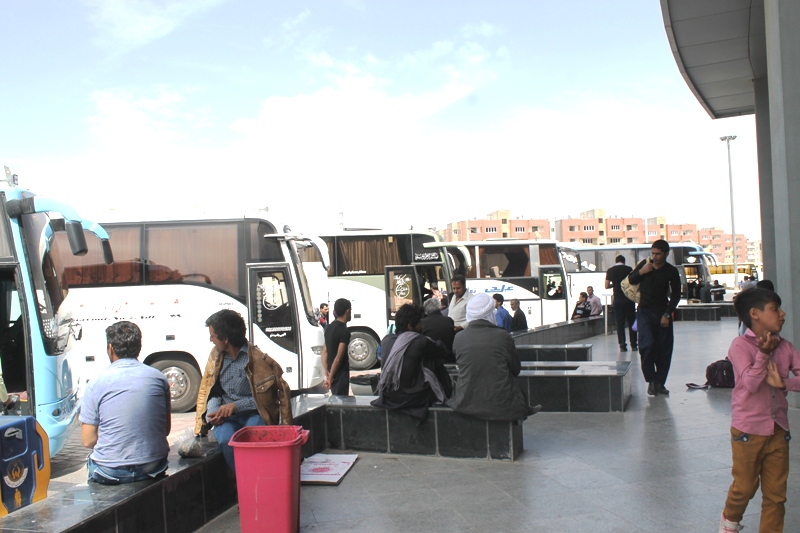 The Kerman intercity bus terminal was  huge. It was not crowded when we arrived there.  The buses were parked in a row. Kak Nas' presence did help me. I didn't know which bus I needed to take as all buses were written in Farsi. She asked one of the men who waited by the buses. The man pointed to the bus that would leave for Shiraz. I showed the bus attendant my ticket. He took my luggage and put it in the trunk.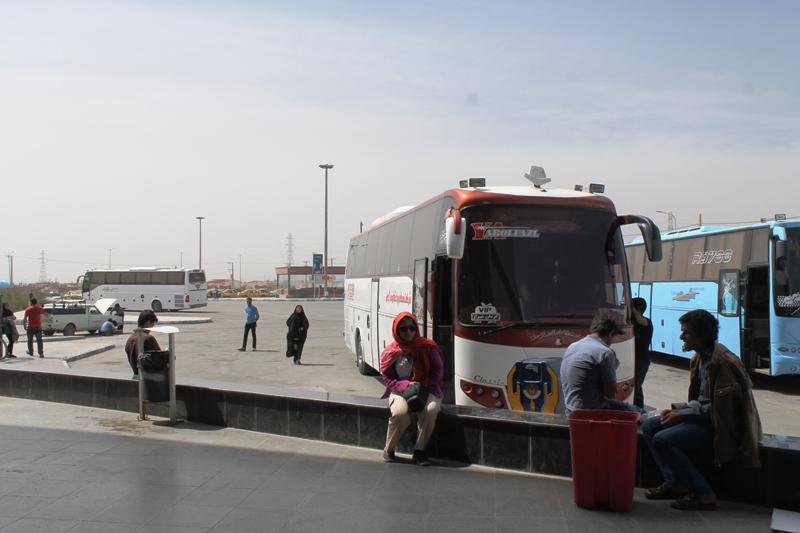 Kak Nas was waiting until my bus departed.  Our time to say goodbye finally came.  I thanked her for spending the last two full days with me. "Please take care," she said as we were hugging on the bus before it left. I waved her goodbye as the bus was leaving the terminal. 
I was taking a VIP bus, so it was comfortable, and sitting next to me was a girl.  I sent a text message to Maryam, my host in Shiraz. I told her that my bus just departed from Kerman. The bus was expected to arrive in Shiraz within seven hours. Maryam told me to keep her updated with my whereabouts. 
Although I like travelling by train best, I also enjoyed the trip by intercity bus especially if there were a lot to see along the way.  We passed small cities and villages.
After sitting for three hours, the bus made a rest stop. I got off to go to the restroom, the girl next to me accompanied me. Some passengers performed their prayers in a nearby small mosque. The bus stopped quite a while before it continued to ride.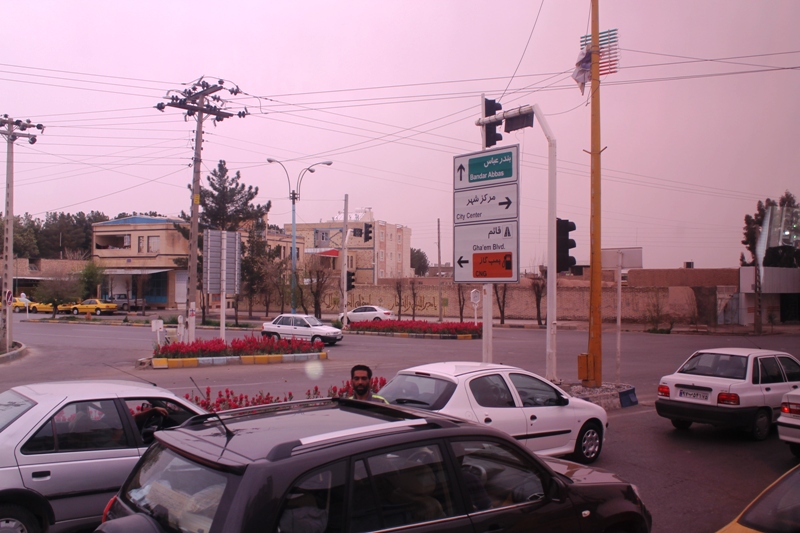 The bus took both the regular way and highway. There was always a security check before entering the highway. And for safety reasons, a safety officer would come on board and check whether each passenger put her/his seat belt correctly. 
I sent again another message to Maryam telling her about my location. She said it would take four hours more to get to Shiraz.  Surprisingly I got a message from Yanti, an Indonesian lady who helped to arrange my Tehran-Kerman flight ticket. She wanted to say hi and asked where my next destination was. I told her that I was heading to Shiraz. Yanti was as excited as I was about my trip in Iran.
As our bus was driving on the highway, all I could see was just dry plain on both sides. The road was a bit dusty as we just passed rocky hills. There was nothing interesting to see on the road, I fell asleep.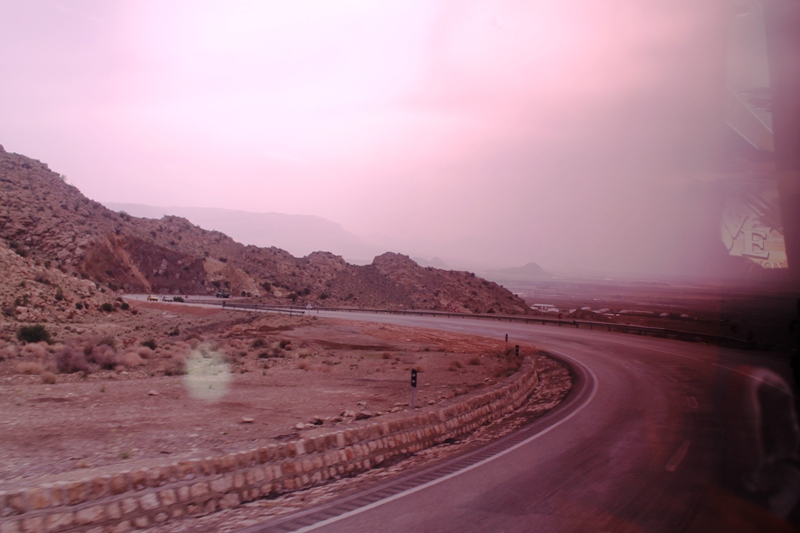 I woke up and it  was 5 pm but we had not reached the city. A message from Maryam came in. She asked where I was. I asked my neighbor how far Shiraz was. She said it would be one hour more until we would reach Shiraz. The day was getting dark, outside I could see the city's lights.  The bus was entering the city. "This  is Shiraz," said the girl who sat next to me. 
Another message from Maryam saying that I better take a taxi from the bus terminal. She planned to pick me up after finishing her work but as I arrived far too late, she could not wait long in the bus terminal. She gave me her complete address. I told her that was fine, I could take a taxi from the bus terminal.
Hello, Shiraz!
I got off the bus and was wondering where I could get a taxi.  The girl who sat next to me showed a counter to get the taxi. It was crowded as many passengers needed taxis. Being a foreigner who didn't speak the local language, it was not perfectly smooth for me. But in the end I got on the taxi. I showed the driver the address. Then I called Maryam so she could speak directly to the driver to tell the direction. 
It took more than half hour to reach Maryam's house. When we were trying to find the house, I saw one house with an entrance gate ajar.  I asked the driver to slow down. A girl  with a familiar face appeared. It was Maryam. I was glad to see her again. It was three years ago when Maryam and her sister, Mitra, accompanied me in Shiraz.  She invited me to stay with her family whenever I visit Shiraz. 
Maryam helped me to carry the luggage. At home, her parents and her younger sisters were all there. I was delighted to see Mitra again. I introduced myself to Maryam's parents. They welcomed me. It was a pity that I didn't speak and understand the language so I could not converse with their parents. Mitra told me that even though her mom didn't understand my language, she could understand me by heart. I was touched with that.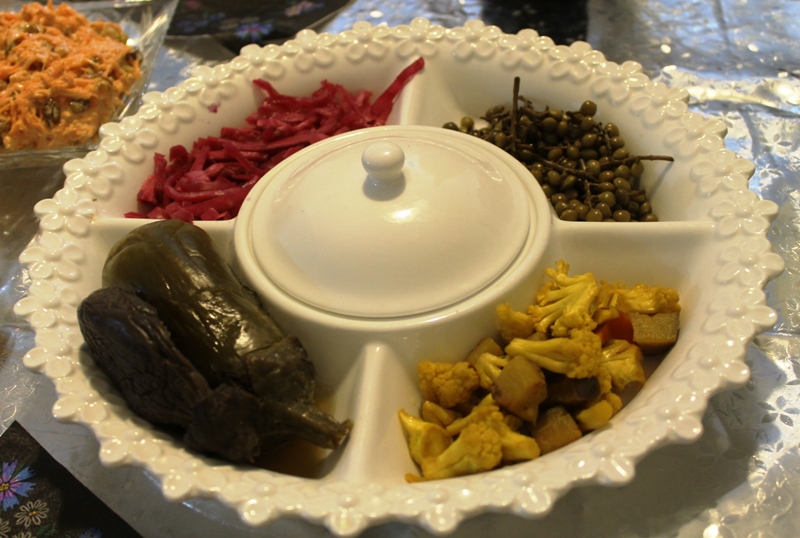 That evening Maryam's mother served a big welcome dinner. The table was full with plates from appetizer to dessert.  The food was yummy.  Maryam and Mitra told me the name of the food, I could not catch the names. My stomach was full after dinner. 
Another family member came in, it was Maryam's elder sister who came with her son. I had a nice welcome from the family. As we were sitting in the living room, Maryam's mother served me Iranian cookies that she made for Nowruz and some fruits.  I was completely satiated. "We like eating, Iji," Mitra said chuckling as I only took two pieces of cookies.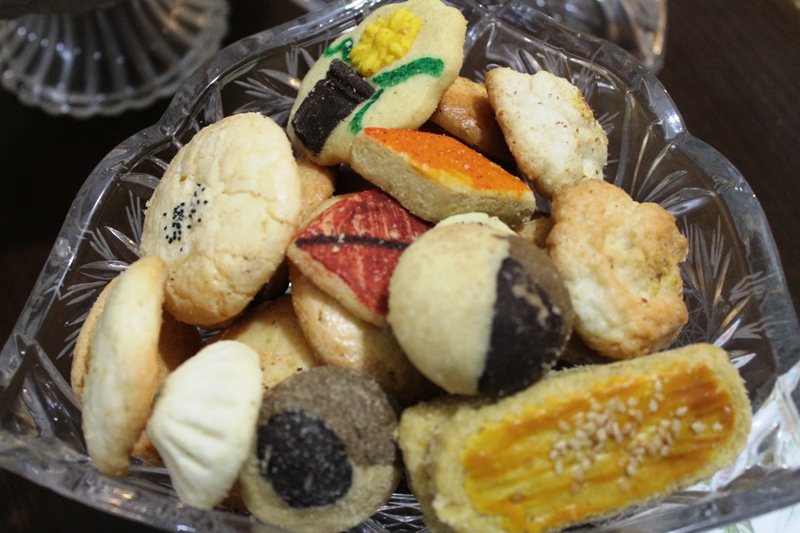 I gave the souvenirs from Indonesia to the girls, again I didn't anticipate bringing one for Maryam's father. I really felt bad. The trip gave me a lesson that I should always bring extra items with me just in case. While talking with their parents, Maryam and Mitra became my interpreter
Maryam said that she would show me some places that I would like to see in Shiraz. For that, she had asked her office to take a one-day leave to show me around. I was looking forward to exploring Shiraz with Maryam in the morning.
To be continued.