We arrived home after 9 pm and I was a bit tired so I directly went to my room and laid down. I thought I fell asleep for a while then slowly I heard someone calling my name. That was Ali's mother who called me for dinner! I could not refuse it since she was already on my door. I got up and I saw the family was sitting down on the floor. They already started the dinner.  I washed my face and then joined them. It was again enjoyable to eat together with the family. After dinner I wanted  to help them in the kitchen, but the girls, Elham and Mahza, refused my help.
Being a bit fresh, I went to the living room and Ali's mother showed me the family photo albums. In broken English and with the help of Mahza and  Mohammad, Ali's younger brother, she started to talk about the photos.  Sometimes I didn't understand the words or what she meant, but later when she found the words and they were  correct, she was so happy and then we both burst into laughing out loud. It was so much fun.  It was a nice evening  to listen to the story of the family. We talked and laughed, then I saw the clock, it was almost midnight. Tomorrow would be my last day before I left for Tehran. And of course, I had another program for the day.
Girls' Day Out
It looked like each family member had his/her turn to accompany me.  On my last day, it was Ali's mother and Mahza who would accompany me to the city. Elham had to work and Mohammad had his own project. There were some things I needed to sort out:  transferring money to a guy from the travel agent who arranged my visa application number, posting postcards to my friends, and exchanging my US dollar banknote.  And we were also going to visit the Fallak-ol-Aflak Castle.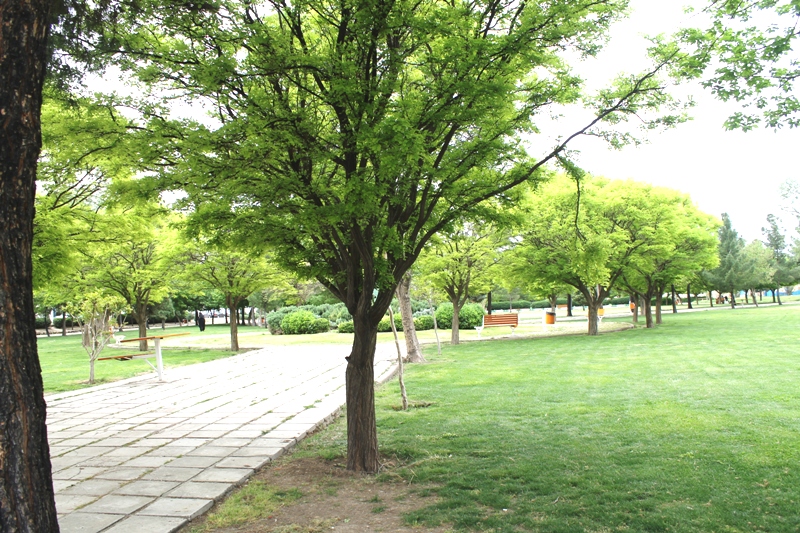 After breakfast we went out and I was just following Mahza and Ali's mother.  "It is the first time for my mother to go out after a long time," Mahza told me. "That's good," I said. We passed a big park in the residential area. I was surprised to see how well-kept the park was. It was green and shaded by many trees, there was also a kindergarten nearby.  We stopped by  in the park and took some photos. Then we walked through another residential area. I was always excited to see how the people live, and I could slightly see it in the residential area.  I passed a hair salon, which I knew from the poster that was stuck outside, the grocery shops, school, and other local businesses.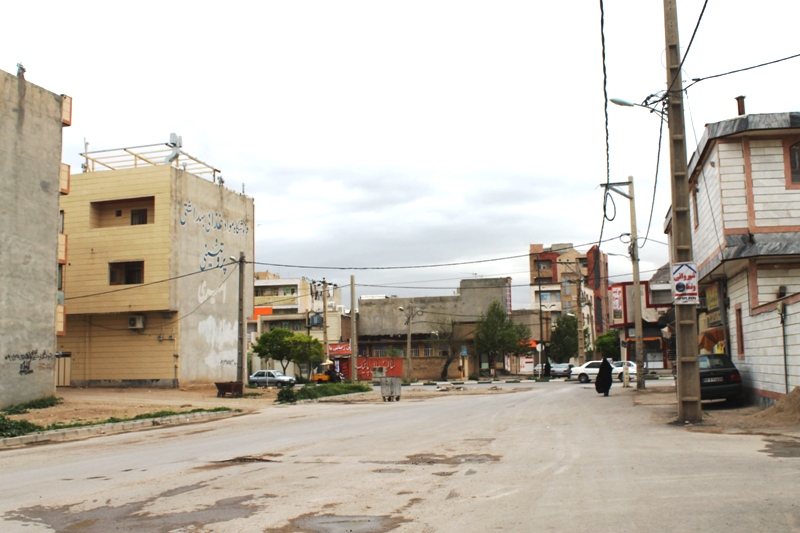 It was a quite long walk and on our way, we came across a close relative of Ali's family, a lady. Ali's mother introduced me to her and they started to talk. Mahza made a gesture to me that her mother would talk long when meeting her family. I took a picture of the lady and Ali's mother. It was a nice introduction.  Then we said goodbye.  Mahza told me that the lady invited me for dinner tonight at her house. There would be a kebab party. I was touched by her hospitality as I just met with her.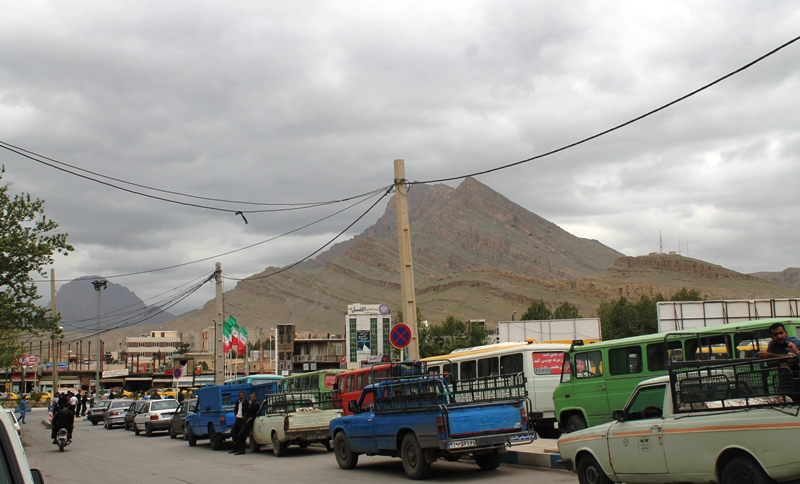 We arrived at a kind of a bus terminal where  taxis, pick-ups and minibuses waited for passangers.  We stopped a taxi and our destination was the post office. It was my first time going to a post office in Iran. It sounds weird but I like to go to post offices in different countries. I had one package to be sent to Esfahan and three postcards for my friends in three different countries. I also wanted to see how long a postcard would travel. I found out that just like when I posted a package in India, I could not use my home country address, I should use my address in India. The same also applied in Iran, I needed to use Ali's address. When it was time to pay, Ali's mother opened her purse, I abruptly stopped her and I paid for it myself.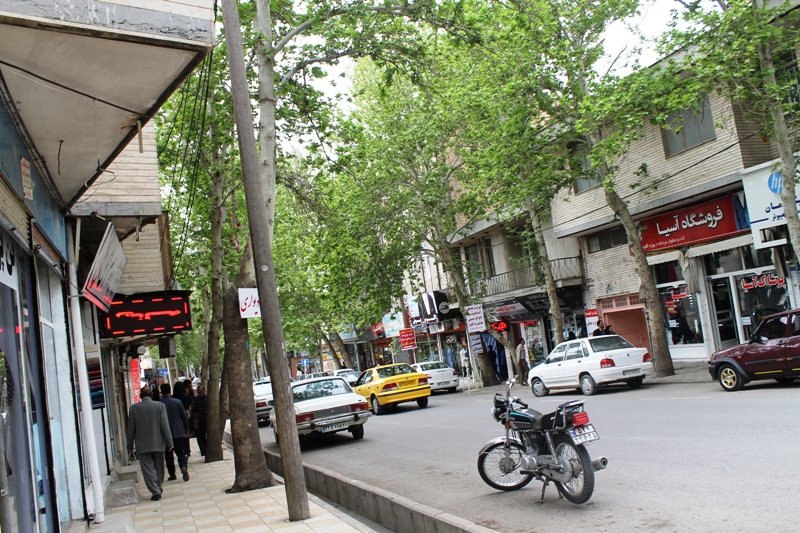 I just realized we were on the main business road of Khorramabad. I was there two days ago when we were on the way to Keeyow Lake. The road  was lit by colorful lights at night. In daylight I could see  how clear the water that flew on the ditches on both sides of the road. The water originated from the water spring in one of the mountains that surround Khorramabad. 
I still had another mission: to transfer my money and exchange my dollar. We walked to the bank which was the same as the recipient bank. I went inside accompanied by Ali's mother and Mahza. Ali's mother talked with one of the customer services  attendants explaining my intention. I needed to wait for a while until the bank manager himself came to me. I also asked if I could exchange my US dollar, unfortunately I could not. He advised me to exchange it in a money changer. 
Despite being in the main business road of Khorramabad, we could not find a money changer kiosk there. But Ali's mother had a solution. She made a phone call. She told me that she had a old friend in the bazaar that could help me.  Although I didn't understand the language I could understand the meaning by her gesture and minimal English words.  Afterwards, we took a taxi to the Old City of Khorramabad. Ali's mother didn't give the chance to share the cost for the taxi.
The old bazaar of Khorramabad was located in the former caravanserai of Mirza Sayed Reza. It was built in 1923 during the Qajar Dynasty. It was constructed from bricks and stones. The space inside caravanserai had been modified to fit for the shops. But the alleys inside remained as they used to be.  We went to a gold shop that belonged to a gentleman, who was a friend of Ali's mother. After talking for a while, I gave him my $100 banknote and in return I received Iranian rials. The exchange rate was not as good as in the money changer, but it was fine for me.  Most of all, I have sorted all the things I needed to do.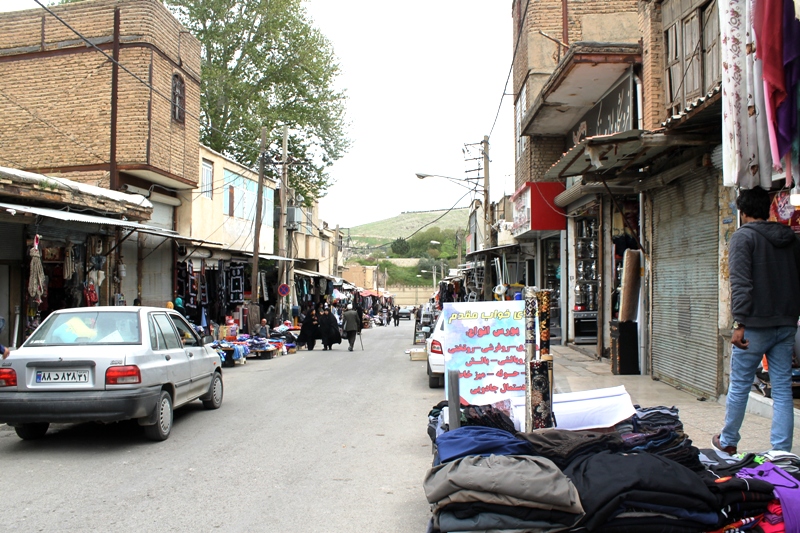 Later, we walked toward Fallak-ol-Aflak Castle, one of the attractions in Khorramabad. Both sides of the road lined with shops that sold anything that local people need. As we walked some shop attendants shouted "hello" to me, which I replied by hand waving. From a distance, I could see a hill which was the location of the castle.
Fallak-ol-Aflak Castle
Like any other Iranian cities, Khorramabad, the capital of Lorestan Province, has also had a long history from thousands of years ago. Although it was not as famous as Susa, it was an ancient city that had existed during the Elam Kingdom. Its name was Khaidalou. When the Sassanid Empire (226-651) ruled the area, the Empire built the city on the ruins  of Khaidalou. It was named Shapur-Khwast. One of the Sassanid kings Shapur I constructed a fortress on the top of the hill near Shapur-Khwast.  Shapur-Khwast fell into ruins during the invasion of Mongols in the 13th century. After the Mongol Dynasty  declined,  Khorramabad as a city started to grow in the valley.  The fortress became the heritage of the Sassanid Empire in Khorramabad  that still stands today.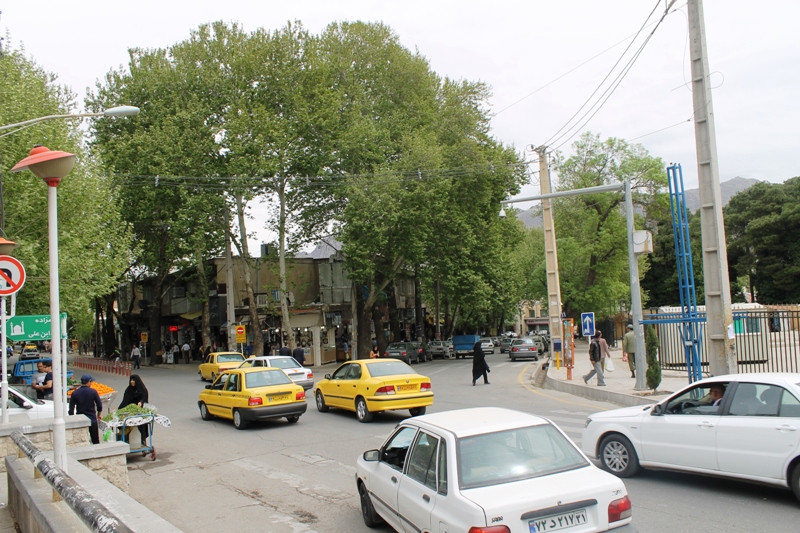 The castle was a walking distance from the bazaar. From below I could see how gigantic the size was. I was amazed that it has still stayed strong since the third century AD.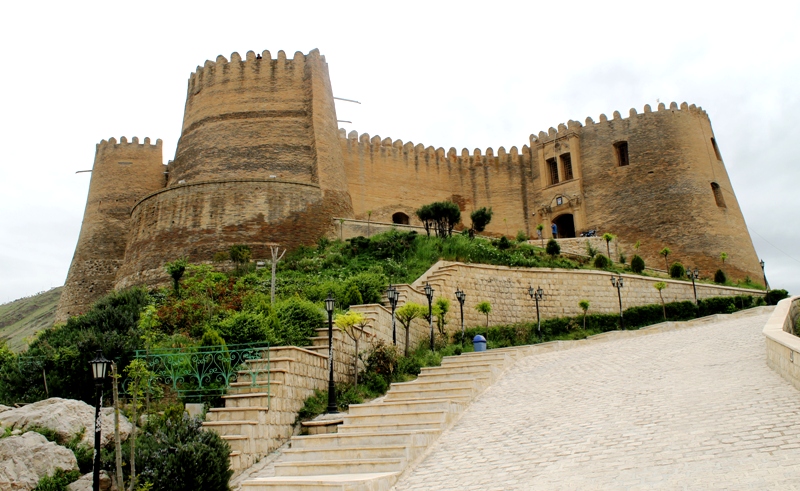 Our breath became a bit short as we were ascending on the cobble stoned path. The weather was luckily comfortable so we didn't sweat. As we reached the entrance of the Castle, we were panting. We decided to stop for a while. Surprisingly, as soon as we got a scenic view of Khorramabad Valley from the castle, we forgot about all of our efforts to climb.  It was clear that Khorramabad was surrounded by mountains.  From above, we could capture the  surrounding houses, buildings, and green too. It was beautiful.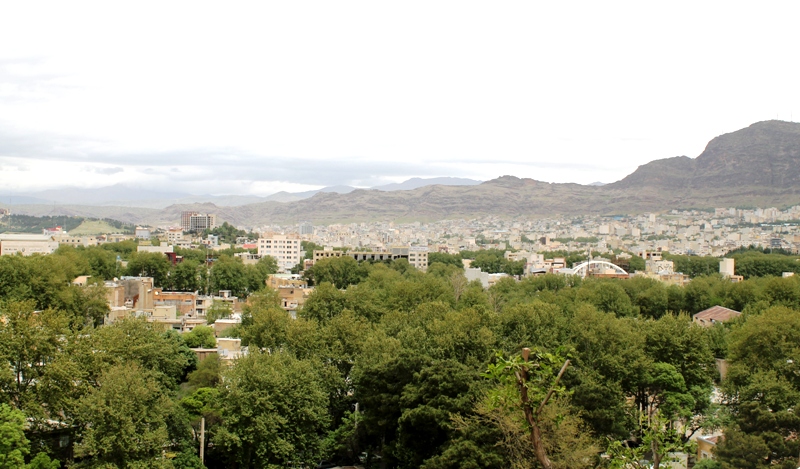 The Castle has several names Fallak-ol-Aflak Castle, Dež-e Shāpūr-Khwāst, and Khorrammabad Castle. Since the Qajar Dynasty it has been called Fallak-ol-Aflak Castle, which meant the sky of all the skies. At the time the Castle had 12 towers, now only eight towers are left.
The forty-meter tall Caste was made of stones, clay bricks and mortars. The octagonal form of the castle covers an area of five thousand three hundred meters. Over the time the castle has had different functions such as the seat of the government, treasury, garrison and prison. Currently it houses the Archaeology Museum and Anthropology Museum of Khorramabad.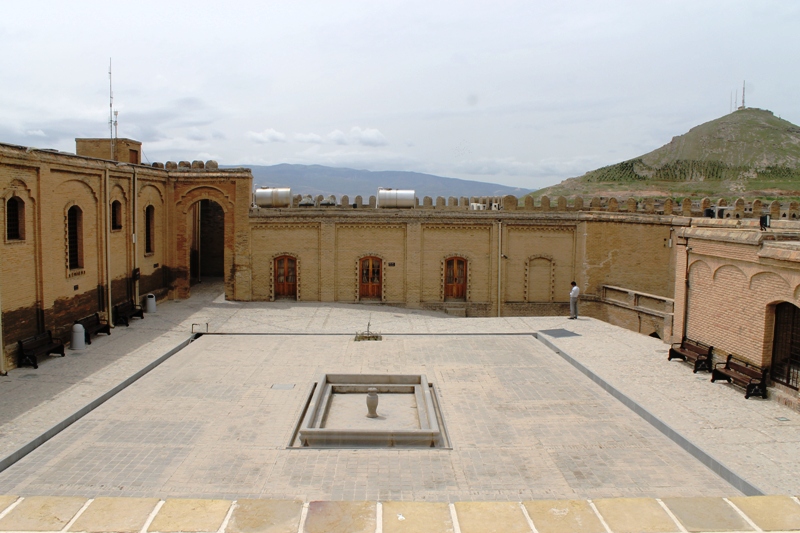 I would recommend people who want to learn quickly about Lorestan history and culture to visit the museum.  The collections of the Museums include the artifacts from the Bronze Age, Elam Kingdom, and Achaemenid Kingdom. What interested me much was the Anthropology Museum. It displays the cultural life of rural  and nomadic people of Lorestan in the past such as how they made their food, clothes and tents. Interestingly they had been exposed to musical instruments as well.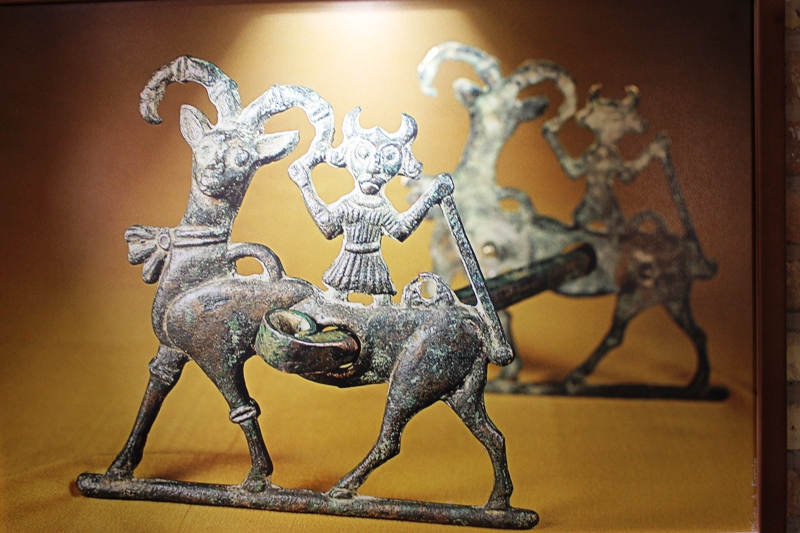 I was fortunate the Museum manager was there and he gladly explained the displays in the Museum.  The life of Lorestan people from the ancient and modern Qajar time was well documented in the Museum.  The Luri women were actively involved in the family life and community. They spun the thread and had skills in different techniques of weaving. They also participated in getting food, from searching the fire woods to cooking.   The museum also showed that hospitality has been in the blood of Luri people as they provided tools  at home to entertain for their guests. The people were also trained with horse riding so they had very good  knowledge  about horse. There were also complete displays for wedding ceremony in the nomadic and tribal Luri people. The  stunning pictures of Lorestan nature and animals prompted me to make a wish to come again to see all the natural beauties.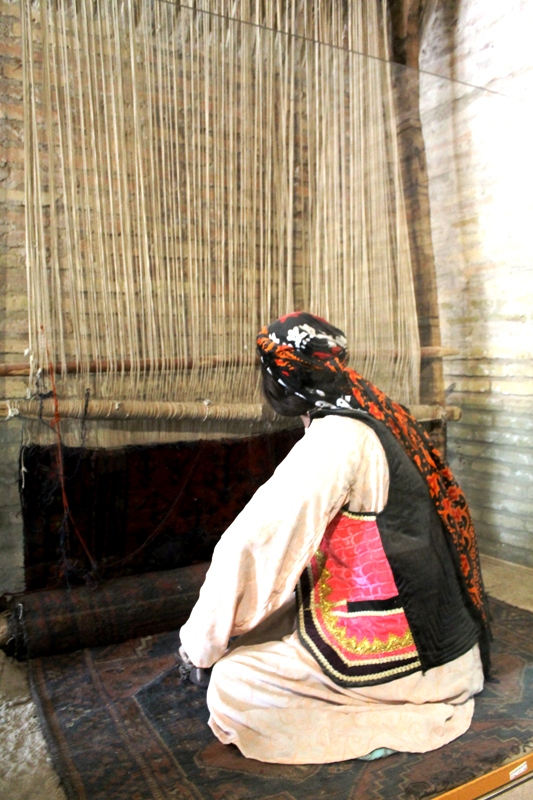 With all the explanation, I learnt a lot in a short time about Lorestan culture and history. I thanked the museum manager for his explanation. I was satisfied with my museum tour. The museum exit led to another courtyard of the Castle. I had another look at the Castle before leaving.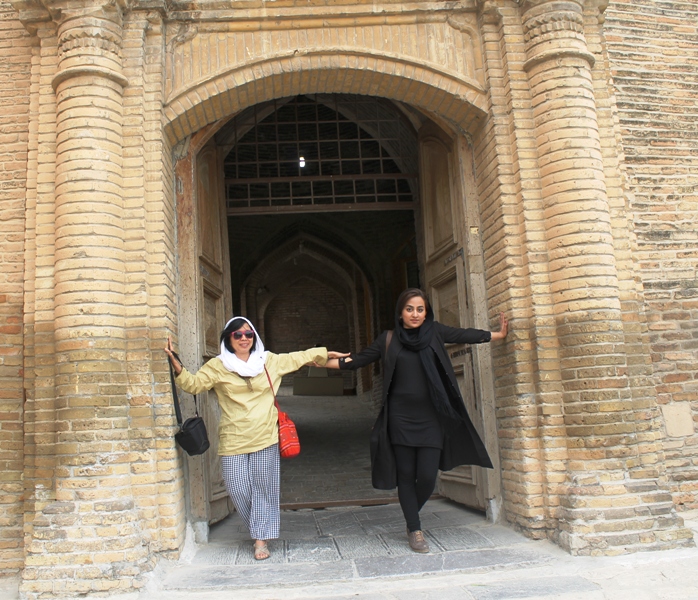 Instead of going home straight,  Ali's mother entertained us  in a small open cafe which is located outside down the Castle. We sipped tea and ate traditional porridge. It was tasty. It was really a pleasant day out with Mahza and Ali's mother.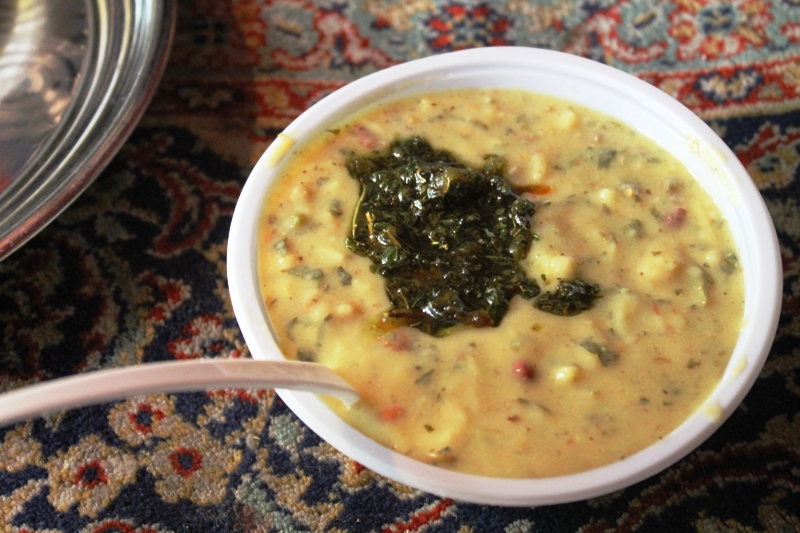 To be continued