Ali: Khorramabad, Iran (Part 5-Ends)
From the Aflak-ol-Fallak Castle, we took a taxi. It was after midday when we arrived home. I saw that Mohammad was in the kitchen. He was making a dish. Oh, it was time for a meal again. I just had porridge in the small cafe by the Castle. Probably that was the desert.
Ali's  mother helped to prepare the lunch. We had lunch with the dish that Mohammad cooked. It was  good. I didn't know he could cook. During lunch, we talked about the gigantic Castle and also the nature of Lorestan that I saw from the picture in the museum. "You must see other parts of Lorestan, it is beautiful," Mohammad said. He was surely right about it.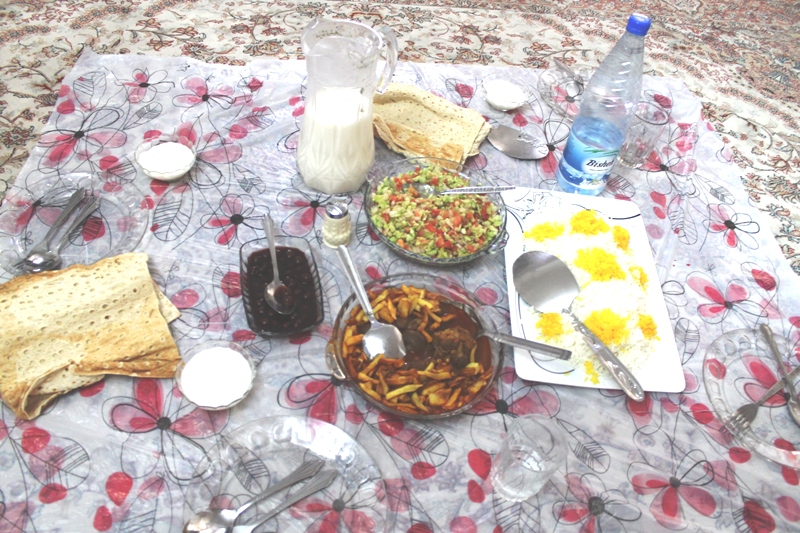 "Iji, tonight we'll have dinner at our relative's house," Mohammad told me.
"Oh yes, I met the lady this morning, she invited me for dinner."I was looking forward to my dinner tonight.
After lunch, I sorted my things for my departure tomorrow. Time flew so fast. I would leave for Tehran in the morning and continue to fly back to my country.  My feelings were all mixed. On one hand I was joyful with my full two-week trip: meeting wonderful people, learning new things, and seeing good places.  On the other hand, it was just hard to leave them. When I packed up my things, I separated the things that I didn't want to bring back to my country. All toiletries, my pajama, rubber sandals and Indonesian scarfs. I was glad I would travel light back home. 
Most importantly, I needed to confirm my ticket so I contacted Yanti, the Indonesia lady who worked at Indonesian Embassy in Tehran. She helped me when I had an issue with my ticket for the Tehran-Kerman flight. Yanti asked me to send her my e-ticket so she could confirm with the airline office. She would answer it later. I was glad that everything seemed to be smooth.  One last  thing I needed to do was to buy Iranian sweets, Ali's mother would take me to the shop.
"Oh, you are leaving tomorrow, I am going to miss you," Ali's mother said sadly. I could feel her. Every night before going to bed, we chatted   with a lot of laughter. I enjoyed my conversation despite some language barriers. My skill as an interpreter was sharpened as well.  It was an enjoyable time for me.
After six in the evening, we went by car to the apartment of Ali's relative. The apartment was still in the same residential area. It was a new apartment building that  had not completely finished.  When we arrived some men were grilling on the base of the apartment.  They greeted us. I could smell the chickens were being grilled.  
The main room of the apartment was large. There were some men, women and kids too. I was introduced to them. I didn't remember their names one by one, but they were all Ali's close relatives. The lady I met yesterday morning, who was  the host, welcomed me and so did her husband. The other men and women were the sons and daughters in law of my host. I also met Ali's elder sister and her husband, and of course their son who I met when I first arrived. It was a quite big gathering.  Even though I didn't understand the language they were talking  and I could not get into the conversation, it was OK for me.
The lady host  accompanied me in the living room. Except  Ali's mother and sisters, the women were all in the kitchen preparing the food. It was really something for me to be invited by a family, it was an honor for me. And actually I didn't expect that it would be a kind of big group.
Many of them were not familiar with my country. So using the translation  application in the mobile, Ali's brother-in-law asked me some questions about Indonesia, from its weather, population, currency, state, and the situations in general. They were curious to know. And I was like an ambassador of my country  answering those questions.  It was a quite long session. But I was glad when they could grasp something about my country. It was as though my mission was not only as a guest but also an informal representative of my country. 
I didn't expect that the hospitality of Luri people was so great. And I felt ashamed that I didn't bring anything for my host. The dinner was beyond my expectation of my stay at Ali's family.
I peeked what the ladies were doing in the kitchen. They were almost done with the preparation. It was time for dinner! The men prepared the sheets on the carpet, others helped with serving the utensils. The dishes served  included the chickens that were barely grilled. The cooked rice was decorated with saffron and pomegranate seeds. It was a beautiful bright color. The salad had a pretty mixed color of violet, green, red and white. A dish that I had not eaten before was also served, it had peas on it. There were pickles and, of course, yogurt.  All dishes were home-made.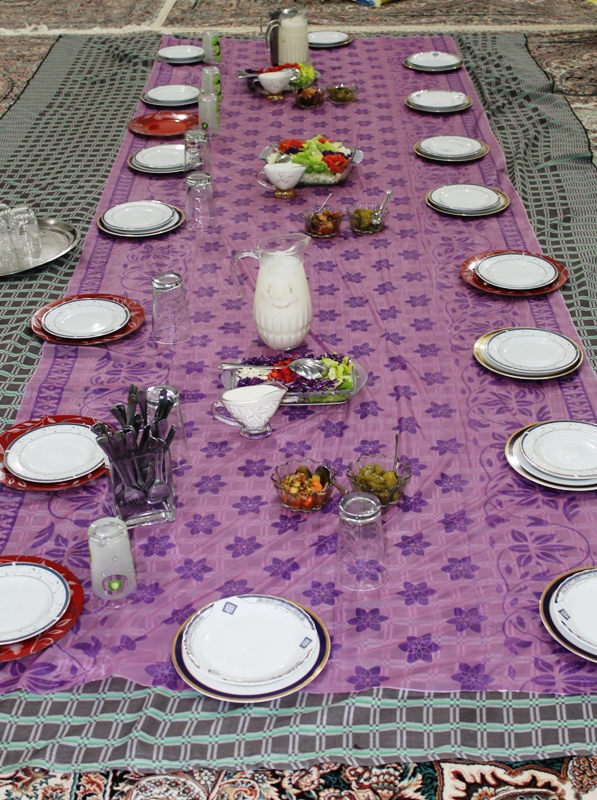 It was the biggest group of dinner that I have ever had in Iran. Everyone was joining, including the kids. The food was delicious.  It was a cheerful moment on my last day in Khorramabad. 
Before going home, Ali's brother-in-law wanted to show me one of the attractions in Khorramabad: Sangi Whirlpool.  I highly thanked my host and others who had joined the dinner. I went home with a heart full of good memories.
Outside, the weather was a bit chilly, but I had my fleece jacket with me. In two cars we went to the direction of Takhti Square in the west of the city.
Gerdab-e Sangi
Gerdab-e Sangi is located by Takhiti Square. It is the oldest stone water reservoir in the world. It was constructed during the Sassanid period  (224-651 CE)  and  has functioned well ever since it was built.  The reservoir is circular with a diameter of 18 meter. Its height is 10 meters to the bottom of the springs. The reservoir  was constructed of stones and mortar.  There were seven outlets of different sizes, but only one remains functioning today. In the past the Sassanid used this reservoir to control the water and channel it through canals to many parts of the ancient city of  Shapurkhast. At the time, the reservoir had distributed the water to the farming land and watermill as well.  The reservoir was listed as the National Monument of Iran in 1976.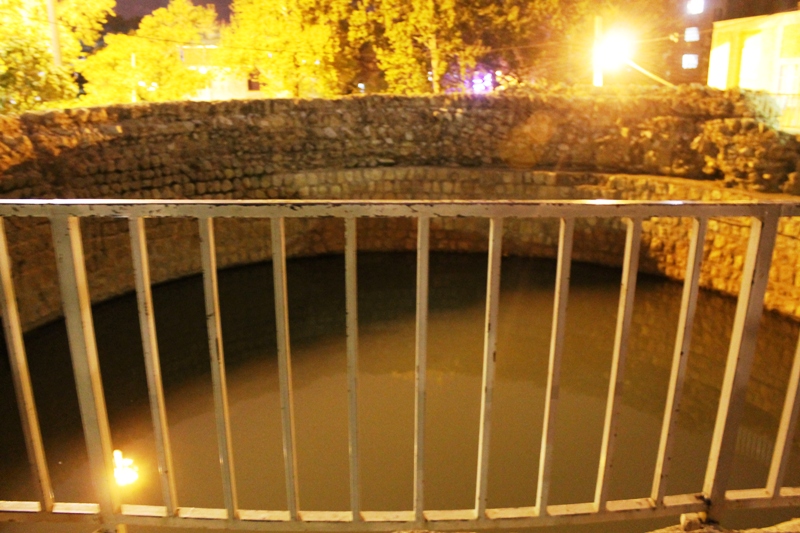 Gerdab-e Sangi is now housed in a small park. It's been an attraction for the tourists.  Since we were there at night so I could not see the clear water in the reservoir. The water in the reservoir must be beautiful on day light. Thinking that the reservoir dates back from the Sassanid time and has been functioning was amazing.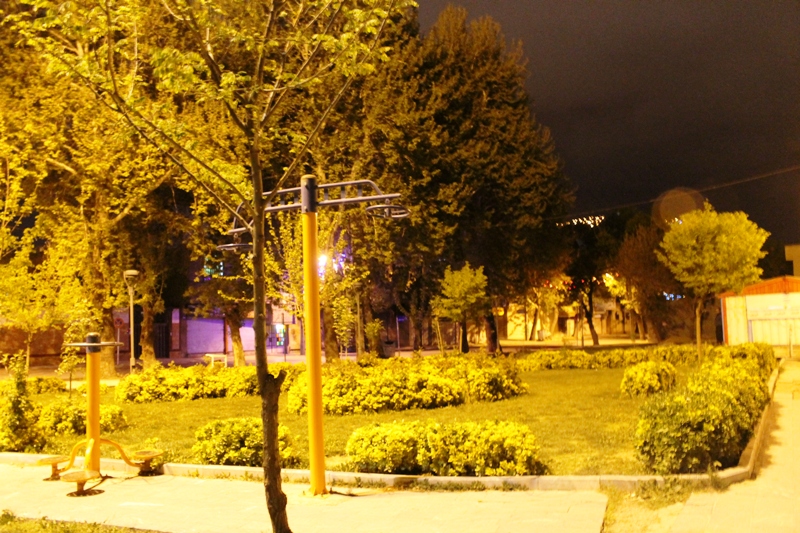 We stayed for a while in the park . The road by the park  was getting deserted.  The capital of Lorestan Province at night was  quiet. Only one or two persons were seen on the road. The night breeze was cold. As I needed to buy sweets, Ali's mother said that we needed to go home.  I said goodbye to Ali's elder sister and her husband. We separated  in Gerdab-e Sangi. It was the last attraction that I visited in Khorramabad.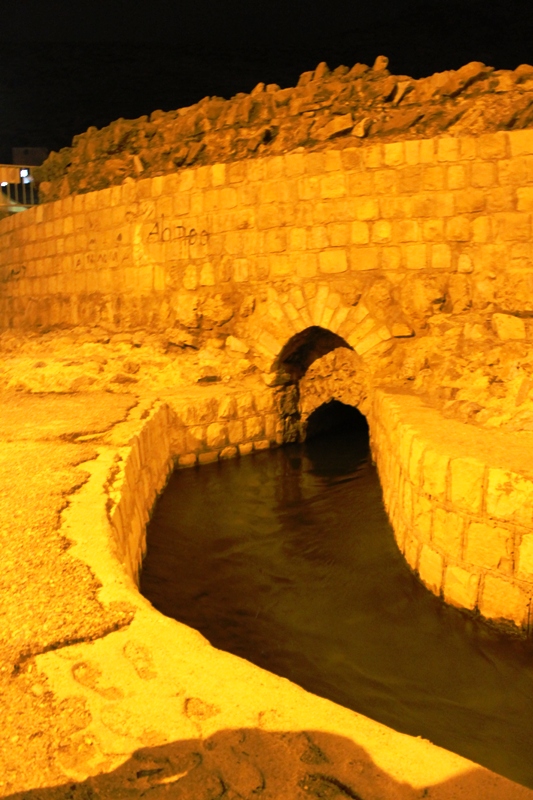 We went to a shop in the residential area. I wanted to buy halawa that was my favorite Iranian sweets. The paneer that I was looking for was not available in the shop. I bought quite a big piece of halawa that I would eat back in Indonesia. When I was about to pay, Ali's father prevented me from doing so. He insisted on paying for it. I could not resist him. "It's a gift," he said. The hospitality of the family was matchless.  I said thank you to him.
At home, I re-checked my packing and when I was done, I went to the living room to have a chat with the family. Ali's mother looked sad that I was going to leave. "How could I forget (you)," she told me. I told her if the time and situation permit, I would love to see them all again, and especially I haven't met with Ali in person.  She told me that she and  Elham  would take me to the airport. Elham said that she asked for permission from her office to come late. In the meantime, I checked my email and I saw an email from the airline confirming my flight to Tehran. I went to sleep with a sad heart to leave the family.
I woke up early on the next day preparing for the flight. Ali's mother already got up and she went straight to the kitchen preparing for breakfast. I gave to Ali's mother my things that I would not bring with me.  I told her I was a bit stressful with a long flight to Indonesia.  Then she gave me a spoon of a kind of syrup to be swallowed, she said that it would be good for my long flight to Indonesia.
We left after breakfast. I said goodbye to Mahza and Mohammad.   I told them when there was time and opportunity I would love to come back again. On our way to the airport, Ali's mother got a phone call. It was from Ali's father who wanted to say goodbye to me.
The Khorramabad airport was not big. As we arrived, I didn't see any other  cars parked in the parking lot. It didn't look like a working airport as we went in, it was deserted.  There was one person and I asked him about the flight to Tehran by Mahan Airlines. He said I needed to wait as the counter had not opened yet.  I started to panic, when it was close to 10 am but I didn't see any other passengers, just one gentleman. My ticket was confirmed, so the flight should have been confirmed. But there was no information and I didn't see anyone I could ask about it. 
My phone rang, it was from Ali.  He knew my flight schedule and call to see if I was ready to board. I told him it was not clear. He said when the weather was bad the flight was usually cancelled. I told him that I didn't get any notification from the airline telling me about the change of  flight time. I worried about my next flight to Indonesia. If I didn't get a flight to Tehran, I might miss my flight to Indonesia. He then asked me to put him to Elham. They talked for a while. Later, Ali talked to me again. He said that when the flight was cancelled, Elham would put me on the bus to Tehran. The bus passed the airport before it reached the city. Ali calmed me down and said  that the family would take care of me until I got into Tehran. Elham told me that she and her mother would wait until I got to either the aircraft or the bus. Elham said that she already called her office and  asked for a leave for the day. Poor Elham! She skipped her working day to accompany me.  Ali's family was among  the best people I have been to. 
Being unclear about the flight status, I called Yanti again and asked if she could help to call the airline office for the status of my flight to Tehran. After a while she replied that the flight was on. I didn't understand why nobody in the airport could give a clear answer.  By 11 a.m., more passengers were coming to the airport. It looked like that the flight schedule was changed though I never received any notification from the airline by email.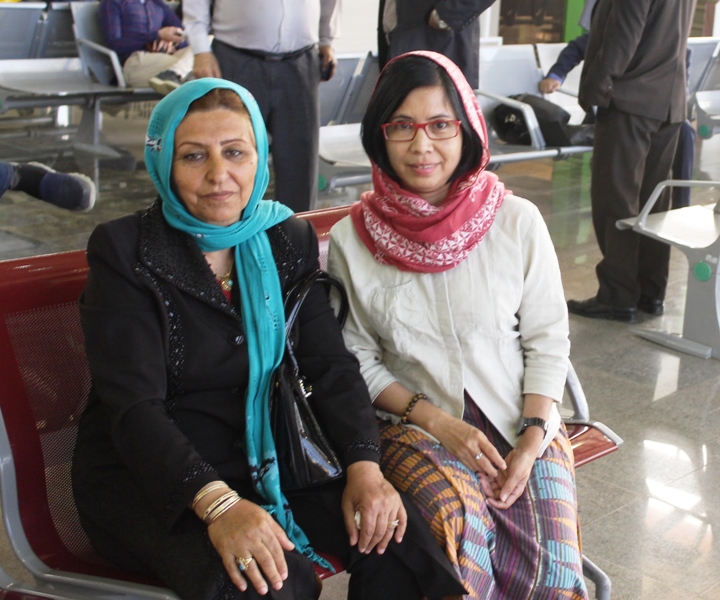 At last, I could get confirmation that the flight was on from one officer who wore the uniform of the airline. But it was late. I called Ali to tell him that my flight was late, so I didn't need to take the bus as the plan B. I thanked him again for his idea and help. Ali's mother and Elham were relieved to know about it. All we could do was just wait for the aircraft.
At the airport, there was a small shop selling handicrafts from  Lorestan. I entered the shop just to take a look. Then I saw scarfs with motifs typical of Lorestan.  I realized I didn't have anything as a souvenir from Lorestan. So I decided to buy it. A lady, who was also the passenger of the same flight,  observed that I looked at the scarf. "It was a good price and the motif represented Loresan," she said .  "Yes, I was looking for something from Lorestan as a memory," I responded. I didn't think twice and bought three pieces as I got a discounted price.
We were waiting for the aircraft landing, now I could see all the passengers of the flight.  I didn't really understand how they knew the real flight schedule. Shortly, we saw an aircraft was about to land on the runway. It was the aircraft that would transport me to Tehran.  Now, I could smile in a relief. 
As the last words, Ali's mother asked me to send a message when I arrived in Tehran and my home country. I told her that I would definitely do that. The passengers were asked to be ready for boarding. I stood up. I hugged Elham. She looked sad.  She was an important figure in my trip to Khorramabad. My encounter with her and Mahza in Esfahan three years ago made my visit to Khorramabad realizable. Ali's mom was sobbing as I hugged her. When I entered the security inspection, Ali's mom would like to follow but she was stopped. I waved her goodbye for the last time and I saw tears falling from  her eyes. My heart ached a bit with the goodbye, but I believed one day I would be able to see them again.
Ends