Why Solo should be in your bucket list for your trip in Java? First, Solo is the second largest city in Central Java Province after the Province's capital–Semarang. Second, it is less than one-hour flight from Indonesia's capital Jakarta. Or about nine-hour ride by executive train from Jakarta. From Jogjakarta, it takes less than one hour from by train.
In Solo you still sense indigenous Javanese friendliness among its citizen. It is a city where you can visit places with strong Javanese identity.  Besides, you will not be starving as in every corner of the street you will find traditional food vendor.
What places should you see if you spend one day in Solo?
Pasar Gede Solo
Jalan Jend. Urip Sumihardjo, Jebres
Opening hours: 5 am- 3 pm
Free
Traditional market is an alluring place in every city. In Pasar Gede you can witness  the real daily life of ordinary people.  Women run the business in this market as seen in the active young and old vendors. You will also find the high working spirit of elder women. When I say old, I mean it. They offer you their service to carry your shopping bags despite their old age. Amazing!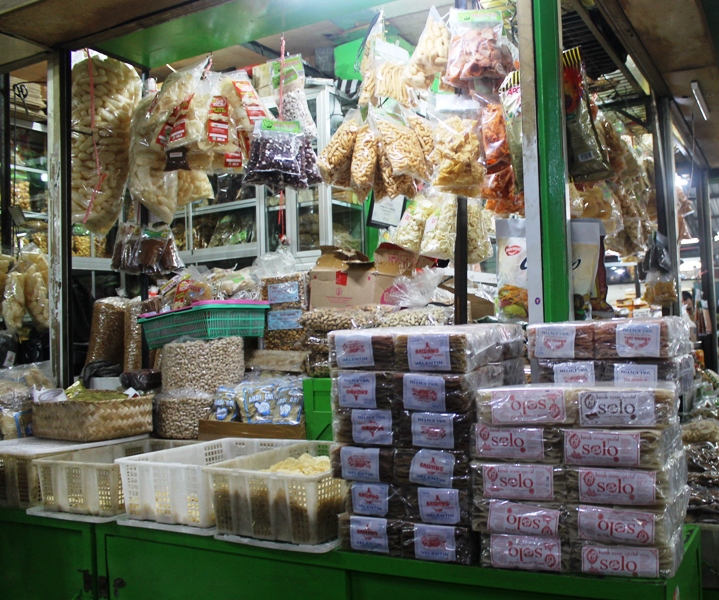 Do you want to shop in local price? This is your place. If you are looking for traditional kitchen wares  or some traditional snacks. Nowhere to go to find them, but in Pasar Gede.  This is also a place to taste the dishes from an  authentic kitchen. Forget  about your Bali belly and try some local food in this market. Go further to the middle of the market. You will spot a small kitchen that boils the soup and Javanese curry on hot charcoal stoves. I can recommend nasi kare ayam (Javanese chicken curry plus rice).  Because it's fresh from the stove, very tasty and very cheap! You will eat your chicken soup or chicken curry elbow to elbow with other local visitors. For the local, this kitchen is legendary.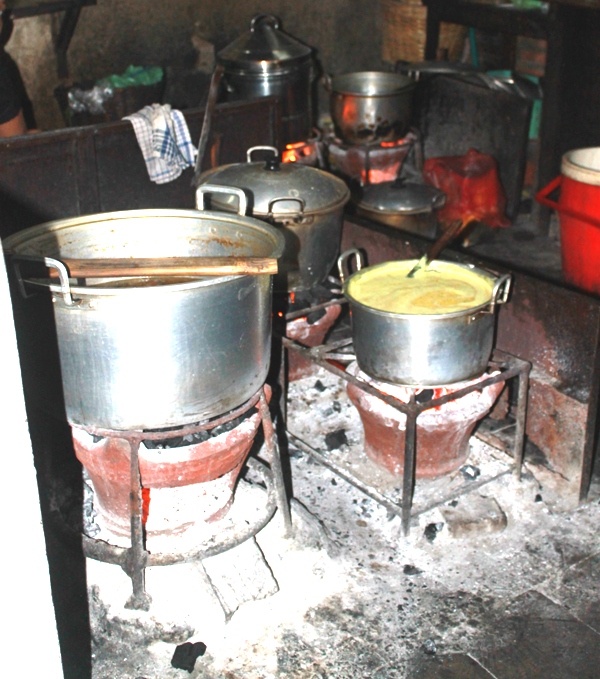 The market is in general clean. Early morning is the ideal time to go there.
Kraton Surakarta Hadiningrat
Baluwarti, Surakarta
Mon.-Thurs. 9:00-14:00, Sat-Sun: 9:00-14:00
Ticket: Rp 15,000
Guide: Extra cost
Founded in 1744, Kraton Surakarta Hadiningrat  or Kraton Solo still serves as a residential place for Royal family. As such only the northern part is accessible for public. In this part, you can see the complex of Kedaton with several pendopo (open pavilion). The Kedaton complex is in a huge yard shaded by tall and big trees. The  black sands taken from the south beach of Java cover the entire yard. All pendopo are restricted for public. The architecture of the pendopo and houses in Kedaton has both Javanese and European influence, with blue as the dominant color.  You have to take off your sandals when visiting Kedaton.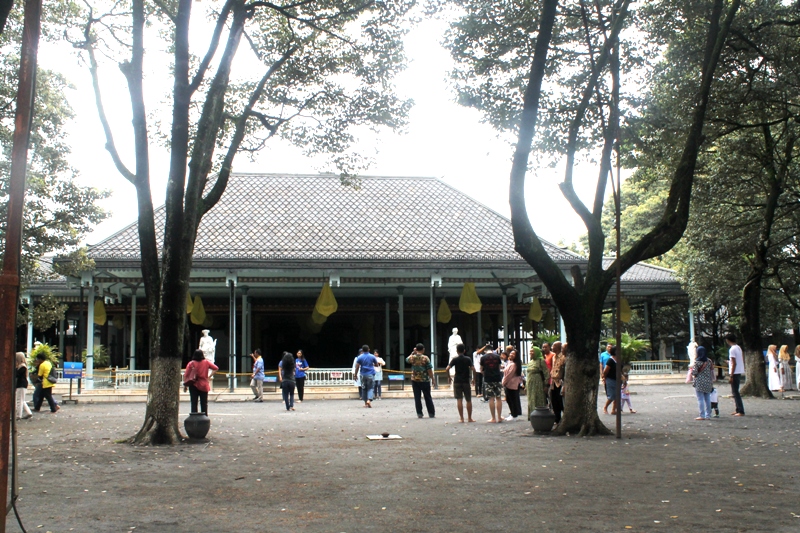 Outside Kedaton, there are two long buildings that function as museum. The museum houses painting portraits of the kings of Kraton Solo. From the displays in the Museum you can learn a little about the traditions in Javanese culture. The museum also displays the Royal carts and kitchen stuffs  that are used during the Royal period .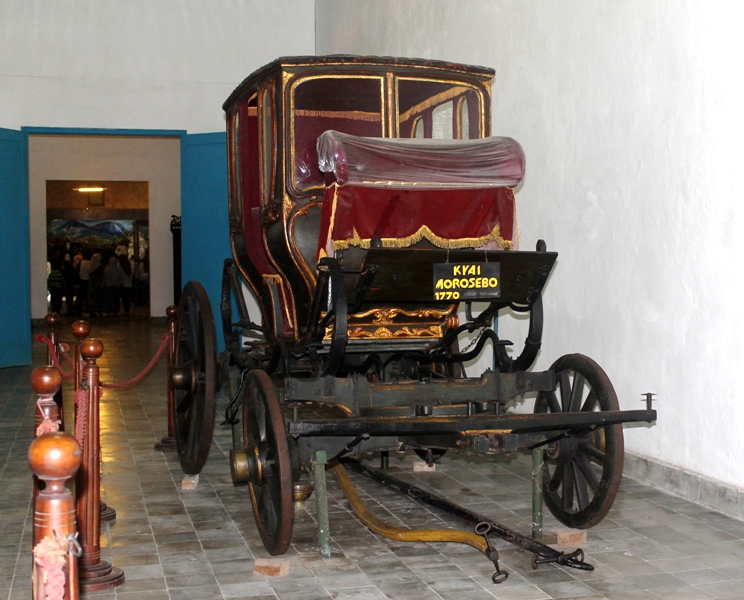 I recommend you to have a guide here so you get a good picture of the Javanese Kingdom in the past. If you visit Kraton on holiday seasons like school holidays, Eid or New Year holidays, you will meet the local crowds. And the road access to the Kraton can be highly congested.
Please remember not to wear shorts when you visit both Kraton Solo and Pura Mangkunegaran.
Pura Mangkunegaran (Mangkunegaran Palace)
Jl. Ronggowarsito, Keprabon
Ticket: Rp 20,000
Guide: Extra cost
Opening hours: Mon.-Fri: 08.30 – 14.00, Sunday: 08:30-13:00
The Palace was established in a treaty in 1757. In comparison with Kraton Solo, Pura Mangkunegaran didn't have ruling power.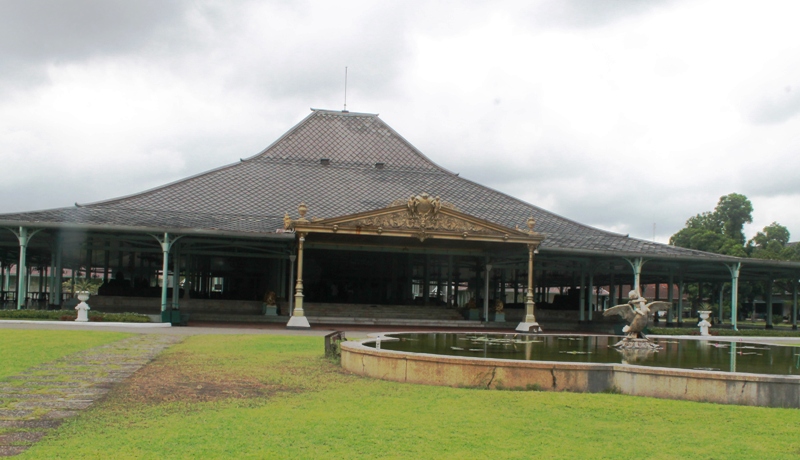 By the ticket entrance, you can ask for guide to explain the Palace complex. The Palace provides English and Dutch guides. The first place you will visit is Pendopo Ageng, an open, big pavilion with hanging chandeliers.  Sets of gamelan instruments are placed in Pendopo. Every Wednesday and Saturday, the orchestra has rehearsal and you can watch it when you are there.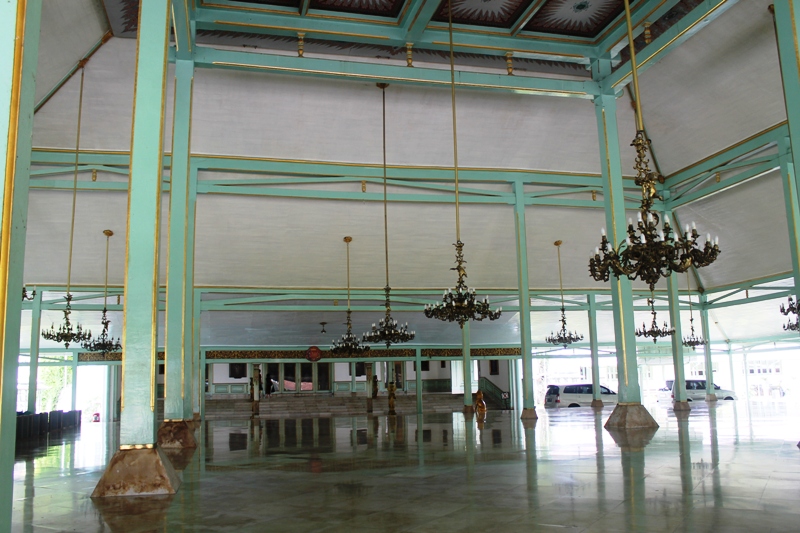 From Pendopo Ageng, the guide will take you to a big room that keeps invaluable collections of the Palace.  Many of them are the gifts from other royals in Europe. Walking past Pendopo Ageng taking photograph is not allowed. Just follow the rule and you will be safe.
Each displayed collection of the Palace has story. The guide will tell you interesting story about the stuffs there. The one that I found peculiar is a kind of pants to protect the royal wife from adultery while her husband was away.
Like other Royal Palace,  Mangkunegaran Palace also has houses for the concubines.  The explanation about them will take your imagination to women's role in Javanese culture in the past.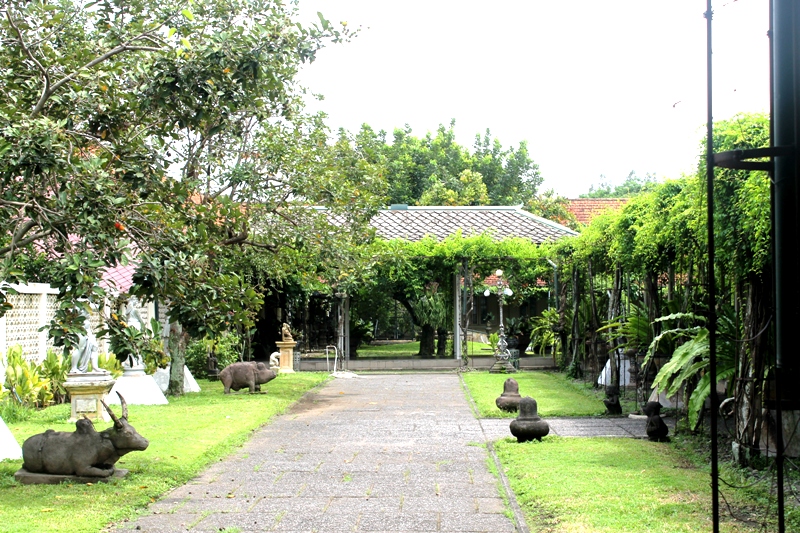 The whole area of the Palace looks green and homey in its Joglo house architecture.  The history about Javanese Royal will surprise you with all of its legends.
Museum Keris
Jalan Bhayangkara No.2, Sriwedari, Laweyan,
Opening hours: Tue.-Thurs. And Sat: 09:00-15:00; Friday: 8:00-11:00; Sunday: 9:00-13:00
Ticket: Rp 20,000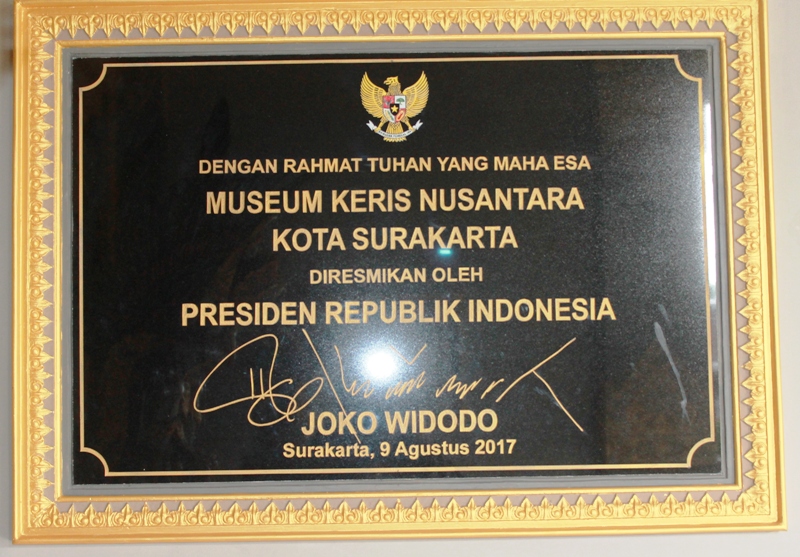 Indonesia's President Joko Widodo inaugurated the museum in 2017.   It is Indonesia's only keris (dagger) museum. This four-floor museum keeps a big collection of keris and traditional weapons from across Indonesia. Each floor has a thematic display.  For example, about the history, the making of keris, types of keris and a small library.  The meticulous biorama explain more about how keris is made.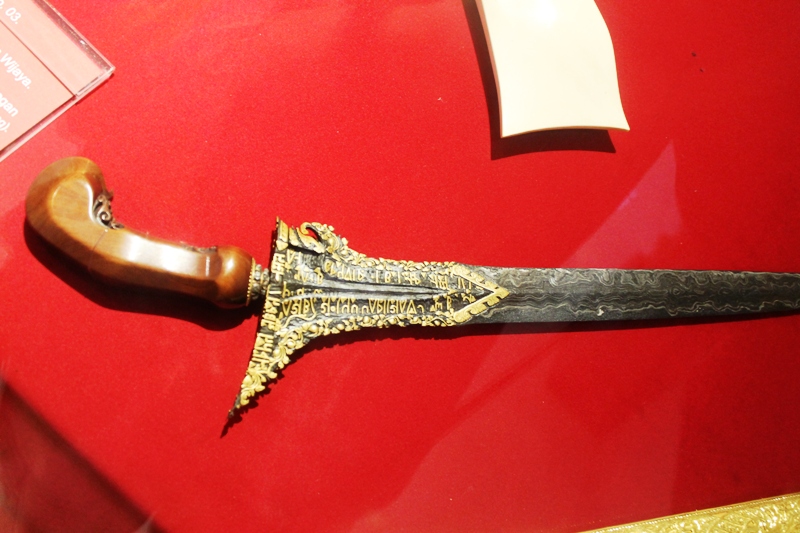 The incredible collection of the Museum includes gold keris and  the oldest keris. Your knowledge about keris will improve after visiting this museum.
Kampung Batik Laweyan
Jalan Sidoluhur, Kampung Laweyan
Opening hours: Daily 08:00-20:00
Free
If you like batik and want to buy some, I suggest you drop by at Kampung Batik Laweyan. This is a neighborhood that has made batik for generations. Each house has its own brand. You can find hand-written batik and stamped batik. The price of batik depends on the fabric quality and its making process. The finer the fabric, the more expensive is the price.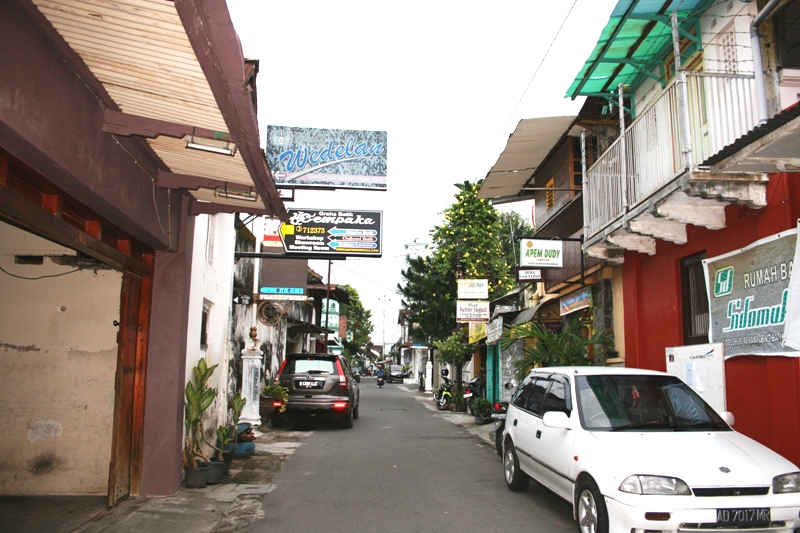 In Kampung Laweyan you can shop in a relaxing way. The house is also willing to grant you discounted price. Why not buying batik in the boutique? Well, here you have many good selections, if you don't find what you like in one house, you can move to another house.
Jalan Slamet Riyadi
Free
It is the main street in Solo. If you are in Solo on Sunday, go to Jalan Slamet Riyadi in the morning for its car free day. You can join the crowd to jog or to walk.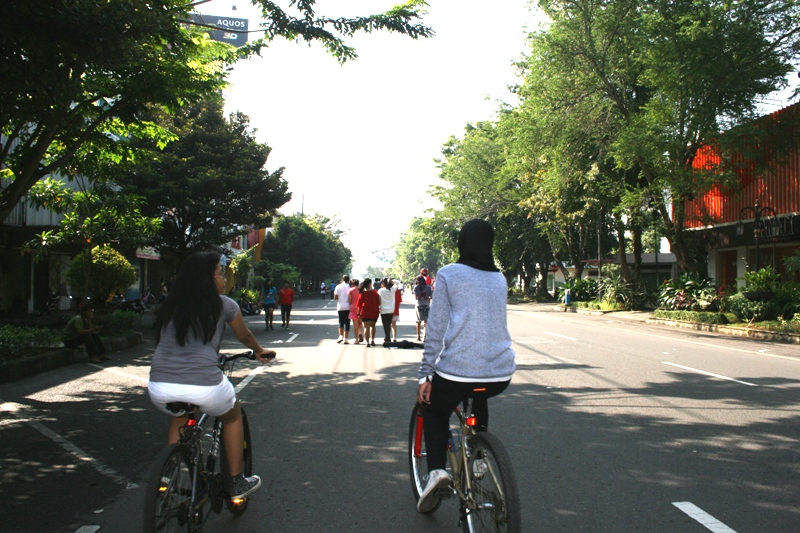 It is a long street with many good restaurants too. Don't worry about walking on this street on  a day light, the tall trees shade the pedestrian lanes. Jalan Slamet Riyadi is also a street that never sleeps. At midnight you will find many lesehan. It is traditional Javanese food vendor where you eat the food on the floor of pedestrian lane or low chairs.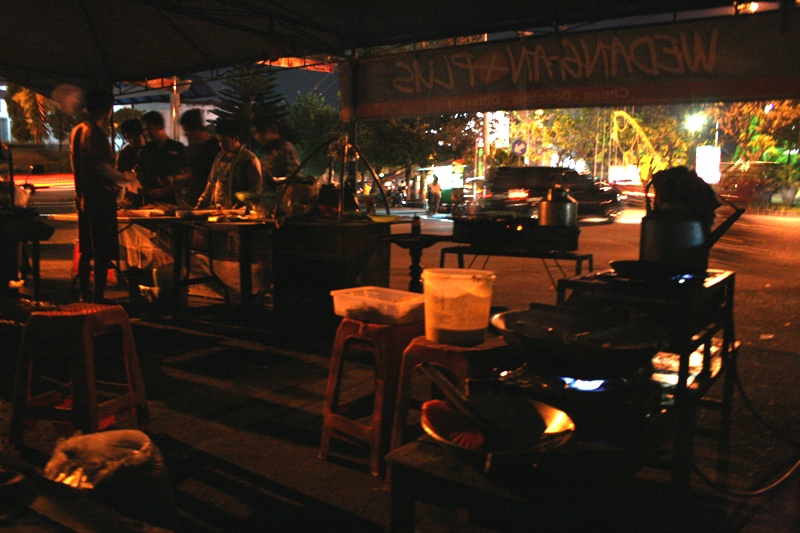 What you need to know about getting around in Solo
Transportation
You can download  local application Gojek or Grab to order motorcycle taxi or car. It is  more convenient and cheaper than taking other modes of transportation like conventional taxi.
Food
It may be unusual for you to eat traditional Javanese food. Don't worry about it. Solo has specialty: Selat solo, it is a kind of Javanese beefsteak that fits with European tasting buds. You can try soup such as soto ayam, which always has boiling broth. This is to add the ubiquitous nasi goring (fried rice). These food are safe for your belly.
Budget
Solo is a city that you can cover in a day. The places to visit fit to heal your curiosity about Javanese culture in general. The traffic is tolerable, the food varies. And the city is cheap.   If you ride motorcycle using application, your transportation costs less than $7 for the entire trip. The entrance ticket is $5, and your food at a decent restaurant costs not more than $5.  If you want to spend a night, a convenient room starts from $25. So, what are you waiting for?