Jakarta-Purwokerto-Jogjakarta-Solo
Hi train travelers!  Do you want to explore Central Java by train? For first time travelers to Java,  I'd like recommend the itinerary : Jakarta-Purwokerto-Jogjakarta-Solo. Why do I recommend this itinerary? First, it is doable for the first time visitors of Indonesia. Second, those cities are foreign tourists friendly.  Third, you can get the cultural pictures of those three different cities. Fourth, Purwokerto, Jogjakarta and Solo
are connected by
economy class train. This will save your budget.  Here is my story about taking economy class train in Java
:
In this article, I describe how to get to those three cities and some budget estimation. I write it based on my own experiences. Description of  what to see in each city will follow.
Taking Train from Jakarta
International flights land at Terminal 3 of Soekarno Hatta International Airport in Tangerang. On your arrival you can stay over night in Jakarta or  
directly
go to the train station to continue your trip.
If you want to stay in Jakarta, read this article about airport transport: 
There are three train stations in Jakarta  that connect to other cities. Gambir Station
is located
in Central Jakarta. Only executive class  and premium class trains leave from Gambir Station. Senen Station is in Central Jakarta. The business and economy class trains leave from this station. Jatinegara Station is in East Java, from here you can take business and economy class trains.  You will depart from either Gambir Station or Senen Station.
You can buy your ticket at https://kai.id/
. They will issue the booking code with bar code. You can scan it in a machine in Gambir or Senen Station to get the boarding pass. Show your boarding pass to the officer in the check-in gate before you get into the platform. Show your passport as well.  Then you are ready to board your train.
Traveling by executive or business class to Purwokerto takes about 5 hours.  The executive class train is comfortable with inclining seat and fancy interior coach. Executive, business and economy coaches are air-conditioned. There is electric socket by its seat.  The economy class will take you 10 hours to Purwokerto.  Depending on your budget and  your time, you can decide which class you will take.
Purwokerto is the capital of Banyumas Regency of Central Java Province. This city is worth visiting if you like to see other type of Central Javan city. This small city offers Baturaden, a cooling site 13,5 kilometer in the north Purwokerto, on the foot of Mt. Slamet . Here you can see waterfalls and pine forests.  Plan to spend one day to visit it .
Day 1: Traveling from Jakarta to Purwokerto. Over night stay in Purwokerto.
Day 2: Going to Baturaden and waterfalls site (full day). Overnight stay in Purwokerto.
Day 3: Continuing to Jogjakarta in the morning.
Estimated budget for two-night stay based on comfortable trip
Jakarta-Purwokerto executive class train Rp 250,000
Rental car for Purwokerto-Baturaden Rp 700,000
Hotel 3* Rp 350,000 x 2 =  Rp 700,000
Other expenses Rp 250,000
Total Rp 1,900,000 ($135)
Train Purwokerto-Jogjakarta
On the next morning, you can continue your trip to Jogjakarta by taking economy class train 
Joglokerto
. 
Jogjakarta offers many options for both destinations and lodgings.  The city also offers nature (beaches) and cultural (kraton, temple, batik industry) attractions.  The famous spot for tourist is Jalan Malioboro. Around Malioboro there are many budget lodgings. Here is my article about Jalan Malioboro:
From 
Jogjakarta you can reach Borobudur Temple. Information on Borobudur Temple, you can find here:
Suggested itinerary for Jogjakarta:
Option 1
Day 1:  Arriving by train in the afternoon. Going straight to Borobudur  Temple in Magelang. Damri bus leaves at 2 pm and 4 pm.
Day 2:  Joining sunrise tour of Borobudur Temple. You can go back to Jogjakarta or spend another 
one day in Borobudur. If you go back to Jogjakarta, you can visit Kraton Jogjakarta or
just
stroll on 
Malioboro Street.
Day 3:  It is a chance to see the beaches of  south Java.  All beaches
are located
in Gunung Kidul regency. The trip takes one-full day. But it is worthy.  
Day 4:  Continuing the trip to Solo
Day 1:  Arriving by train in the afternoon. Going straight to Borobudur  Temple in Magelang
Day 2:  Returning  Jogjakarta, go to Solo by taking the late afternoon train (
Wijayakusuma
)
Purwokerto-Jogjakarta economy class train  Rp 60,000
DAMRI bus from Jogjakarta train station to Borobudur Rp  75,000
Over night stay in Borobudur plus sunrise tour by Efata Homestay Rp 750,000, if you need a guide extra cost Rp  is 200,000
DAMRI bus Borobudur-Jogjakarta Station Rp 75,000 (ask Efata Homestay about the schedule)
Overnight in Jogjakarta Rp 350,000
Rental Car for Gunung Kidul regency Rp 700,000
Total Rp 2,310,000 ($165). If you take Option 2, your budget is lower.
Train Jogjakarta-Solo
There are two economy class trains from Jogjakarta to Solo.
Joglokerto
that leaves at 1.57 pm  (Rp 50,000) and
Wijayakusuma
that leaves at 6.10 pm (Rp 40,00). You can choose your train based on your schedule.
Solo is a cultural city of Central Java Province.  It is a batik city where you can find a village that makes batik, a museum displaying batik and a market for batik.   Pura Mangkunegaran, Kraton Surakarta and the only Keris Museum in Indonesia are options to visit.  Staying on the main street Jalan Slamet Riyadi you will see  the city is alive with  many  food vendors on the side walk (lesehan) at night.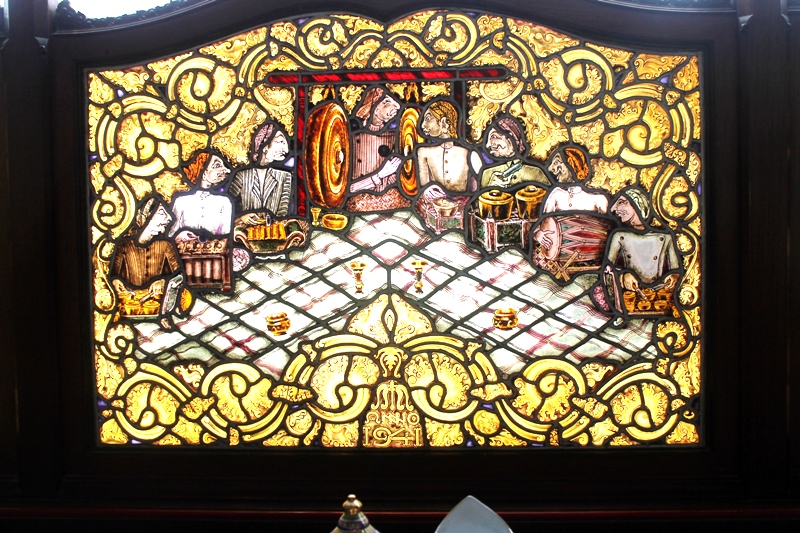 It is recommended to download application like Grab or Gojek for accessing local transportation.  It will help you explore the city easier and in a reasonable price.
Suggested itinerary in Solo
Day 1: Arriving in Solo. Over night stay in Solo.
Day 2: Visiting Mangkunegaran Palace , Kasunanan Kraton, Batik Museum Danarhadi and Keris Museum. Overnight stay in Solo.
Day 3: Checking out. Going back to Jakarta by train or airplane
Train Jogjakarta-Solo Rp 50,000
Hotel in Solo Rp 350,000 x 2 Rp 700,000
Transportation expenses  in Solo Rp 200,000
Other expenses  Rp 200,000
I
allocate
other expenses for food, drinks and miscellaneous items. The budget depends on your choice of restaurant and the souvenirs your buy.  The budget for rental car may decrease a bit if you ask your hotel to arrange it, ask them for a discount.  If you take option 2 in Jogjakarta, you can cut expense for car rental and hotel room. You are welcome to stay in fancy boutique hotel just to experience a treat  in Javanese culture hotel.
Anyhow, enjoy your train trip in Java!