Yulis: Aschheim, Germany
After attending the International Journalisten Program alumni conference in Heidelberg in 2009, I decided to spend the rest of my valid Germany's visa days in the families of mixed Indonesian-German couples.  It was actually my cultural visit in a sense that I learned about the dynamic about mixed families. All the families where I stayed with, from Mainz to Nuernberg, belonged to Indonesian-German couples.
Following my visit to Djoko Paisan's family   in Mainz, I continued my journey to Munich in Bavaria (Bayern). My destination was  Aschheim, a small town and municipality in east of Munich. There  lived an Indonesian lady Yulis Bachtiar who married a German man. 
The way I got to know Yulis was unusually unique. In 2005 I received a fellowship from the International Journalisten Program where I was interned at Sueddeutsche Zeitung in Munich. I stayed in a one-bedroom apartment that I rented from an Indonesian who was on home leave. Indonesian community in Munich, Swadaya,  helped me to get the information about the apartment. Later on, the head of the community, Tiwi Nitschke, invited me to come to an Indonesian ladies only meeting.  She would like me  to get to know the community members.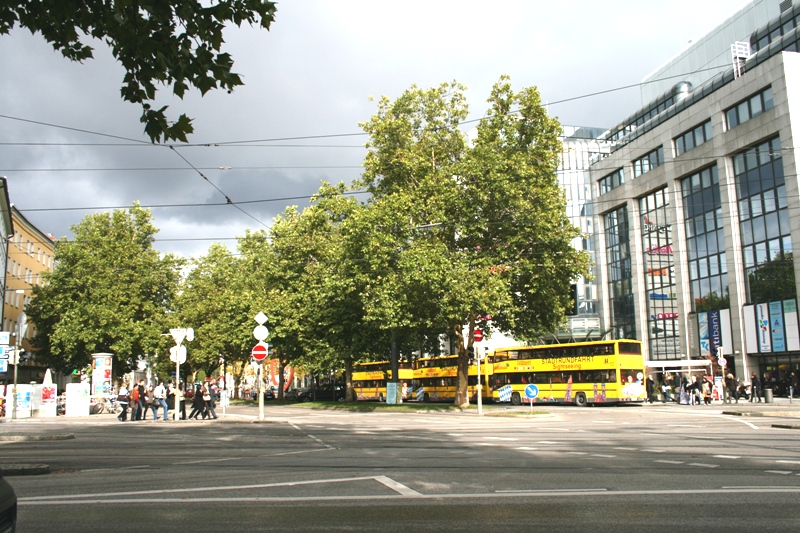 Indonesian Food
It was a so-so meeting.  While other ladies talked a lot and drank beers, I saw one lady in the corner of the long table where we all sat at. Just drinking fruit juice, she looked calm. By the end of the meeting, she approached me, we introduced each other, her name was Yulis.  We talked a bit. I told her my mission in Munich where I did some research on immigrant Muslims in Germany. Then, she invited me to come to her house for lunch. I welcomed her invitation. Talking to her would be a great opportunity to know about being Muslims in Germany.   I noted her address and phone number.
As we set the date, I went to  her house.  I was on the east side of Munich metropolitan city. From the U-Bahn station where I got off, I didn't know the direction of her house.  Yulis sent her eldest daughter to pick me up. Her young teen daughter rode a bicycle and I just followed her walking.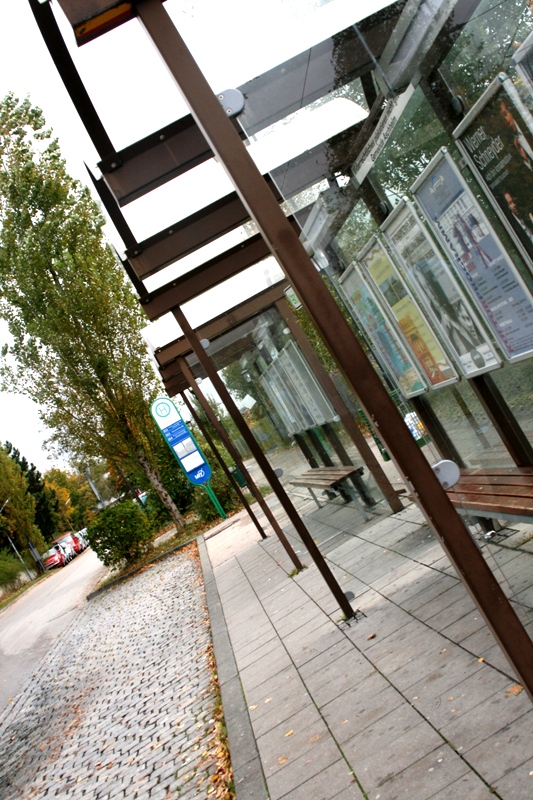 Yulis provided Indonesian food for lunch. As  I had been in Germany for almost two months, my tasting buds already missed Indonesian dishes so bad. My longing for my country's food  was healed when Indonesian dishes were presented on the table. We talked quite a long about being foreigners  living in Germany. It was very interesting to get a perspective from an Indonesian Muslim woman, especially since she wore hijab and lived in a country with a very strong secularism.
Following that meeting,  I contacted her just a couple of times. And four years later  I was on a train from Mainz to go to her house. Few weeks before it, I wrote to her  telling about my plan to travel to Germany and I would like to visit her and her family. And she didn't have any objection to that.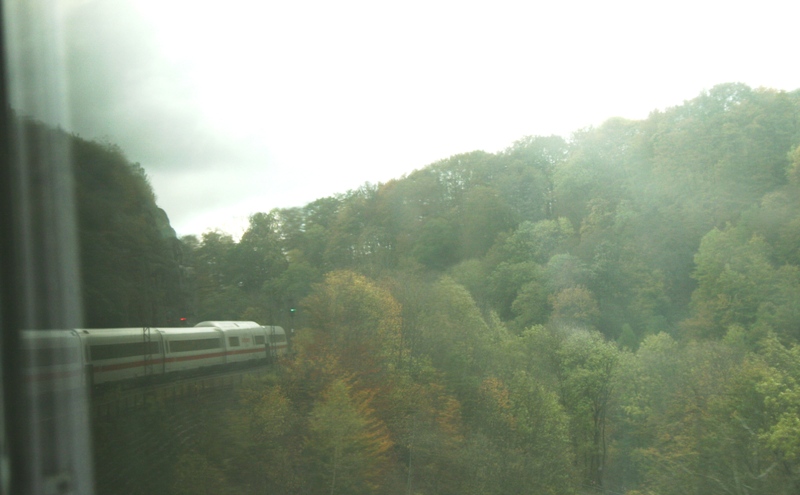 Germany's month of October was not my favorite time. The sky was cloudy all the time. I managed to get off  at Riem U-bahn station in Aschheim.  I had issues with navigation in a new place.  Fortunately, Yulis picked me up from the U-bahn station. 
Yulis and her family lived in a new house now and it was in a different area that I visited the last time.  The three-story house looked new and very neat. It had a large backyard but on cold weather, there was little activity there.
The living room interior had a bright orange tone, from the curtain to the pillow cases. "This is to encounter the cloudy weather outside," Yulis said when I commented on how bright her living room was.
The family had Indonesian character, so to speak. She spoke mostly in Bahasa Indonesia with her family, sometimes she mixed it with German. Interestingly, her daughters and her husband replied in German. Her two teen daughters, Rifa and Hannah, were born in Germany and have received German education ever since. 
Since German was the second foreign language that I learnt–after English,  I needed an effort to speak in the language I rarely spoke it now. The fact that in Germany  I could talk in my native language all the time was amusing. 
Being a stay-at-home mom, Yulis had relatively plenty of time  where we could talk about many different aspects of being a foreigner in another country. All of her stories were fascinating. She was also quite active in her community by being a trainer of taekwondo–a martial art she mastered— in a local club. 
Small World
As we talked about where we lived in Jakarta, I was so surprised to find out that she actually had lived in the same neighborhood where I had used to live in. It was just unbelievable that I met someone in Germany who once lived in my neighborhood. That fact  developed into another chain of  interesting conversations. And it happened that one of my elder brothers knew her from his childhood. What a small world!
During my stay at her house, she always cooked Indonesian food for both lunch and dinner. This made me wonder how she got all the vegetables and ingredients like the stink bean (pete) or anchovy (ikan teri). "There is no problem here, I can shop in Asiatic supermarket. I will show you when we go out," she said. To keep her  two daughters with Indonesian style, she let her daughter sometimes eat using fingers. That was cool, I thought. And yes, she introduced the Indonesian dishes in her family. At dinner I met  the full team of her family, husband and her two daughters.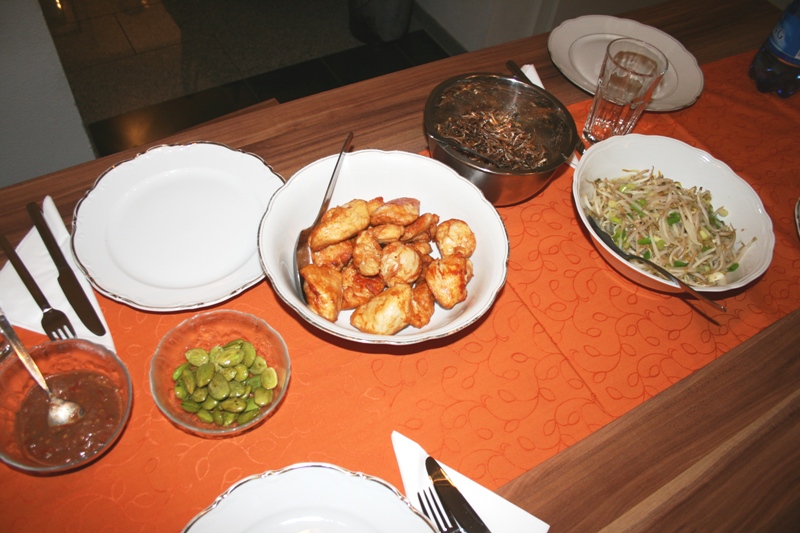 Yulis was kind enough to  accompany me for shopping as I wanted to buy a pair of German shoes. I was somehow a fan of German products, especially the footwear. We went to Munich city center  by taking  public transportation.  As always, I liked to experience what and how the locals lived. And my impression of a place usually depends on with whom I am visiting it.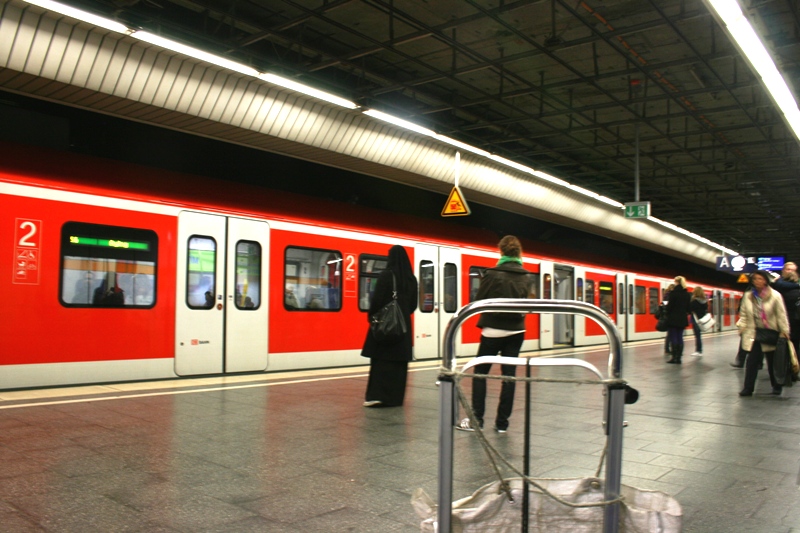 We went to Marienplatz, the center of Munich. My mind flashed back to the time when I stayed in Munich in 2005 for a couple of weeks for my internship. It was good to see again the central part of the largest city in South Germany. 
Marienplatz is a large square in the  center of Munich where we can see buildings of Baroque, Gothic and Renaissance influences. The main attraction of Marienplatz is the famous Glockspiel in the New Town Hall.  The decorated clock had moving figures. Every day at 11 am and 12 am, tourists would gather under the Glockspiel to see the attraction.  The Glockspiel sounds and its moving figures show the scenes of the stories from the 16th century. When we were there, we didn't miss the 12 minute-show of the Glockspiel at Marienplatz.
It was a successful shopping trip as I got what I searched for.  Although the shopping avenues in Marienplatz were interesting to take a look, I could not stand the cold weather. It changed noticeably. In addition to the cold temperature, the wind was quite strong too.  So after some window shopping we went back home.
Despite the unfriendly weather, on the third day of my stay, her family took me around to see the Aschheim neighborhood. At the time of my visit, Aschheim was being developed into the conference center of Munich. The overall area was clean, in order, and of course, not crowded.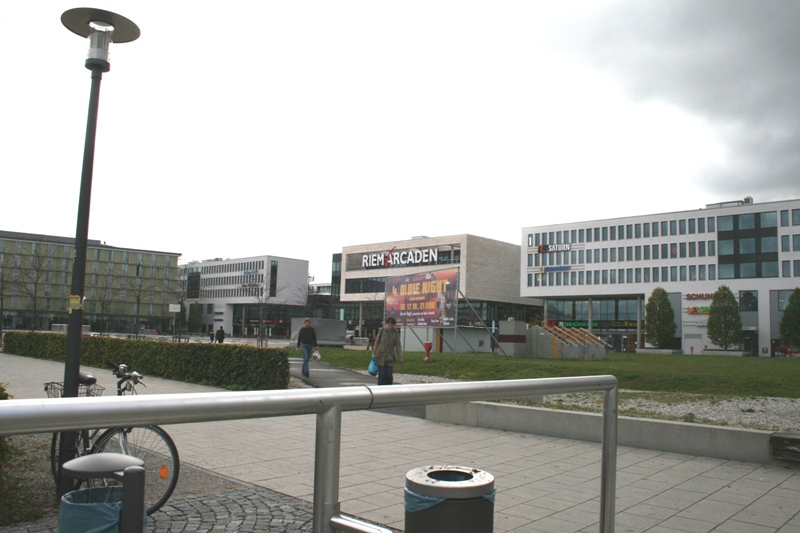 Yulis promised to take me to the Asiatic supermarket where she could find the vegetables from tropical countries. The  supermarket was run by an Asian. It was not big but the variety of items was enough to satisfy the longing for Asian food. Of course, I should not see the price tags as they  were totally much higher than the prices in the country where they grew. 
In the center of Aschheim, there was a shopping center.  While her  husband sorted his things in a nearby office, we were going to the mall to window shop.  The mall was not so different from other modern malls, but this one was full of German products.  We closed the day by eating tasty  Italian ice cream.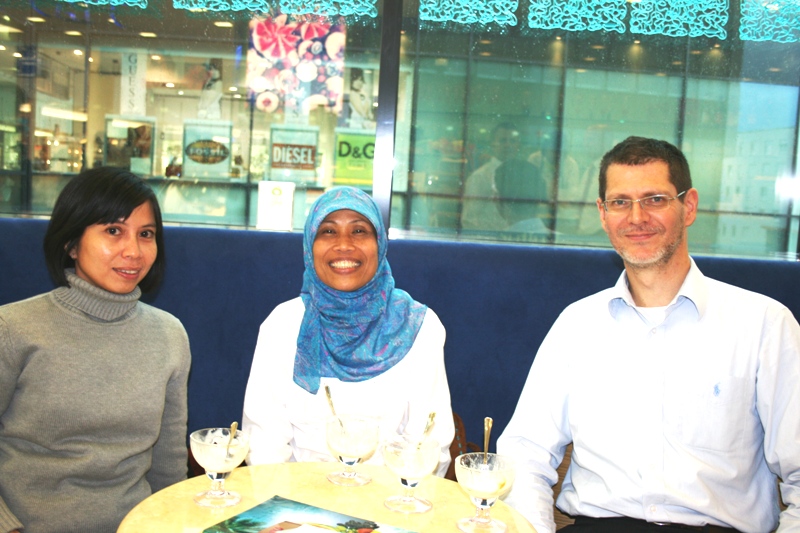 Smooth Operation
The ugly part of every episode of my  traveling was leaving. My next destination was Nuernberg.  I needed to finish my last leg of Germany's trip by visiting another Indonesian friend in Nuernberg. The city  was covered only about one hour by train from Munich.  There, I planned to stay two nights, so I didn't want to bring my big luggage with me.  I was thinking of leaving it in Yulis' house and I would pick it up after my Nuernberg trip. But, that was another hustle. Therefore, I asked her if she could bring my luggage to Munich station where my train  from Nuernberg would stopped for a while on its way to Frankfurt am Main, the international airport. 
Yulis was so kind that she was willing to do my request. After staying in Nuernberg, the day to leave Germany  came at last. It was  the execution day to hand over my luggage. On that day, I communicated with her intensively. I was relieved when she said  that she was already on the station.  Germany was very efficient. The information about the  platform was informed in advance  so I could tell her. The most crucial thing was she needed to estimate the location of my coach. I could also tell her the estimated arrival time as it was seen on the digital screen. Speaking on the phone, I told her my coach number.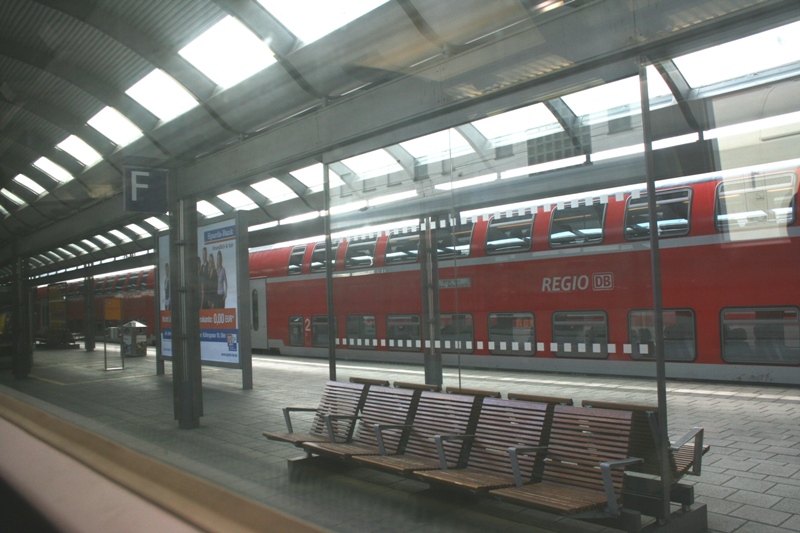 A few minutes before my train arrived, I could see her by the window bringing my big luggage on the platform.  When the train door was automatically opened, she was just a few steps behind. Then, she handed me my big luggage and I thanked her greatly for her help. She was also happy that she could make it successfully.  I shook her hand and said goodbye. It was actually my final goodbye to her before leaving for Indonesia.  The luggage handing over was like a kind of logistic operation that ran smoothly. 
General Consulate
I always asked permission to the individuals that I wrote for the Perfect Stranger series. Yulis had definitely been my perfect stranger that I liked to include in this Series. I wanted to contact her to get her permission.
However, it was not easy to track her. It was 11 years ago and although I had her residential address, I lost her mobile phone number. The only email address that she gave me didn't work anymore. I was lost. 
I remembered about Indonesian General Consulate in Frankfurt am Main, they must have the list of Indonesian people who live in Bavaria. I wrote to the Consular Section and asked  whether they could give me her  email address or mobile phone number. I stated her latest address that I had.  The reply was negative, they could not give the data of individuals because of privacy law. That was perfectly understandable. They suggested that I search for her  on social media. Nevertheless, the social media input was unsuccessful either. I made another try. I contacted Swadaya,  an Indonesian community in Munich. That was the first time I learnt  that Tiwi Nitschke who headed  the community passed away already. But her replacement was helpful, she wanted to help to contact Yulis for me.  But I was impatient to wait for the news, so I contacted the Consulate again. Understanding the privacy rule, I gave them my email address and phone number. And with the information I provided, I asked for their help to contact Yulis to reach me. By doing that, they didn't breach the privacy law. It was actually a happy ending solution. Several days later, Yulis reached me by text message.  "Wahyuni, it was like a sensation when both the Consulate and Swadaya contacted me the other day," she said. I giggled visualizing the whole contact tracking  because of my search for her.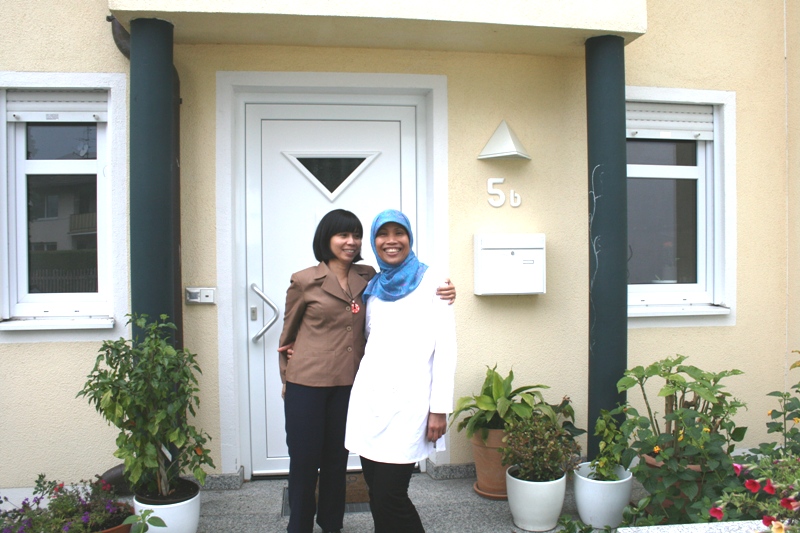 Since that, I have been in contact with her, to say hello or to get a little update of each other. My previous stay with her warm family was indeed invaluable to learn about how a practicing Muslim woman lived in a bi-cultural family life in  Germany.