"Iji, I will bring my family tomorrow, is it okay?"  Behnaz, my company, asked me as I was dropped off at my hotel.
"Of course, no problem, Behnaz" I replied and got out of the car.
We said goodbye.
My first day tour in Mashhad, the capital of Khorasan Province of Iran, passed pretty quickly because I started  it in the early morning.  After arriving at Mashhad train station at 6 am, I went to a coffee shop for breakfast.  I was  relieved because I didn't have to take care of my transportation. Kazem, the driver, would arrange my trip in Neyshabur and Tus; and I would have a company as well.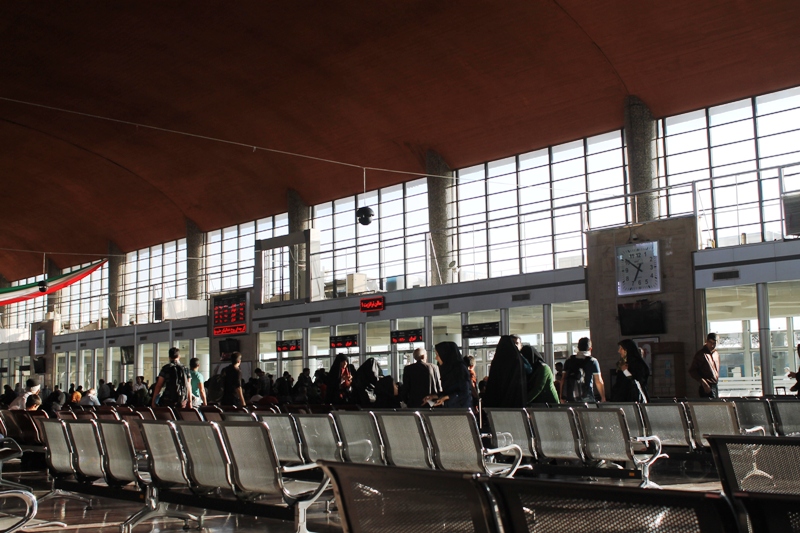 Kazem showed up as I was having breakfast.  Then, he took me to the hotel for check-in. Fortunately it  was situated just walking distance from the shrine of Imam Reza, the 8th Imam for Shiite Muslims.  The street outside of my hotel was loaded with many cars.   Surely, the shrine has attracted pilgrims from many cities to come to the second biggest city in Iran. 
We picked up Behnaz, my company, at her house before going to Neyshabur, my first destination. The city was about one and half hour drive from Mashhad.
Being famous as a turquoise producer, Neyshabur is a small city. People come to Neyshabur  to visit the tombs of the famous Iranian figures who rested there. In a big, green, and  well-tended garden rested two great Iranian personalities : Fariduddin Attar, a 13th century Persian Sufi,  and Kamal Ol Molk, a 20th century skilled Iranian painter.  
The tomb of Fariduddin Attar was laid in a stylish,  hexagonal house.  I was pleased to be there and I took my turn  to say my prayer.  The pleasure to finally stand by  his tomb  was as much as reading his  phenomenal poem The Conference of Birds.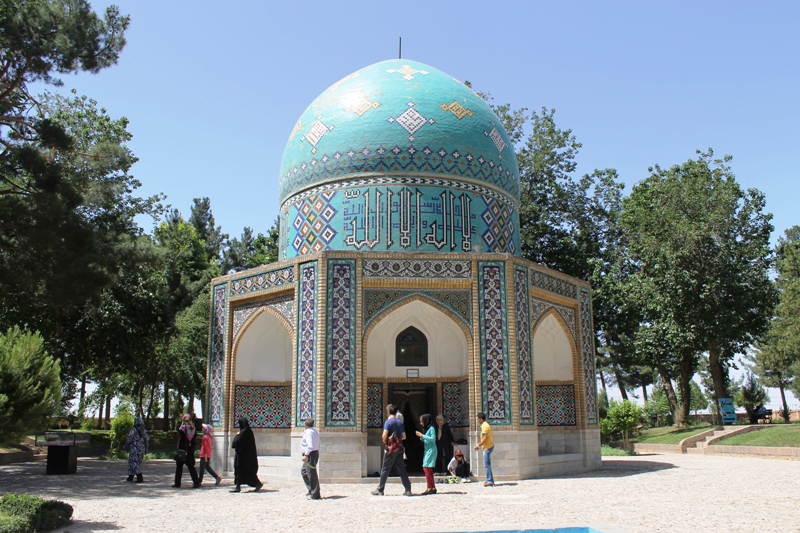 The tomb of Kamal Ol Molk, on the other hand,  was located an open space. It was shaded in beautiful  geometrical form as if to reflect his incredibly elegant paintings.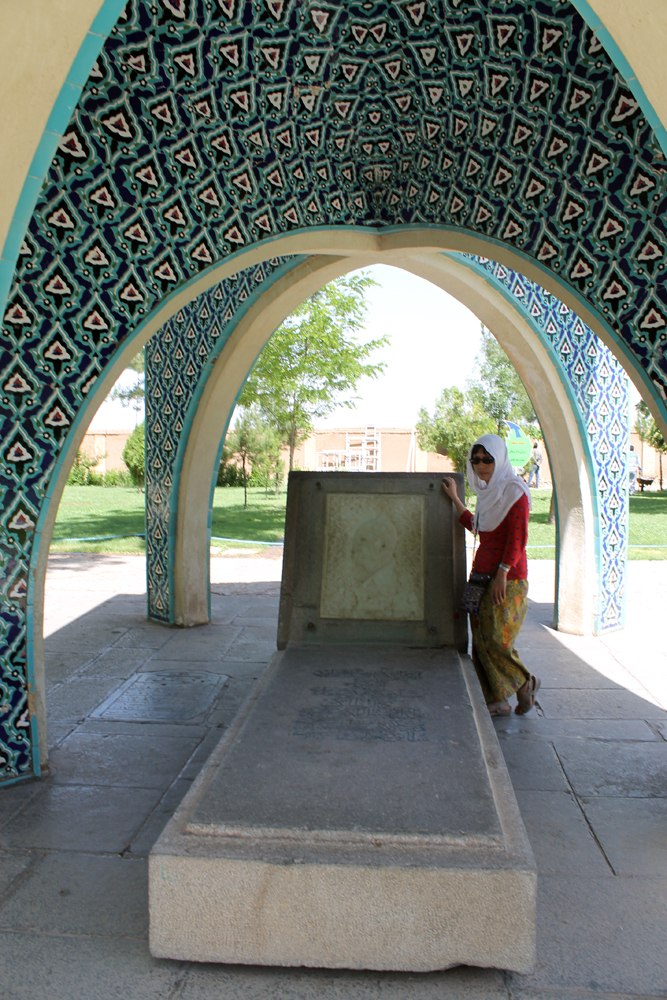 While in Neyshabur, we also visited the tomb of Omar Khayyam, a Persian polymath. The visit offered a joyful feeling as it was located in a big, beautiful garden grown with tall evergreens.  Khayyam's tomb was also outdoor, it was covered by artistic geometric structure. In the garden there was a museum dedicated to present the works of Khayyam in both mathematics and literature.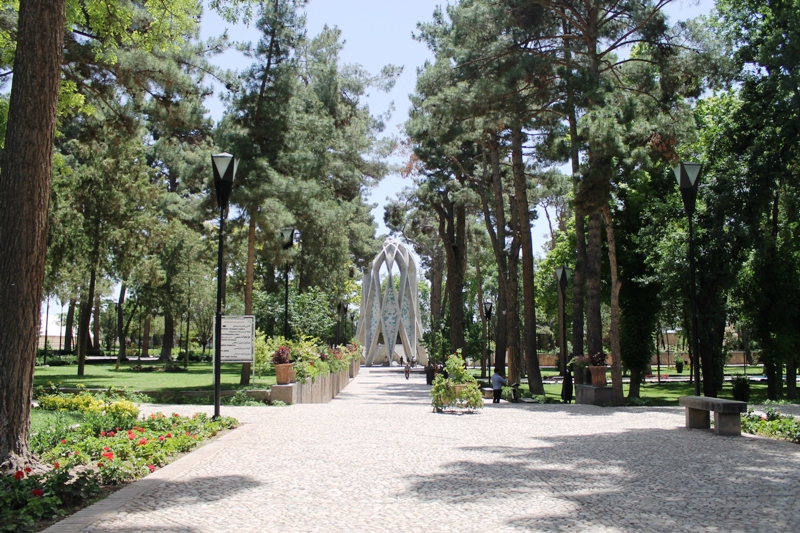 Being in the well-favored  mausoleums of honorable persons, I felt the vibration of intelectualty. 
The day was still young when I arrived back in my hotel. So I decided to visit the shrine of Imam Reza on my own.  It was just walking distance from my hotel.  I had not had a chance to see around since I arrived in the morning. So just bringing my camera, passport, and wallet  I walked to the shrine. I heard there would be a security check for visitors. 
I could tell that Mashhad is a bustling city. The pedestrian lane by my hotel had rows of shops that cater to pilgrims–ranging from restaurant, grocery to money exchange.  Hotels in high buildings as well as offices lined on the opposite side of the street  My guide in Tehran told me that it was not easy to get a room at certain times of the year where pilgrims inundated the city. I also noticed that it was very rare that pilgrims came alone to the city. In the hotel where I stayed, guests were coming in groups of families–small or big–or as couples.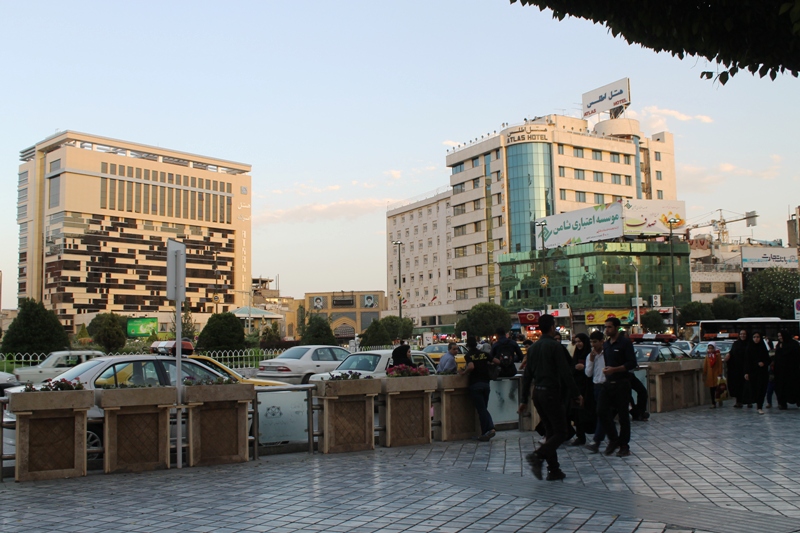 My guide had not said anything  to me about the dress code  in Mashhad before I traveled to the city.  While walking on the pedestrian lane on the way to the shrine, I realized that no women on the street were wearing street dress like me. They all wore black long dresses with chadors or black outer mantels and their head cover was also black. My long skirt, blouse, or head cover was not black. 
 As I walked closer to the shrine I saw more crowds of people, and all women definitely wore long black dresses. The business and trade looked very active on the streets. I was a bit baffled with the term of holy city when I saw the surrounding situation: the business and  very active road. 
I needed to cross a congested street on the pedestrian bridge that was equipped with an escalator.  As I got on the escalator, a young guy behind me greeted me and asked  where I was from. I answered his question. He asked again my name, when I gave my nickname, he tended to come closer to me. As I reached the bridge, suddenly he said, "You are beautiful," and tried to grab my hand, I was shocked with his sudden maneuver.  I strongly swung my hand and walked away quickly.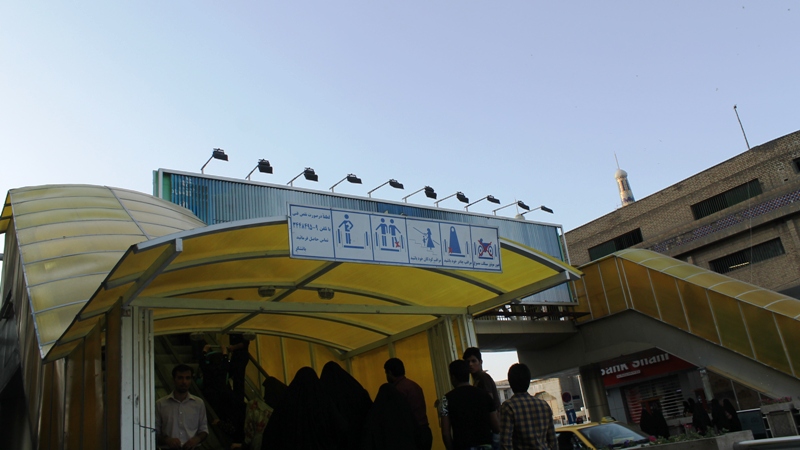 The incident jolted me as it happened in a holy city. However, the religious atmosphere was sensed when I was inside the shrine complex. Entering the complex required extra checking, I needed to leave my camera in the locker. That was bad but it was the regulation.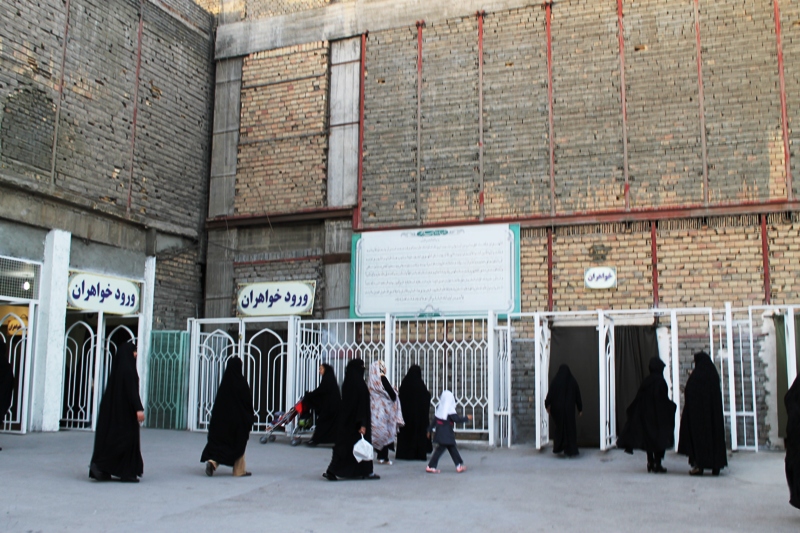 The whole complex was massive, and the courtyard was expansive. I spent nearly two hours to see some parts of the complex. The good thing was I had the chance to be close to the tomb of Imam Reza. The reverberation was both exciting and touching.
Returning from the shrine I was hungry. I looked for a place to eat near my hotel.  One place showed a sign like a restaurant, so I just went in. No guests dined in, probably it was not the meal time. I took a seat in one of the tables. When the menu came in, it was written in Farsi. It was not a big deal, that also happened to me in Amritsar, Punjab, India.  To make it simple, I just said to the attendant, "kebab." When the kebab was presented in front of me on the table, I was so surprised with the big portion for rice, I only finished half of it.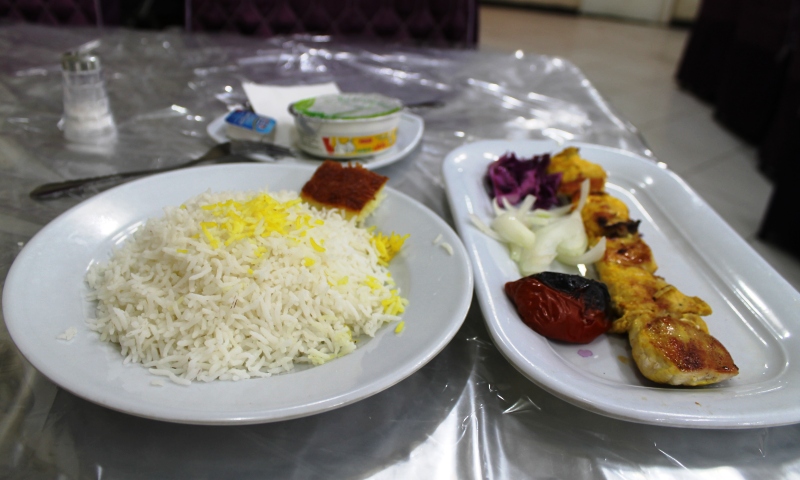 The next day, Kazem picked me up in the morning. Before going to Behnaz's house, he took me to Naderi Garden at the center of Mashhad city.  It is a complex with a tomb and a museum about the time of Nader Shah, a great Shah (king)  of Iran in the 18th century. Nader Shah  was dubbed Napoleon of the East.  I spent about a half hour in the museum.  The museum collection showed the arms and weaponry in  Nader Shah's period of power. It was very fascinating to learn another history of Persia. His statue while riding a horse stood in the garden.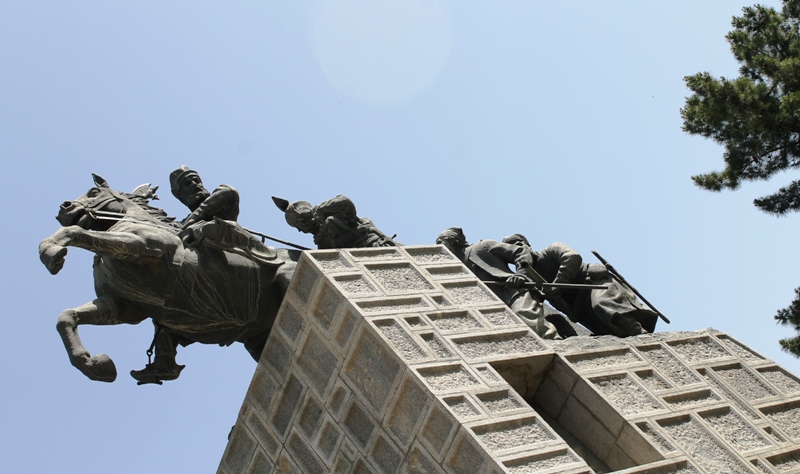 Mashhad as a huge trading and business city was apparent when I saw the Vesal Commercial Complex, a 6-story modern shopping center.  The complex was within the area of the Sepad Tourism Zone. 
Behnaz and her family were ready when Kazem and I  arrived at her house. Her full family member would join in the trip to Tus.  It was nice to meet her lovely family member,  her husband, two sons and daughter.  We drove in two cars.  It was like having  a family trip. Suddenly, the company and guest relation between Behnaz and me turned into the guest and host relation, where I was the guest, and Behnaz was the host.  
From Mashhad, Tus was only about a 30-minute drive by the highway.  People come to this ancient city to pay a visit to  the mausoleum of Ferdowsi, a distinguished Persian poet who wrote Shahnameh.
The genius Ferdowsi wrote Shahnameh (the Book of Kings), one of the world's longest epics,  in the 11th century. It was written in classical Farsi. Shahnameh tells about the myths of world creation  and the past history of Persian Empire until  Arabs' invasion  in Persia in the 7th century.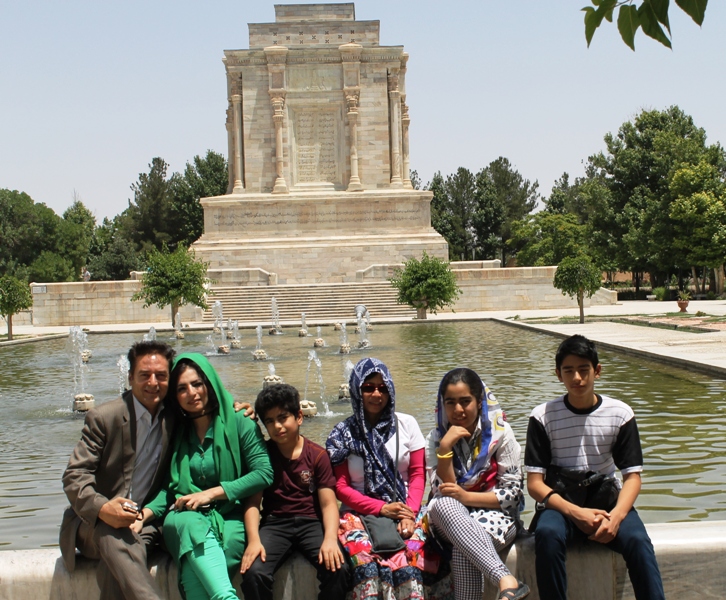 The mausoleum of Ferdowsi is situated in a splendid garden decorated with a pond.  As we arrived in the garden, the sun was quite intensive so I opened up my umbrella. "Don't use your umbrella so people in ticket box would not think you are a tourist," Behnaz said smiling. Just like in Indonesia, the price of entrance ticket for a destination in Iran is significantly different between foreign tourists and locals. 
Inside  the mausoleum, there wass a lot to see. In addition to  Ferdowsi's tomb, there were some reliefs from Shahnameh. The collections in the mausoleum also included paintings, carpets and artfacts related to Shahnameh. They were all graceful. Masoud, Behnaz's husband, was very fluent to tell about Shahnameh in Farsi.  And Behnaz translated it to English for me. Indeed,  Shahnameh is fundamental for Iranian  literature, culture, art and history. We took a lot of photos inside the mausoleum. I paid a visit to Ferdowsi's tomb before we left.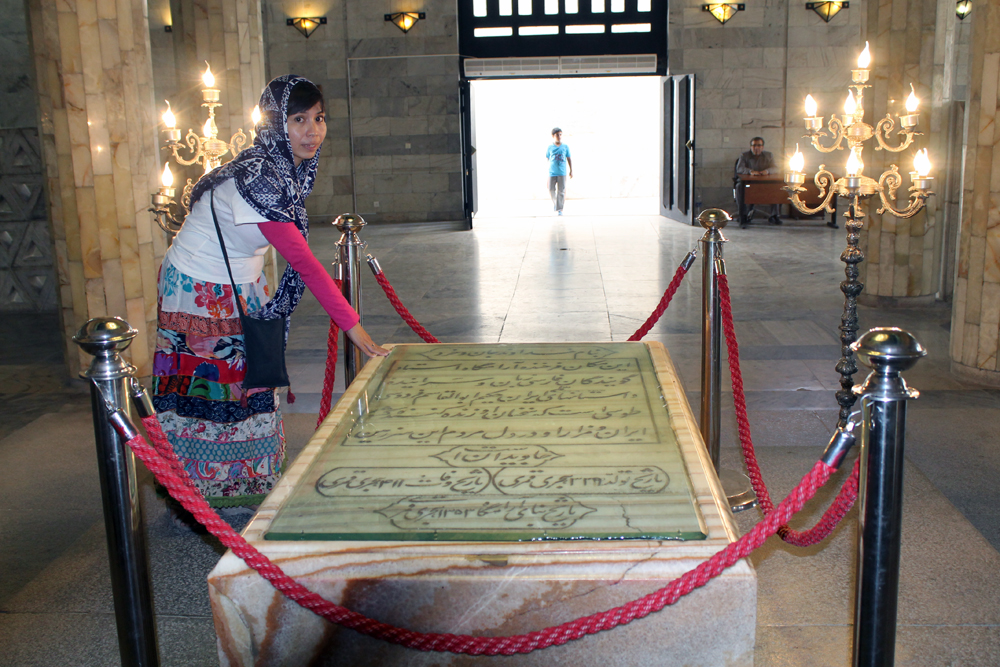 We dropped by at the souvenir shop. There were books and some souvenirs related to Ferdowsi and Shahnameh.  I was eyeing on an English translation of Shahnameh.  I decided to buy it but Behnaz's husband didn't allow me to pay for the book. He paid for it instead. "From us," he said pointing to Behnaz.  I thanked them fully for the wonderful gift. Later I asked Behnaz to write something on the first page of the book as a memory for me.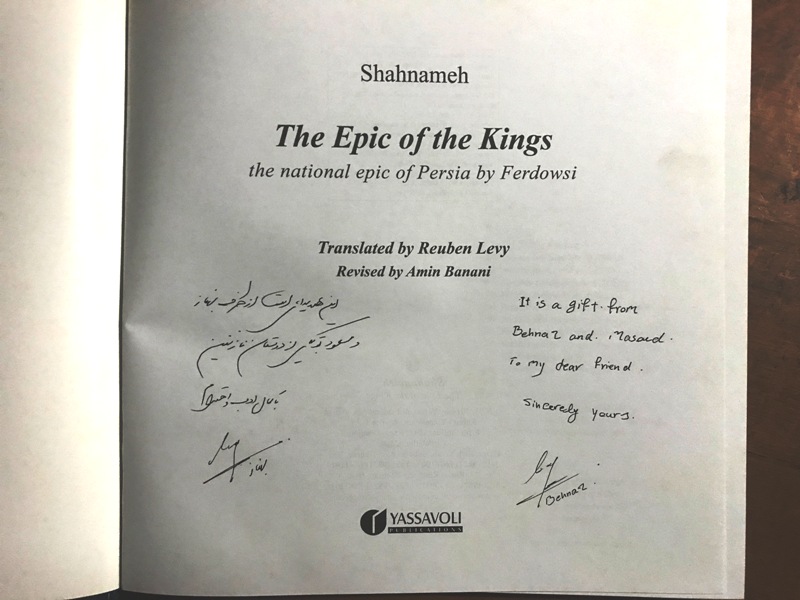 After exploring the mausoleum, Behnaz invited me to visit their summer house for lunch. The big,  two-story summer house was situated in a big garden. It was guarded by a dog.  We were relaxing there. Behnaz treated us with the best kebab in Mashhad. It was very delicious.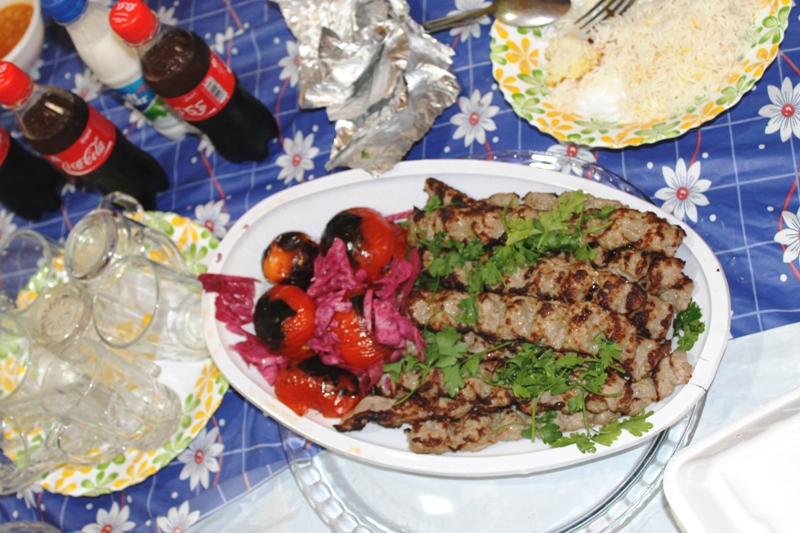 It was my best day in Mashhad to be with a family of a stranger that I barely met one day before. We spent some time  at the summer house before returning to Behnaz's house and Kazem driving me back to the hotel.
After I returned to Tehran, I asked my guide to send me Behnaz's number as I wanted to give her the photos from the trip.  I contacted her once in a while after my  Iran trip to say hello.  About two years ago, I wanted to contact her to say hello, instead I got a reply from her husband, Masoud. He said that Behnaz  moved to Germany with the children. I finally got Behnaz's number in Germany, and spoke with her. She said that she was now residing in Germany with her children, they came as asylum seekers  and her husband would follow. I was a bit thrilled with her whole story. It was just dramatic.
Although my trip in the three cities in Khorasan Province was initially focused on visiting the tombs of great figures, it eventually led me to  many  possibilities.  It was a very colorful trip.  Learning about the Shiite Imam,  great Sufi, prominent polymath,  famed poet and brilliant painter of Iran; meeting up with the hospitable Behnaz's family;  and my whole observation of the holy city resonated deeply in my trip in Iran.