Kerem: Diyarbakir, Turkey
It was in April 2012. I was staying in a small lodging in the Sultanahmet area of Istanbul, Turkey. My travel agency arranged and selected it for me.  The lodging was small but from the top of it,  I could see the stunning Bosporus Strait from a distance.
I just returned from my Istanbul tour that lasted until late afternoon. A guy attended the receptionist's desk and  I said hi to him. He asked how my tour was. I told him about the places I had visited.  We introduced each other. His name was Ergun.  
We chatted for a while about the places of interest in Istanbul. On the wall by the reception, I was seeing posters of  Turkey's highlights, one of them was located in East Turkey. "I'd like to visit East  Turkey one day," I told Ergun. "My family comes from Southeast Turkey," he chuckled. He gave me his email address just in case I needed help with my trip in the future.
Unexpectedly, I planned to make a comeback in the later month of the same year. For my second visit, I wished to see the less loved destination of Turkey: the eastern part.
My plan was to take a trip from the east to the west of Turkey, with Diyarbakir as the starting point.  It is the capital of Diyarbakir Province located in southeast Turkey. But I found out that it was not easy to arrange the tour in East Turkey, especially because my destination was Diyarbakir. There was no travel agency that served the city, at least from my research on the internet. It was not a tourist city at all. The selection of Diyarbakir as my destination didn't make everyone happy either, mainly the Turkish Embassy in Jakarta. I was advised not to step into the city that had been stirred by conflicts. They were concerned about my safety and security. At the time, a bombing just blasted in the city. 
In fact, I don't have a desire to write about politics, but this is just to give a background of my story. The eastern and southeastern part of Turkey is populated by Kurdish people. There seems to be an inequality of opportunity for Kurdish people in terms of jobs, development, etc. Moreover, Kurdish people are not only a matter of ethnicity but also an identity and pride.  And Diyarbakir is the stronghold of the Kurdish independence movement.
Out of my determination, I wrote to some people who I  had known from my first trip. I asked them what they thought about visiting East Turkey, in particular Diyarbakir. The response, I received, depended on the background of the person. If the person had a Kurdish background, the answer was:  do not worry, otherwise, the answer was no. My last resort was finding the reviews of travelers who had been to East and Southeast Turkey, but none of them was visiting Diyarbakir. If there was one, it was not up-to-date because the report was from a few years back.
It was a troublesome situation as I had pressure from some facets. Of my Turkish acquaintances who supported my trip to Diyarbakir was Ergun, the guy that I met in my lodging in Sultanahmet. Ergun told me that he originally came from Sanliurfa, a city in Southeast Turkey. I told him my difficulty to find a tour or a guide in Diyarbakir. Then he came up with some good news: he had friends in Diyarbakir that might be able to accompany me during my visit to the city. That news refreshed me. 
I was stubborn enough to disregard all the warnings, I continued with my plan and bought a one-way domestic Istanbul-Diyarbakir flight ticket for my trip in September.
Later on, Ergun told me that his friend could not make it, but he found another friend. "He speaks little English," Ergun said about the replacement. "But he can accompany you." Well, since I didn't speak any word of Turkish and Diyarbakir was completely unknown to me, to have someone there would be better than not at all. I'd be happy to have a companion. 
I told Ergun that  I needed a pick up from Diyarbakir Airport. I also shared my flight details for Diyarbakir with him. I could not thank him enough to be a middleman in my unblessed trip.  
On my first arrival day in Turkey, I flew straight from Istanbul to Diyarbakir by Turkish Airlines. I was a bit nervous as soon as I landed in the city, all the warnings and the news about bombing shadowed me. "What am I doing in this city?" 
In the arrival hall, I saw a tall, brown-skinned guy holding a paper with my name. Oh, there he was, Ergun's friend. His name was Kerem–a first-year university student of mathematics. Kerem called Ergun so I could speak with him on the phone. Ergun welcomed me and asked if I needed anything. I said  I only wanted to get to my homestay and then buy a SIM card.  I would start my walking tour in the morning. 
Kerem and I took a taxi to my homestay, along the way I got a glance of Diyarbakir, which was totally different from other cities in  West Turkey that I had visited. The city was quite busy in the evening. 
I didn't have any expectations about the city.  As soon as I got out of the taxi and saw the surrounding, to my surprise, my homestay was located in the Old City.
I thanked Kerem for taking care of my arrival. "What time tomorrow?" he asked as he was going to leave. "Nine in the morning."
Walking Tour: Mosques in Old City Diyarbakir
Kerem was on time. He was already in the lobby by 9. I spoke to Ergun, who became my remote interpreter, about the places I wanted to see. Then he spoke to Kerem on the phone. 
Walking in the morning under the blue, clear sky of  Diyarbakir's Old City energized me.  My worries disappeared. Kids going to school, shop owners cleaning their shops, men leaving to work, women in hijab walking in brisk were genuine pictures to see the everyday life of a city. It was pleasant.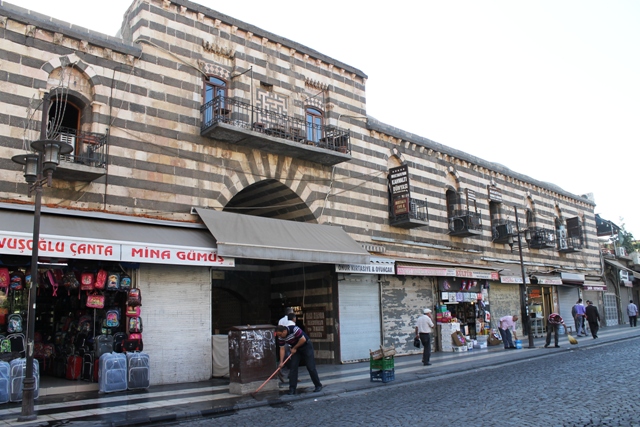 We walked on the cobble-stoned roads that covered most areas of the Old City. Our first destination was Suleyman Camii. The gigantic minaret was the highlight of Suleyman Camii. It was entirely constructed from the black basalt stone. I found out later that all preserved buildings from the 16th century in Old Diyarbakir were constructed from this kind of stone.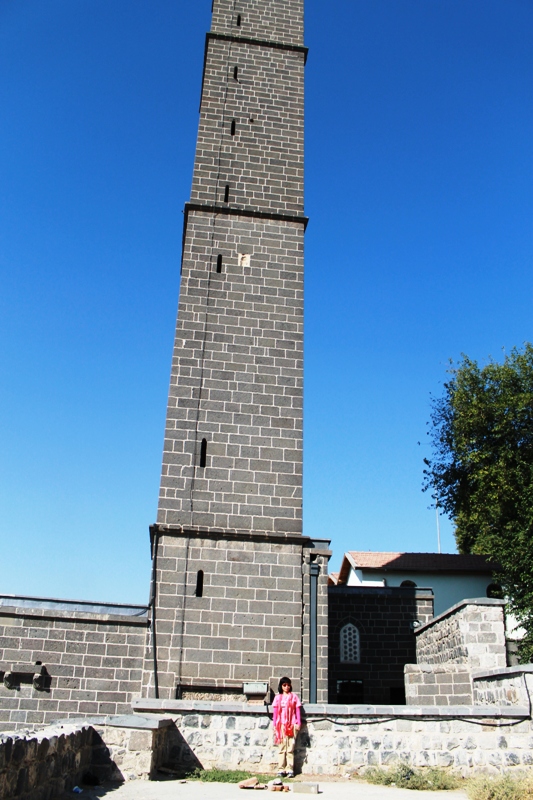 I enjoyed seeing its architecture which was different from other old mosques that I had seen in other cities in Turkey. There were some pilgrims visiting the tomb on the mosque. I covered my hair out of respect. Two ladies smiled at me.  I smiled back. "Endonezya," I confidently said, pointing my thumb to my chest. Then one of them handed me some candies.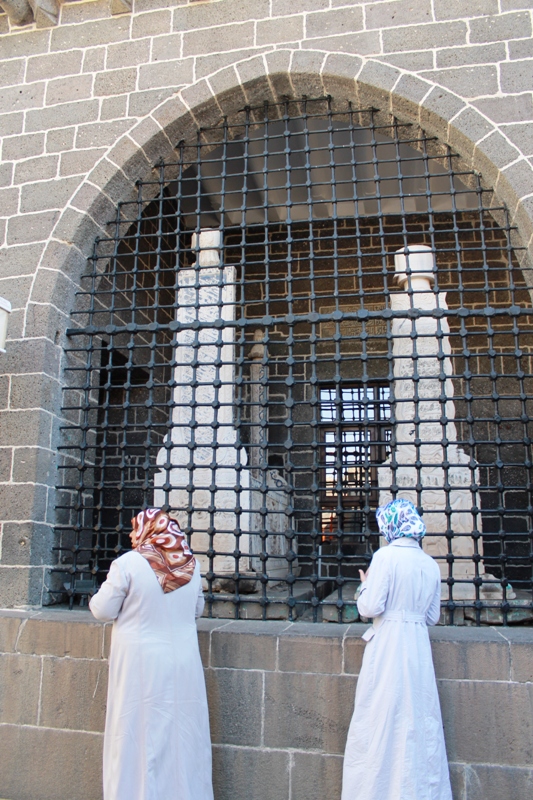 As a local Kerem knew all the shortcuts. He took me to the residential area. Deep in the Old City, the area was worn-out but still, it was inviting for a newcomer like me.  Little children were playing on the alley,  they stared at me as I was walking by. Probably not many foreigners came to this place.  We reached a mosque whose architecture reminded me of the Seljuk. Its gate was closed so we continued walking. The alley opened up to another cobble-stoned road with a row of shops on the side.  To my surprise, I came across a small group of foreign tourists on the walking tour.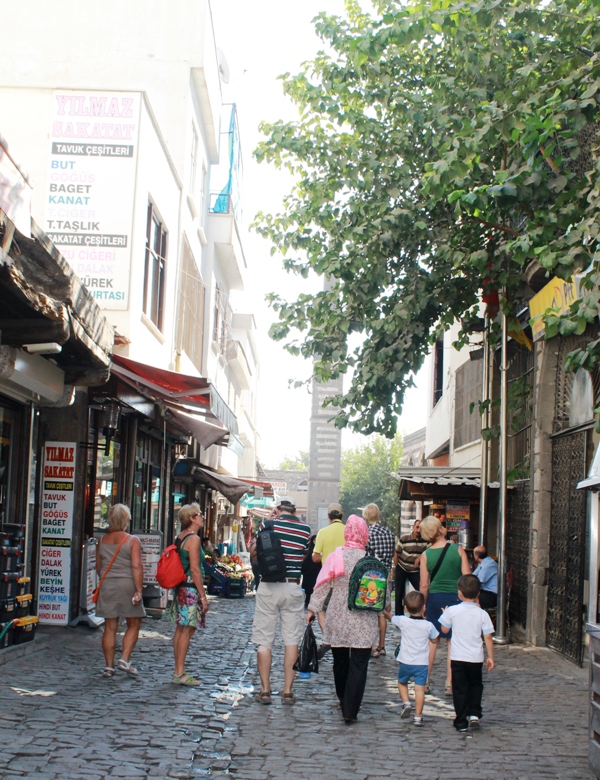 In an intersection, there was another noticeable minaret,  I was wondering why many minarets in the Old City. "Are you tired," suddenly Kerem asked me.  "No, I like walking," I replied as I kept my feet moving on the wide pedestrian lane. I was fascinated with what I was seeing, the real-life with all the shops and business, the women in hijab, the apartment building with waving clothes on the balcony, and the whole atmosphere.  It was just lively. In fact, it was not as scary as people thought.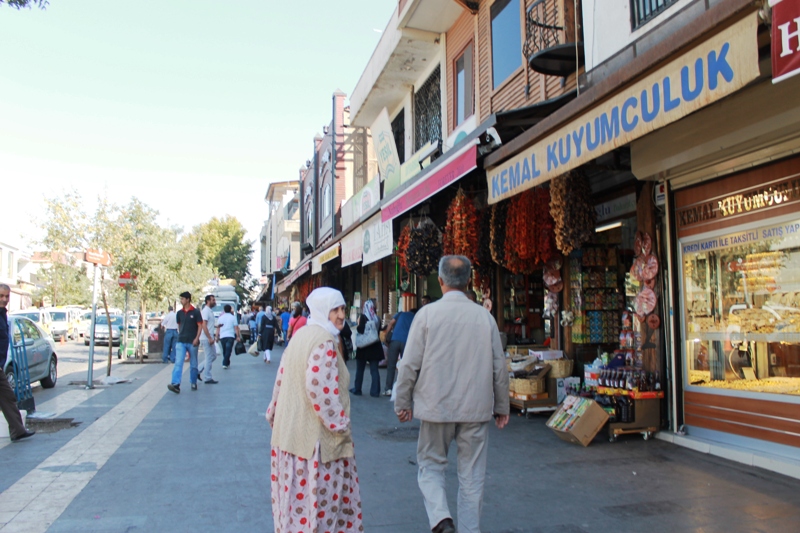 We passed  Hasan Pasha Khan and stopped by there. Khan was an inn where the traders with caravans stayed in the past when they visited a city. Now the 2-story khan was converted into a place for hanging out, there was a cafe and restaurant and shop. The architecture was quite striking. I took some photos there.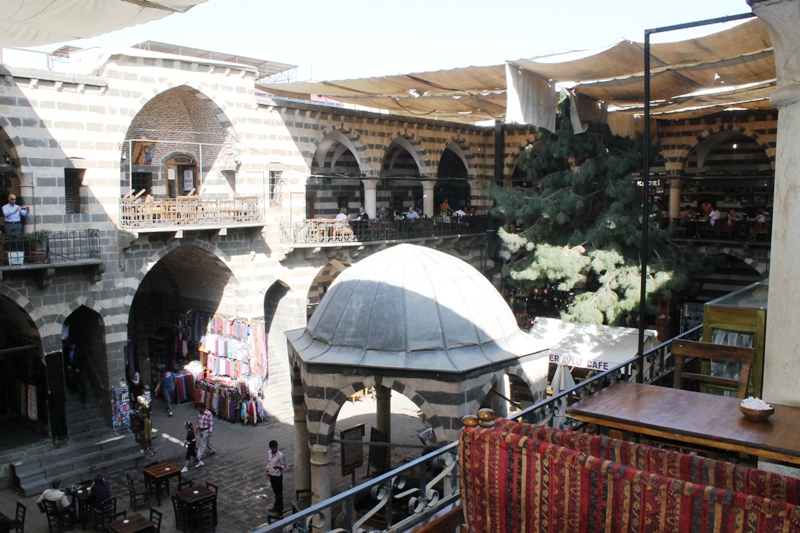 Kerem took note of the places that I wanted to see. "Now, Diyarbakir Ulu Camii (the Great Mosque of Diyarbakir)," he was reading his note. Part of  the mosque was being renovated. The entrance was a small alley that led to a big courtyard. The mosque used to be a Byzantine building as it could be seen from the columns.  It also had a striking minaret. I had the chance to explore inside the mosque that was claimed to be the oldest mosque in Anatolia.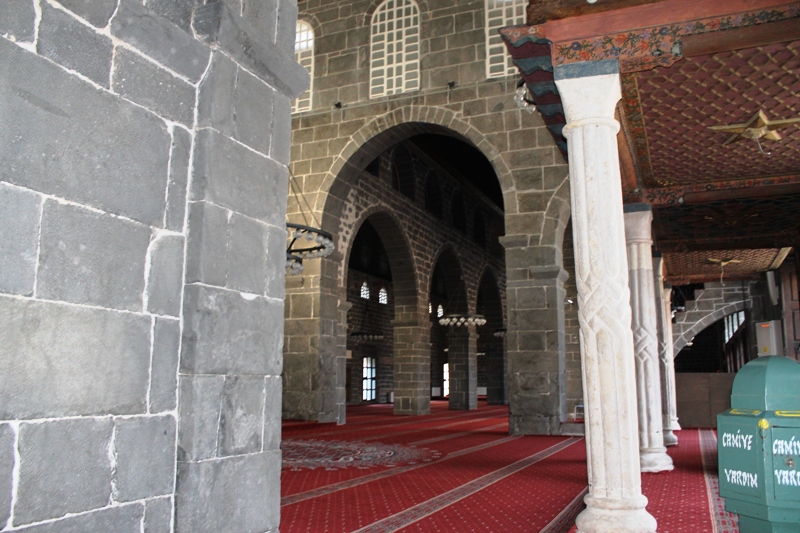 Shortly we got to a local market. The local market has always been my favorite spot. We passed groceries, antiques, cookware, and spice shops. Out of curiosity,  I gazed around. Kerem bought for me a long knitted thread with typical Kurdish color: red, yellow, and green. This thread was tied up from my forehead to the back.  I lost that thread in a fully-packed train in Jakarta later on, but I asked someone to make a duplicate. The people looked amused upon seeing me wearing that thread on my forehead. As a souvenir from Kurdish land, I bought for myself a shawl with typical Kurdish color.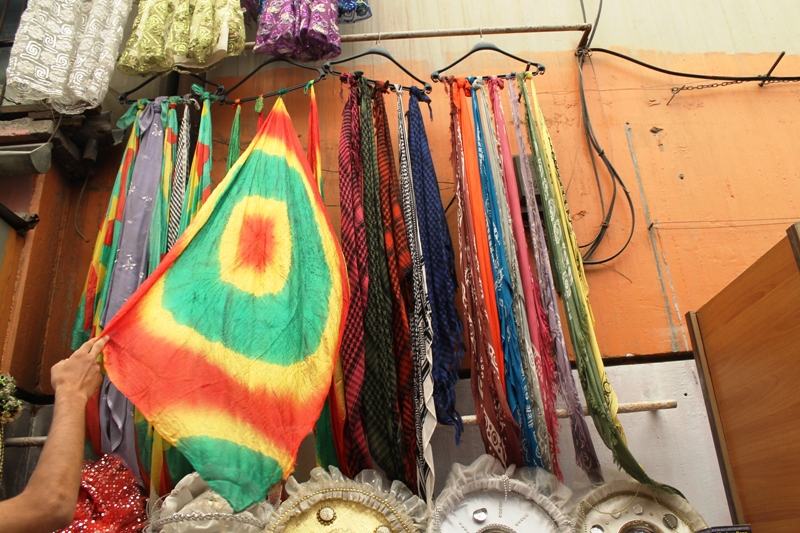 As we continued walking, Kerem took me to another mosque. He had a long list of mosques in the Old City that I could visit. Melik Ahmet Pasha Camii mosque was quite impressive with an enormous minaret. The entrance was a narrow alley that led to a big courtyard. I noticed some mosques in Old City had entrances like that, I was not sure why.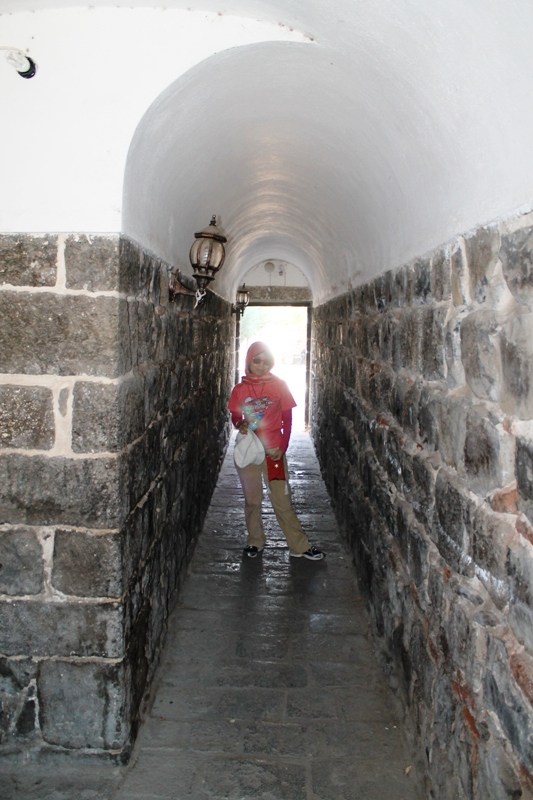 Entrance to Melik Ahmet Pasha Camii, Diyarbakir, Turkey
In the courtyard, a Turkish mosque caretaker who spoke fluent Arabic approached me. He asked me whether I spoke the language. "I speak Arabic very little," I replied in Arabic. He looked impressed with my answer then started to explain about the mosque and other things in Arabic. He could not be stopped until I pointed to my wristwatch that I needed to go to another place.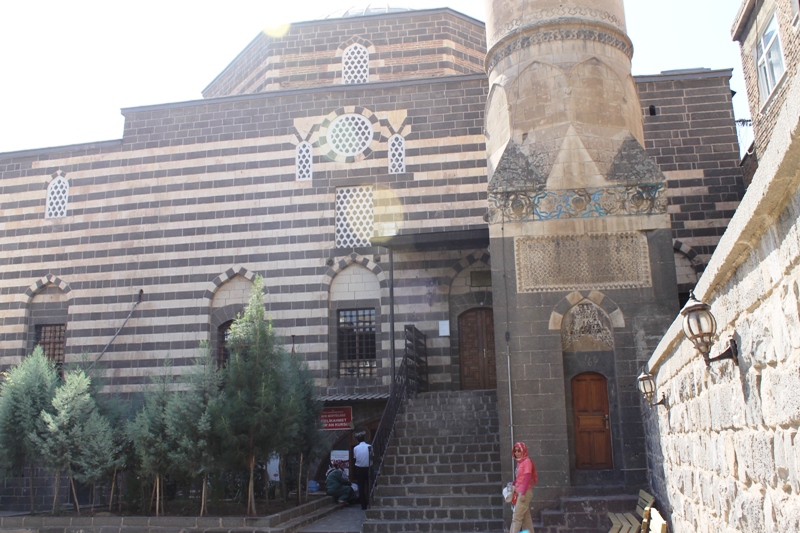 There was a small park near Diyarbakir Fortress where I rested for a while watching the people. From my bank,  I witnessed how people struggled for a living: the street vendor selling vegetables, men moving around offering the local snacks, and taxi drivers waiting for the passengers. I was abruptly thinking, why many people thought this city was not normal. I didn't see any troops since I had walked in the morning.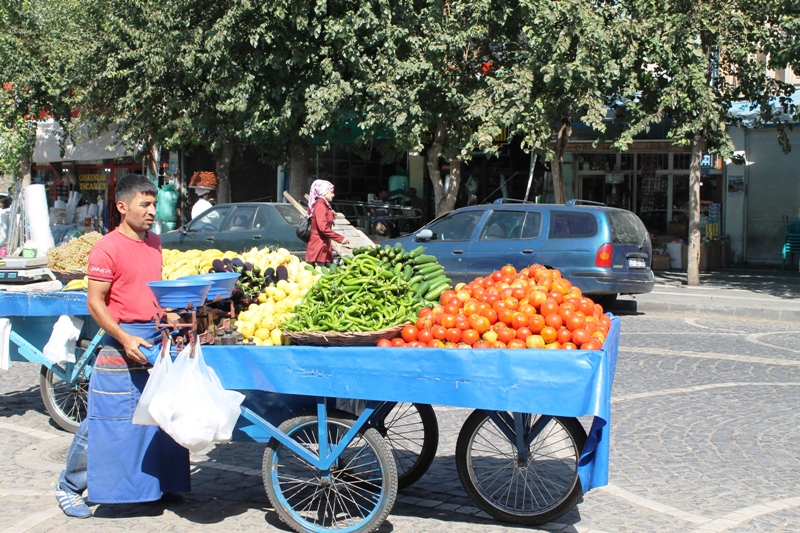 My eyes caught a sign of the Virgin Mary Church. "Let's go there, Kerem."
"This way," Kerem led me to an alley. Different from other alleys in Old City, this area was deserted.  I turned up in a thick wooden door of the church. There was a small sign just next to the door. It was not eye-catching at all. Like all the mosques I just visited, there was no big sign on the site. The door was locked. Inside the wall along the alley must be the church. I thought. We finally found another door on the other side, but it was also sealed.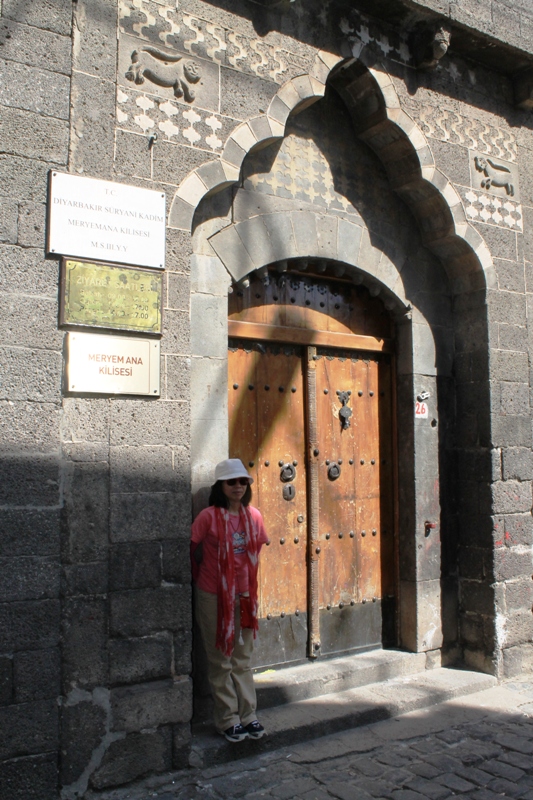 "Merhaba!" I exclaimed. After waiting for a while, someone came to unlock the gate. 
"You are from where?" asked the man.
"Endonezya." 
"Father is inside, please wait." 
We entered into a square courtyard with a small, not-working fountain in the middle. I was amazed and looked around. I never believed that behind the wall there was a courtyard and a church.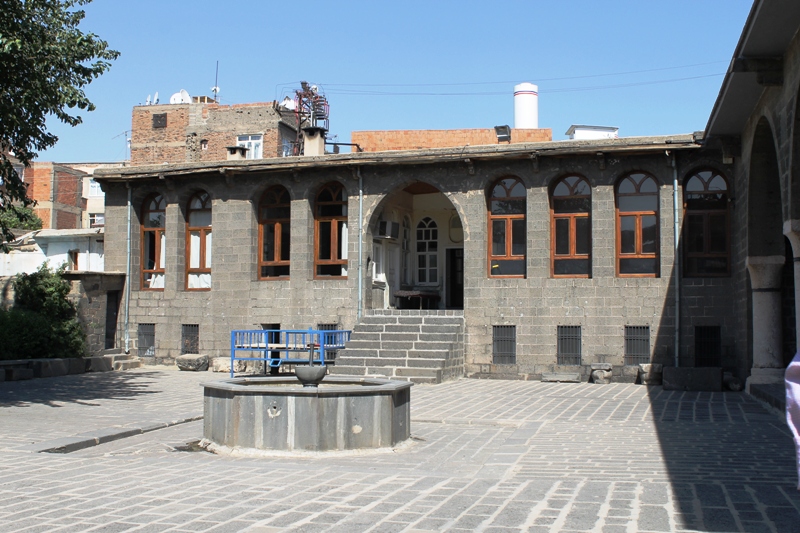 Kerem was taking some photos of me in the courtyard. Suddenly, a man in priest robe approached us.
"Merhaba," I greeted him.
"Merhaba," he answered. 
"Where are you from," his interrogative eyes looked at me, and then to Kerem.
"I am from Endonezya. And this is Kerem, my guide," I replied trying to convince him that I was merely a tourist.
"Could I come inside the church?" I saw he was holding the keys in his hand.
"Yes, but no photograph."
To be honest, I was disappointed. But, it's better than not seeing anything.
He opened up the lock. I walked down inside slowly and my head went up seeing the whole interior. The church was also constructed of black basalt stone. The size was relatively small.
Father explained a bit about the church. Then he came to a wooden altar. He opened up the Injil that is written in the Arabic alphabet of Aramaic language. Wow! It was my first time seeing Injil in the Arabic alphabet.
"Please make a donation," he added when I was about to leave.
My hand reached some Lira coins on my purse and handed them on his hand.
"Thank you," I said.
We were leaving the shabby residential area and went to Fortress which was not far away. The Diyarbakir Fortress was from the time of Romans. It was reconstructed when the Ottoman seized the city in the 15th century. The 3-5 meter thick wall is about 10 meters tall. There were stairs to reach the top of the wall. 
The Fortress was the best site to get the panorama of the city. The apartment buildings, the shanty area, and parts of the Old City were clear from the top of the wall. Despite the intense sunlight, Kerem and I walked on top of the city wall to get a glimpse of the city. It was exciting to see everything from above. After having enough view of the city, we went down.
Again, I followed Kerem's steps that guided me to another mosque Ali Pasa Camii that also had a big minaret. It was the last mosque that we visited that day. As we went on walking we reached the famous Mardin Gate of the Diyarbakir fortress.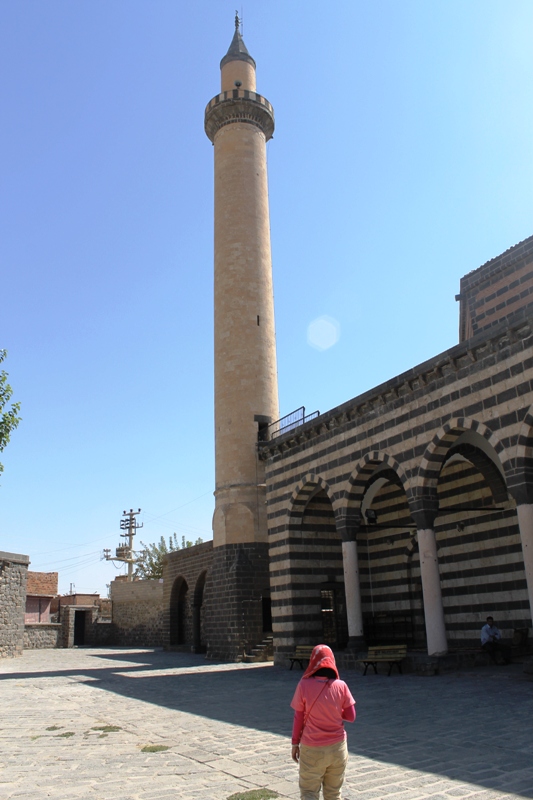 The fortress in Mardin Gate overlooked a green valley of Dicle River, a Kurdish name for Tigris River.  The sunbeam was so intensive that it burnt my skin. I found the shades, sat there, and enjoyed the view of the valley. It was so shooting. 
The fortress in  Mardin Gate was open to the public. Visitors could come inside the fortress and see around. While outside it was so hot, inside the fortress, the air was cool. It had some huge columns that were being renovated. And there was a small cafe shop inside. I decided to take a rest there and sipped some Turkish tea. After walking for more than half-day on sunny dayI just felt tired.
Although the sun was not as stark as before, I didn't want to walk again. So I told Kerem I would take Dolmus back to Old City. Arriving in the Old City I was craving to eat. I asked Kerem if he knew of a restaurant with Diyarbakir food or Kurdish food. His choice was perfect. We enjoyed the Kurdish food. I tried the eggplant. It was tasty.
After eating we stayed for a while at the restaurant, from the second floor I could see that the day was still running.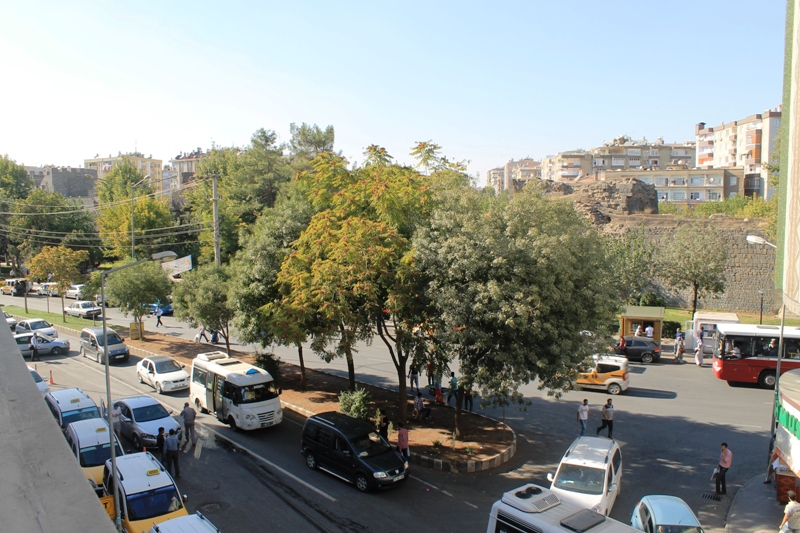 My whole walking tour in Old Diyarbakir with a perfect stranger went well. As I didn't need much explanation about the places I visited, the language barrier was really not an issue. I just wanted to experience and imbibe how life in a city that has been less known by many. In fact, it is a city that is very rich with history, impressive architecture, and genuine local life. And most importantly, I got a sense of being in a Kurdish dominated area.