Adel and Yanti: Tehran,Iran
When I first visited Iran in 2014 a travel agency in Tehran took care of my trips,  ranging from my visa, transportation to hotels. Three years later, as I wanted to re-visit the country with self-arrangement, the preparation was sweaty. It was because the country has been internationally sanctioned. 
For my second visit, I already had a list of cities that I wanted to come to see: Kerman, Shiraz, Kashan and Khorramabad. Geographically those cities are spread in the Iran map.  Therefore, beside arranging my stay, I also needed to arrange my transportation.
My friends in Shiraz and Khorramabad invited me to visit them and their families. So I had no issue with my stay there, but in Kerman and Kashan, I needed to find a place to stay. Above all, I still had to stay in Tehran for at least one night for my transit. 
Helter Skelter
Despite having challenges for logistics preparation, I insisted on going to Iran. In 2017,  Thai Airways still served the Bangkok-Tehran route. I could buy the ticket online without any problem. The next day after arriving in Tehran, I planned to fly  to Kerman. Luckily,  a Mahan Air—Iran's airline company—ticket for my domestic flight was available in the international market. Since I could pay it with my credit card, I bought the ticket straight off.  I was settled with my first leg of the domestic trip. What a relief!
I was a kind of underestimating my trip arrangement for Tehran. Until I found out that finding a hotel in Tehran was  tricky. Either the price was skyrocketing for my pocket because it was quoted in Euro or it was a dormitory type, which I avoided since I wanted to have a good rest. Some hotels also needed down payment where I should transfer to a bank account outside Iran. The effort that I would do was quite enormous for just a one-night stay. 
Then I remembered on my first visit I had contacted the Indonesia Embassy in Tehran (KBRI Tehran)  to report the cities I was going to visit. I would try to write again asking if they knew a recommended hotel in Tehran which didn't require hassle for reservation.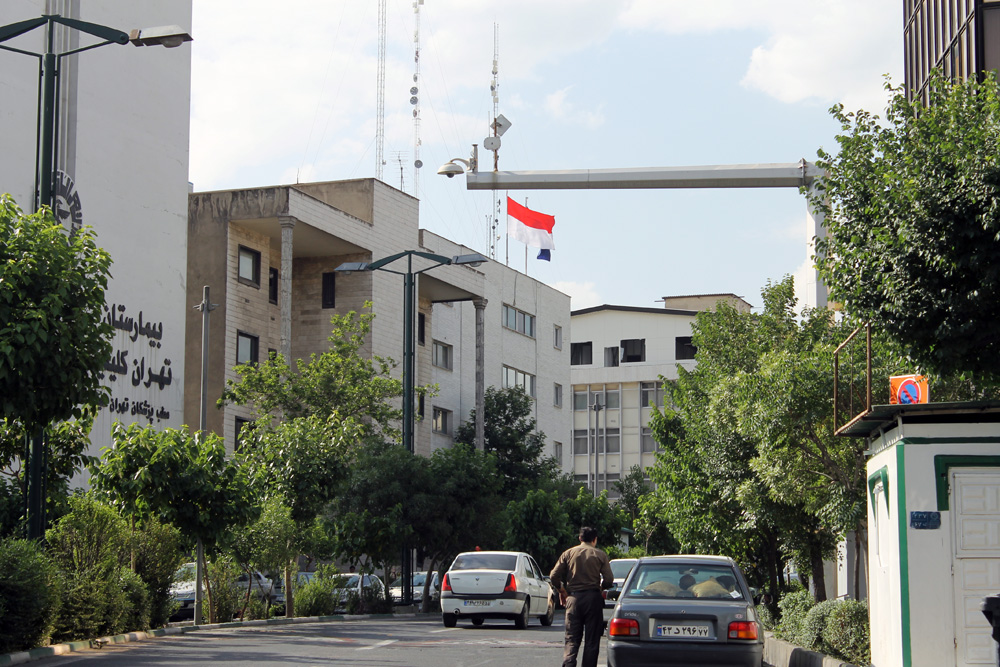 I still kept an email address of the staff of KBRI Tehran, Cahya Pamengkuaji, with whom I contacted on my first trip. I wrote to him telling my plan to travel to Iran again and inquired about the information.  Unfortunately, he already left his Post in Tehran. He handed me the contact of his colleague who replaced him, a lady called Adel. "I forwarded your email to her," he replied in his email.
Blood is Thicker than Water
I wrote to Adel, a staff in KBRI Tehran, telling about my plan to visit Iran. I asked if she could recommend me a hotel for just a one-night stay or  if there was Indonesian staff in Tehran who could rent a room for me for one night. It was the last solution in my mind.
Adel's reply was very welcoming. She asked with whom I would travel and how many nights I'd need to stay in Tehran. I told her I would travel by myself and I'd just need one night  for transit. Her response was surprising and without hesitation. "If it is only you, you can stay at my house. It's not a problem at all," she responded.  That day, Adel solved my lodging matter for Tehran.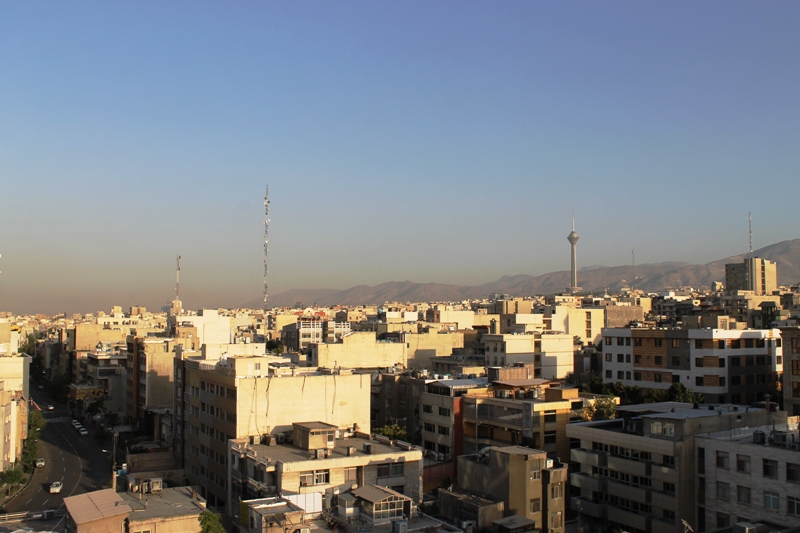 One more thing I needed to tackle : a transport from Imam Khomeini International Airport to the city. The 30-kilometer distance was normally covered in one hour.  As I would land in the evening, I wanted to make sure that everything was taken care of in advance. So, I reserved a taxi through a website in Iran. Meanwhile, Adel sent me her contact number and address.  She also sent me the name and contact number of a local staff member, Yanti–an Indonesian lady– who spoke fluent Farsi. 
The day for arrival in Tehran was coming. The taxi company had sent me the information of the driver and told me the meeting point. At the airport, I bought a local SIM card first before meeting the driver. There was about a 20-minute gap where the driver and I crossed each other until I finally met him. He had not waited for me in the meeting point, but in the passenger's exit.
It was almost 9.30 pm. He took me to the parking lot which was actually outside the airport complex.  It was not a formal parking lot.  I thought we walked about 30 minutes just to reach his car. I didn't anticipate the weather. I only brought with me one fleece jacket that I put on. I had thought that  April was going to be warm just  like in my first visit before.  In fact, it was very chilly at night. 
My first start didn't sound good, I thought. I sent a message to Adel telling her that I was in the taxi in the airport headed for her home. On the way, the driver dropped by  to tank the fuel. He said sorry. I gave him again the address of Adel. He said that I didn't have to worry about it.
We reached the city after 11 pm. I was tired. Too bad, the driver could not find the address.  We stopped three times asking people on the street, but the search failed. I began to be nervous. I decided to call Adel and told her that I was already in the city but the driver could not find her house. I asked her if she could guide the driver. She said sadly she didn't speak Farsi. The driver tried once again and this time we arrived at  the wrong house. 
I was exhausted with the situation. I thought he was a professional driver.  I asked him to move over  and stop. I thought for a moment and  called Adel again. She advised me to contact Yanti, the local staff who spoke fluent Farsi. Yanti, for sure, knew already about my coming but I had not been in contact with her before, even in writing. Calling her at midnight might not be a good idea. But I eventually had to call her, I had no choice.  On the phone I apologized for waking her up but  I needed her help immediately. I put her on the phone to the driver. I could hear that  she made instructions. Within 10 minutes, I reached the 3-floor apartment building where Adel lived. She was on the balcony, waving her hand to me. I could not thank Yanti enough who saved me from the short drama of my arrival. I was so relieved as soon as I saw Adel, I could not imagine roaming around the whole night in a taxi in Tehran.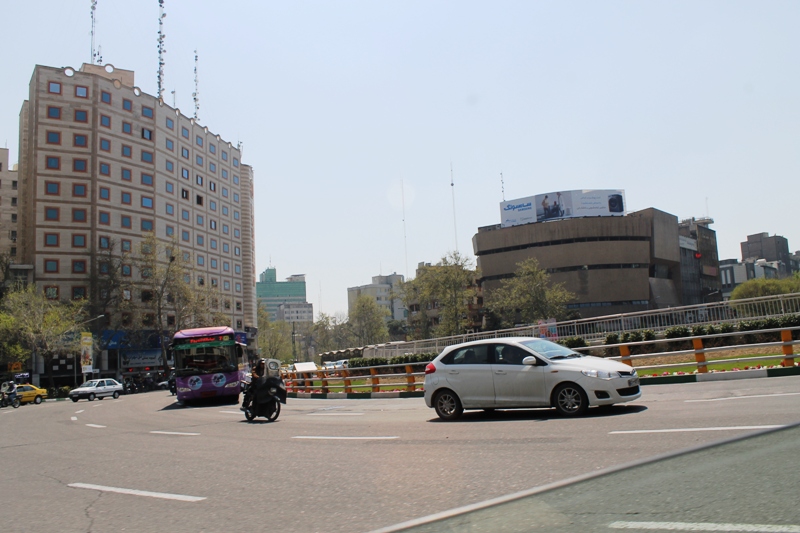 For the first time,  I met Adel in person, my perfect stranger in Tehran.   She lived in a neat one-bedroom apartment.  Actually I admired her boldness to accept me to stay with her even if it was for one night. Being excited I could not sleep right away, we talked a lot until very late  since we didn't have a chance to talk much in our emails. Adel was an easy going person. It was like she talked with an old friend. 
In the morning, when we had breakfast, I was surprised she had rendang, an Indonesian dish, on her menu. She said she got delivery from Indonesia. How lucky she was.
I still needed to sort out my things for my next trip in other cities. Adel asked me to come with her to her office. I brought my luggage with me because from KBRI Tehran I would go straight to the airport for my domestic flight to Kerman.  
In Adel's office, when I was sitting checking my emails, my  mobile beeped. A message  came from Mahan Air.  It said  that my 3  pm flight to Kerman was cancelled. Oh…my Lord!  Suddenly I had a panic attack.  Seeing how nervous I was, Adel asked me what was going on. I told her about the news. "Ibu (a respected address for a woman in Indonesia) Yanti will arrive soon," she said while typing on her computer.  She referred to her local staff who saved me last night. 
With the situation, I abruptly called my Indonesian friend in Kerman, Nasriati. Because she was supposed to accompany me on the next day. She was also dismayed. She said that there was a Tehran to Kerman bus that  left every early morning. I was worried thinking my entire plan would be changed out of my control.  I was thinking about plan B: today, I should go to the bus terminal and buy a Tehran-Kerman ticket for tomorrow morning. So tonight I would stay for another night at Adel's house again.  
Ibu Yanti came in at the right time. She was a kind of an energetic woman. I introduced myself and thanked her a lot for her tremendous help. Then,  I told her about the cancellation of my flight to Kerman. She said she would take care of it.
I handed her my  ticket to Kerman, then she called the Mahan Air office.  Although I didn't understand Farsi at all, I listened to  the conversation anxiously.  The talk took quite long. When the phone receiver was put down. She said calmly, "Your flight will be moved to 11.40 pm flight tonight. The airline will send you a new ticket by email."
"You see," Adel added, "she is a problem solver."  "Anything else?" Yanti asked. "Yes, Mam, I need a pick up from Kerman airport to my hotel." I gave her the phone number of my hotel in Kerman. She made another call. Her tone was firm when speaking on the phone. She seemed to emphasize that a driver should be ready for me because I would land after midnight. I could breath easily. My problems were solved by her  phone call skill.
The local staff members of KBRI Tehran had a potluck and I was invited to join. Most of them were Indonesian women  who lived in Tehran. I was happy to meet my Indonesian fellows overseas. It was a good feeling when I was far away from my country, I could meet Indonesian people, and talk with them in my native language . 
After having lunch, Adel asked Yanti to  take me to see some parts of Tehran. Yanti has lived in Tehran since she married an Iranian man a few years back. This has made her an expert about the local situation. I just followed her footsteps.
Whenever I visited  a city in a foreign country, I could have a multi-facet impression of the city depending on how I viewed it. This time, I viewed it from a yellow taxi accompanied by an Indonesian who has lived there for a quite long time. The street was not congested at all as it was not in the peak hour.  France's brand cars, Peugeot, Renault, and of course,  Iran Khodro zoomed on the street.  While Yanti was talking with the taxi  driver, my gaze swept  the old buildings with art deco architecture that we left behind. It was just a different atmosphere.  We passed the famous shaded Valiasr Street that was lined by the rows of  tall trees on both sides. I was amazed.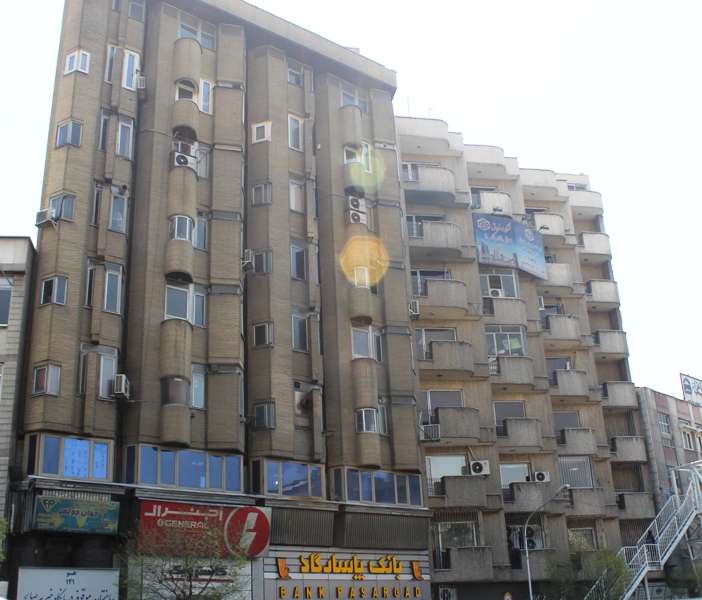 The taxi stopped by just behind the parking spot for disabled people. It was springtime, the flowers were blooming and tree leaves were green . It was beautiful.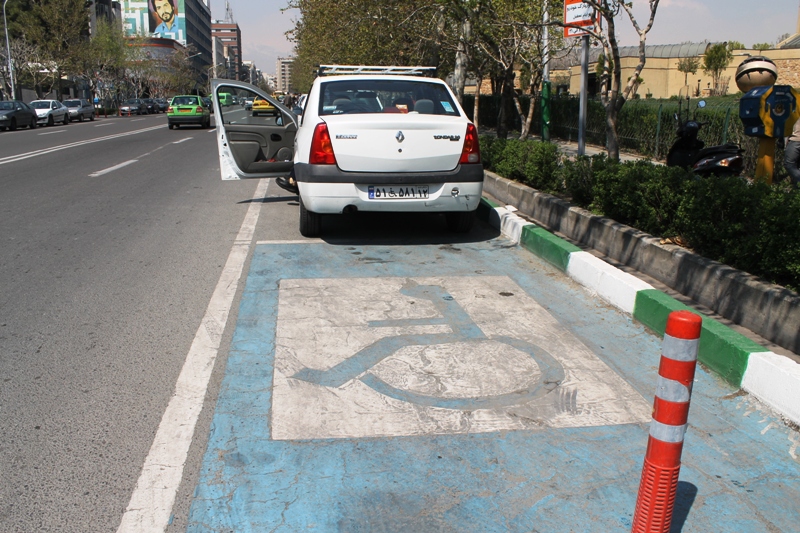 The facade of the Contemporary Art Museum of Iran looked conventional but inside there were many collections of modern art of Iran. "This is not for me," Yanti grinned as we explored the three-floor museum. The collection did give me a picture of Iranian contemporary art.  It was compelling. But we could not stay long.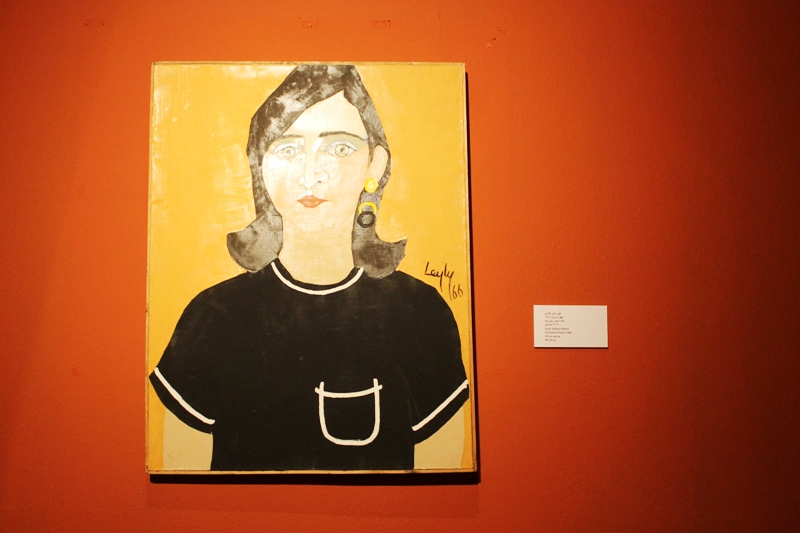 Then, Yanti took me to Laleh Park. It is one of the big parks in Tehran.  We walked down the wide pedestrian lane to reach the Park. In the Park, there was a lot to see, various shops– one of them sold products that were made in Indonesia. We circled a small part of the Park.  I bought a long cardigan in a shop as my souvenir from Laleh Park that I put on right away.  When I saw something enthralling, I asked Yanti, and she patiently answered my questions.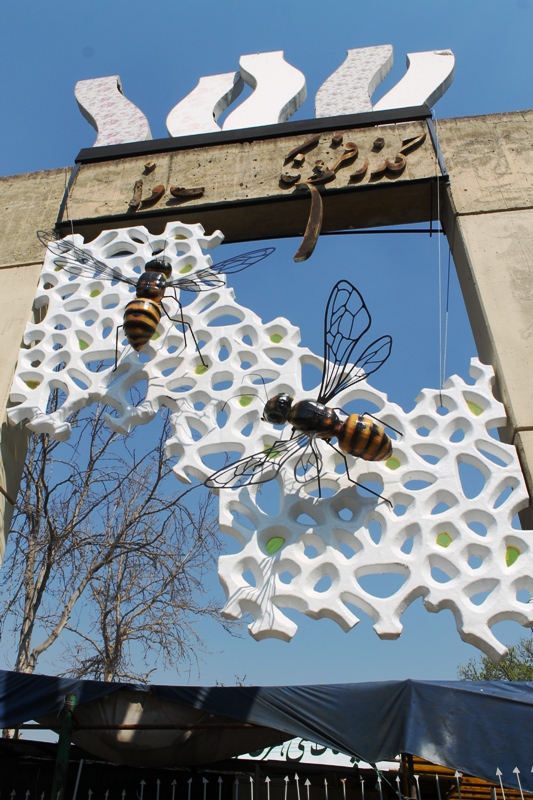 She took me to another nearby museum, the Carpet Museum of Iran. Its collection was really worthy to see. It was incredible. In some collections, I could not  mark  the difference between a painting and a carpet because of its meticulous work. Yanti was like a timer for me. Although I was really enjoying seeing the collection, she had another place to show: the gigantic Milad Tower.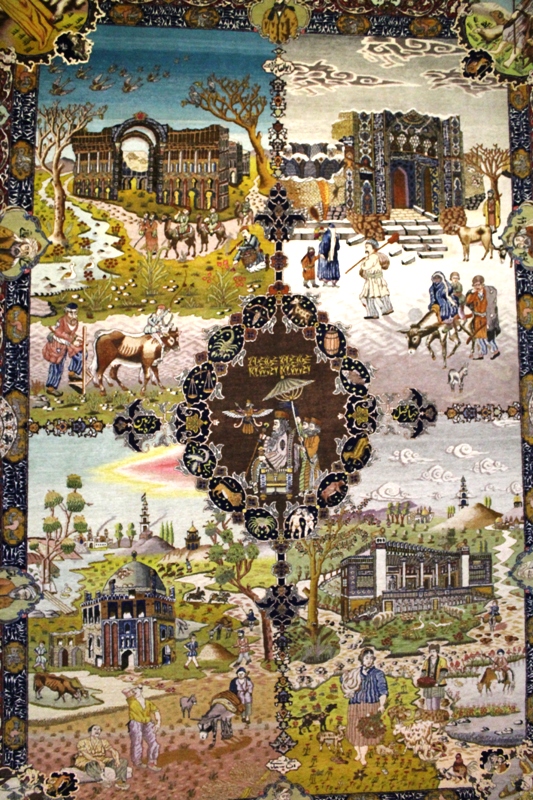 Milad Tower is one of the impressive building structures in Iran. It is situated in a huge complex.  The 315-meter tall tower attracts both locals and tourists.  Yanti was such a good photographer. My camera lens could not capture the whole length of the tower. Using her acrobatic pose, she tried so hard to make it in a complete frame when shooting the photo.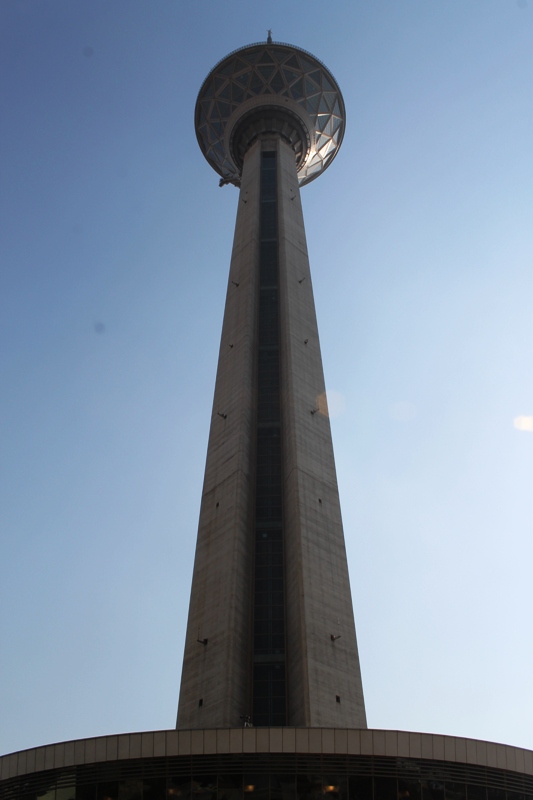 The garden  in the base platform was well tended with the blossomed pink tulips lined the carpeted green grass.  From the platform,  I could  clearly see the white peak of the Alborz Mountain range in the north of Tehran.  The platform was also a good site to get the skyline of the city, a perfect spot for hanging out.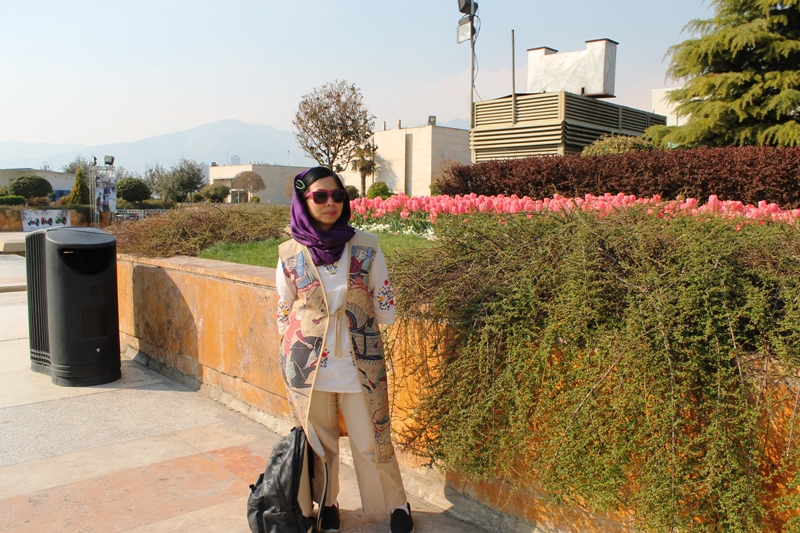 We went back to KBRI  before the peak hours to avoid the notorious congested Tehran. As my plan slightly changed now, I would go to Adel's house again to wait my night flight to Kerman. We had plenty of time to chat. 
Again, Yanti helped me arrange  my taxi to Mehrabad Airport. Afterward, she turned out to be a problem solver in some of my critical trip arrangement (stay tuned on that story).
 Although I was thrilled with what would come ahead of me in my upcoming trip. It was not easy to say goodbye to Adel, who was no longer my perfect stranger now. She and her colleagues at KBRI Tehran had treated me as an honored guest, which I had  not expected. My Tehran trip segment would not be successful without their support.