Djoko: Mainz, Germany
The International Journalisten Programme (IJP), a consortium that is based in Berlin, was going to hold a conference for their alumni  in Heidelberg, Baden Wuerttemberg in 2009.  The alumni were invited to send  their proposal to attend the conference.  As an alumna for the Asia Pacific Program of IJP, I sent my proposal to attend a 3-day conference. Only a limited number of alumni would be accepted, so I was anxiously waiting for their approval.
When I received a yes answer from IJP, some plans started to work on my head. The consortium paid my international ticket,  lodging for 3 nights, and travel insurance. German Embassy in Jakarta granted me a 10-day visa that reflected my travel insurance. It was a luxurious treat at the time as it was not easy to get a German visa. Whereas the conference would last for three days, I didn't have a desire to directly return to Indonesia as soon as the conference finished. 
I would have extra days that I would spend in Germany. So, I contacted my Indonesian colleague who lived in Nuernberg and asked if I could visit her. She welcomed me. I also contacted another Indonesian that I could categorize as stranger in Dornach, near Munich. However, I didn't want to stay more than two nights in each of their houses, so I was thinking of  visiting one German city.
It didn't occur to me until my brother Iwan told me that he had a friend in Mainz. In this regard, a friend was not someone that my brother had met in person. Instead  it was someone  that he knew through a community group baltyra on the internet, a platform where Indonesians could write about anything. "You can write to him, he is an Indonesian, he would be happy to host a guest from Indonesia," my brother added while giving the email address of his friend. 
Djoko Paisan-— or Om (Uncle) Dj as he has been intimately called by his friends– was an Indonesian man who has lived in Mainz,  since he married a German woman. That was the information I got from my brother. I was not so familiar with his stories as I was not a member of that community group.
I wrote to Om Dj an introductory  email, I told him who I was. I said that I would be in Heidelberg for an International Journalisten Programme alumni conference. After the conference, I would spend some days in Germany and see if he could host me for two nights or so. He happily welcomed me and didn't have any objection at all with my visit. Reading between the lines I could tell that Om Dj was a kind heart person. 
My alumni conference went well. I told Om Dj that I would  take the train from Heidelberg to Mainz and give him  my train schedule. The train trip would only take about one and a half hours. When I was about to check out the hotel, Om Dj called me on the phone–I bought a local SIM card. He wanted to make sure that everything was on the track. He would pick me up at the Mainz train station.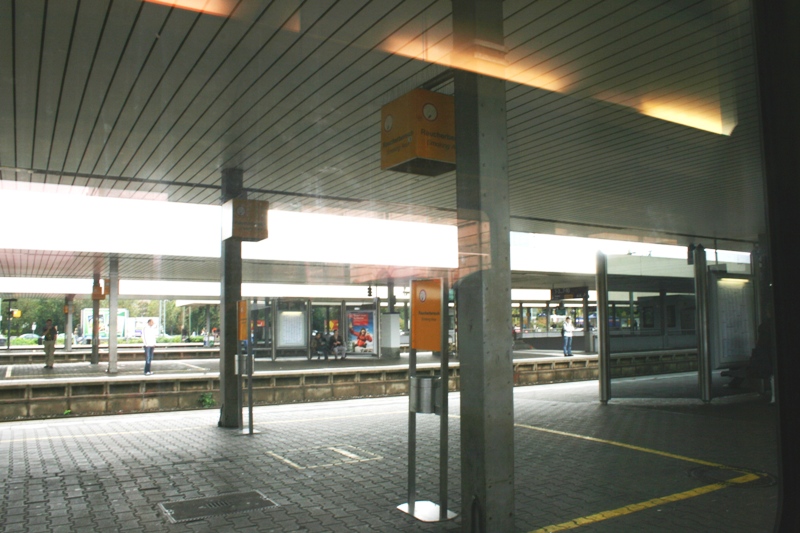 When my train was approaching Mainz train station. I got another call. It was from Om Dj.  He said  he was already on the platform and asked in which coach I was.
As I got out of the train,  I saw Om Dj was right there on the platform, with a lady and a teen.  He came with  his wife Tante Susi and his youngest son Daniel. He gave his hands and grinned. I was excited to see Om Dj who had only communicated with me in a couple of emails.  I was honored to be picked up his the family.
It was Sunday and the sky was bright. We didn't go straight to his house right away. Om Dj took us to an open park by the bank of Rhein River that crossed Mainz.  Mainz is situated in the Rheinland Pfalz state of Germany. It was the birth city of Johannes Gutenberg, an inventor who introduced  printing press to Europe in the 15th century.
We walked on the stainless boulevard by Rhine River. It was a sunny afternoon. There were quite number of people in the Park.  We enjoyed the river breeze and the view of serene Rhine. We took some photos in the Park. 
Om Dj has been an outgoing person. In his writing on his social media wall, he liked to write about his family  members, what they did and so on, so there was no distance between his family and his virtual friends. In real life, it was not different either. He was very inclusive. On the day of my arrival, after walking around and enjoying the sunny day,  Tante Susi took us to a bakery shop where her oldest son worked. Even though I just met  with  his family, they didn't act unfamiliar.  I was like  their family member.
The bakery shop had a cafeteria  where guests could dine in. We ate bread and drank coffee. Their oldest son, Alex, came by to greet me. Tante Susi bought some brotchen for breakfast and asked me what my favorite was. I love German bread. If there is anything I miss from Germany,  that is definitely German bread. 
It was a pity to miss an October's  sunny day in a four-season country like Germany, so we just walked around in the shopping area before going to Om Dj's house.  The shopping area in Old City was packed with people. We bumped with an Indonesian couple who was also a friend of Om Dj.
Gundul Gundul Pacul
In the beginning of my international travel, I was interested in places that I was going to see,  in fact, I still do until now.  But  later on, my interaction with people of different cultural and geographical backgrounds and  my observation on everyday local life  are much more fascinating than seeing the places.
 Om Dj is an Indonesian and his wife is pure German. Tante Susi was a pedagogist and Om Dj worked for a German private company. They had two sons, the eldest Alex  and the youngest Daniel, and one daughter Eva. They lived in a two-bedroom apartment with their youngest son. 
For me personally it was a unique experience, staying with a family that I barely knew and most importantly, it was a family of  an Indonesia-German mixture. They use German as the language of communication although the family members are familiar with some Indonesian words. My German skill did help me blend in the conversation.
In the evening, we sat in the cozy living room. Tante Susi was also joining.  Just like Indonesian women  in general, at home  she wore daster, a house dress made of batik fabric. Om Dj, on the other hand,  was a good storyteller. He told me about his life, how he could finally land in Germany, and other interesting anecdotes. It was all exciting.
We were like back in the old time where people sat together and chatted without watching television and holding mobile phones. As entertainment, Daniel played the guitar and Tante Susi sang. And she sang a traditional Javanese song Gundul Gundul Pacul. I was so surprised that she could sing it. 
The story from Om Dj  would continue unless the night was not  getting late. Om Dj hoped that the weather would be good in the next day as he would show me around. I was sorry for Daniel because I occupied his bedroom for at least two nights. "No problem, he could sleep with us" Om Dj said calmly.
It is clear that Om Dj has added Indonesian color or value to his family that sometimes I even don't see in a normal Indonesian family. The relationship in the family was close. Visiting each other was a norm. The next morning, Alex's family joined the lavish breakfast.  I met his wife and his adorable son David. 
My eyes shone looking at the variety of German breads on the table.  Meal time was a family time where every member of the family gathered.  Before eating they said prayers. It was a good tradition. "This is not for you," Om Dj pointed at a  pile of whitish salami on the plate. It was really a nice full breakfast.
Afterwards, their daughter Eva, who was in teacher's college, came in with her friend. It was fun to meet the full members of the Om Dj's family. It was really like a family reunion. I played with David and he enjoyed my company. With him, I could practice again my German–which began to be rusty–without hesitance. Alex's family then left, we would visit them in the afternoon. 
The family also had stocks for the ingredients of Indonesian food. When they visited Indonesia, they would buy it for their stocks.  I brought with me some Indonesian ingredients that they might use. Tante Susi went to the kitchen to prepare lunch.  The food put on the table was again surprising: nasi, Indonesian staple food;  sayur lodeh, traditional Indonesian dish; fried fish;  tempeh and bottled chili sauce. There  was no German dish for lunch. The family eats rice  for lunch every day except breakfast and dinner.
In October the weather in Germany was dramatic, one day it was sunny, the other day it could be stormy.  That day, unfortunately, it was raining at midday. Despite the rains, Om Dj  and Tante Susi took me to Niederwalddenkmal by car.  "So you see something  by Mainz," Om Dj reasoned. 
Niederwalddenkmal is a monument in Niederwald, a small town in the neighboring state of Hesse. It was raining all the way in the autobahn. Luckily when we arrived, the rain stopped but outside the temperature was cold, at least for me.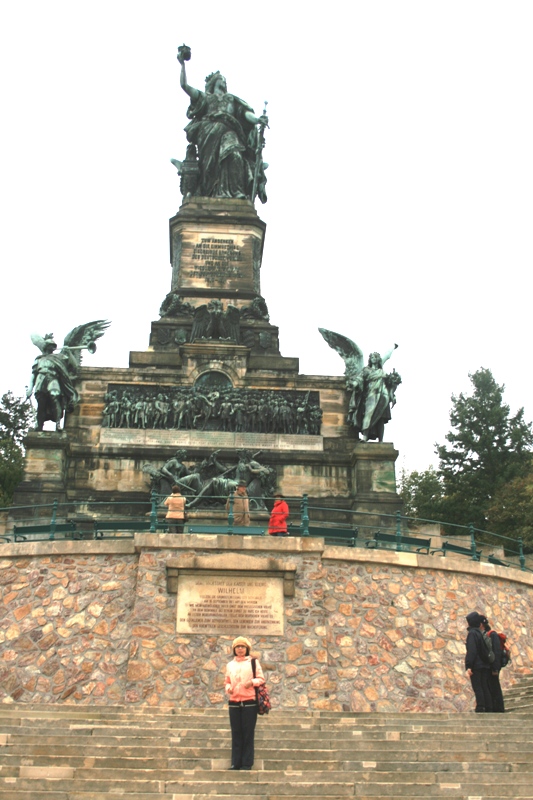 The monument is located in an  open hilly space overlooking the valley of Rhine River. I imagine when the sky was clear, the panorama from the site should have been fantastic.  Despite the weather, I spotted some tourists. Niederwalddenkmal was constructed to commemorate the establishment of German Empire in 1871 after the victory in the Franco-Prussian War.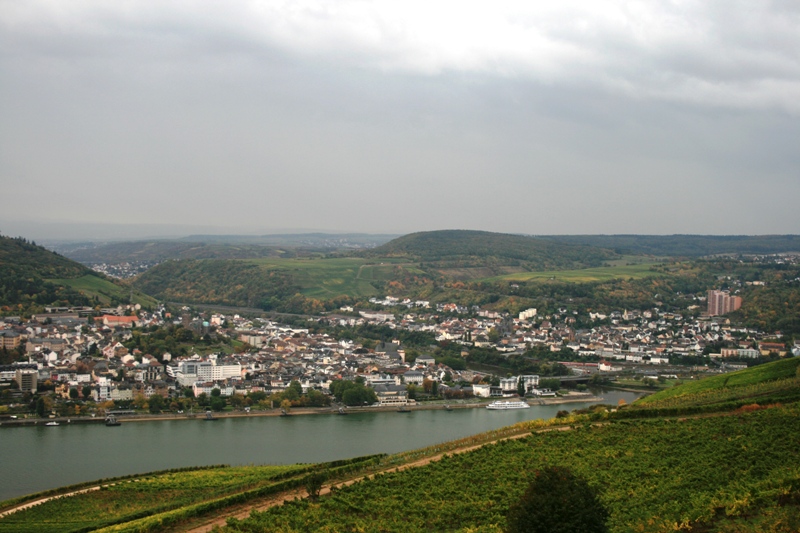 We didn't stay long there as Tante Susi was concerned about me getting cold. As we arrived  back in Mainz,  they drove to the apartment where Alex's family lived. It was a modern apartment building. I was happy to meet David again, the cute boy. As soon as he saw me he grabbed my hand and took me to his palace of toys. He asked me to play with him. What a sweet little boy.  I also said goodbye to his lovely  family as I would leave  next day.
Farewell
The next day, I had to leave Mainz to continue my trip to Dornach, a sub-district by Munich.  Tante Susi had to work that day. I had to say goodbye to her by visiting the kindergarten where she worked. Om Dj accompanied me.  The kindergarten  was walking distance from their apartment. The autumn leaves covered  the asphalted deserted road.  I didn't see people walking around. "This is what I like," Om Dj said regarding the atmosphere. 
Tante Susi hugged me as I said goodbye. I thanked her for the warm welcome of the family. About three years later, when the family visited Indonesia,  I and other fans of the family came to see them in Jakarta.
Om Dj asked me to eat before leaving for  Mainz Train Station.  On the way to the station, he stopped by at a supermarket and bought some chocolates and candies.  "For your brother Iwan and his family," he said smiling. 
My days staying with the Om Dj family were unforgettable.  I experienced a lot with a multicultural family, their sincerity and of course their homeliness. The wholeheartedness of Om Dj  was extraordinary that he tried to exemplify to his children.