Ali: Khorramabad, Iran (Part 2)
I was happy to see again both the sisters of Ali, Elham and Mahza, in their  own city, Khorramabad. I remembered when I met them in Esfahan by chance  in 2014 and they invited me to come to their homeland.  They picked me up on the side of the main road that connected Khorramabad with other cities.  My effort to reach the city was not smooth either (please read the part 1).  But here I was finally in Khorramabad.
Khorramabad, the capital of Lorestan Province, is not a touristic city. It was also my reason to visit it. I have been to touristy Iranian cities and I wanted to see a non-touristy city. Situated in the west of Iran, the  city is surrounded by mountains. It has a small population of less than 500,000. The main ethnics living in Lorestan is Lurs. Lurs ethnic is very proud of their culture.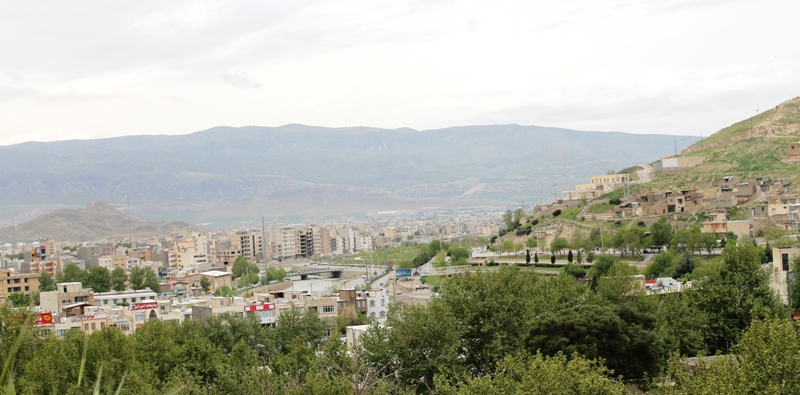 What comes from the heart reaches the heart
Both Elham and Mahza didn't speak English and so did their family that I was going to stay with.  I never stay with a family or friend whose native  language I didn't master. But, Ali made sure that I would not have any issue because he was ready to be a remote interpreter anytime.
In the car, Mahza who sat next to me giggled a lot. She  talked with Elham who was driving the car. I could see that Mahza felt funny since she wanted to express many things in words with me but she couldn't. On the front seat next to Elham was a small boy, he  was probably Ali's nephew.
It was my second time to meet with Elham and Mahza in person, but it was my very first time to meet Ali's family, his mother and father.  I never asked Ali how many sisters and brothers he had. As I considered him my brother and he considered me his sister,  so that thing was not really important.  Ali told me several times that without his presence at his house in Khorramabad, his family would surely take care of me. I was excited with what I would experience. I would challenge myself that language barrier would enrich my experience rather than ruin it.
Arriving at Ali's home, his  mother welcomed me wholeheartedly, other than his two sisters, Ali also had a younger brother, and an elder sister who was married and had one son who joined in the car. Her elder sister  lived separately with her family in another house.  I introduced myself with my nickname which was easier to pronounce and remember. 
I was doubtful to take out my headscarf. Seeing I was hot,  Ali's mother said something with a gesture that clearly meant I could take off my headscarf and my outer blouse. In Iran, women are required to cover their heads in public places, but not in private places, there was no obligation.   Shortly, Ali's father came in. I greeted him and introduced myself.  
I spoke again with Ali on the phone. He welcomed me to his house. It was really a pity that I could not meet him in person.  He told me that after dinner, his family would take me to a park in Khorramabad. And as I arrived on a long weekend, his father would take me to see the Winter Palace of Darius the Great  in Shoush,  in Khuzestan Province.  Earlier I discussed with Ali places of interest I could see in and around Khorramabad. He said that his family had taken care of the program for me. After that call, in fact,  I only called him  once when I had an issue with my flight back to Tehran. I just sent him some messages when I wanted to say technical matters to his family. In my entire stay with his family, I found out that I didn't have any problem communicating with his family. What comes from the heart reaches the heart.
While I was talking on the phone. Ali's younger brother and Elham were starting to prepare kebabs. They were going to grill the meat. The way they grilled the meat was unique. Indonesia's food also had grilled meat but it was cooked in a different way. The family was preparing a welcome dinner for me.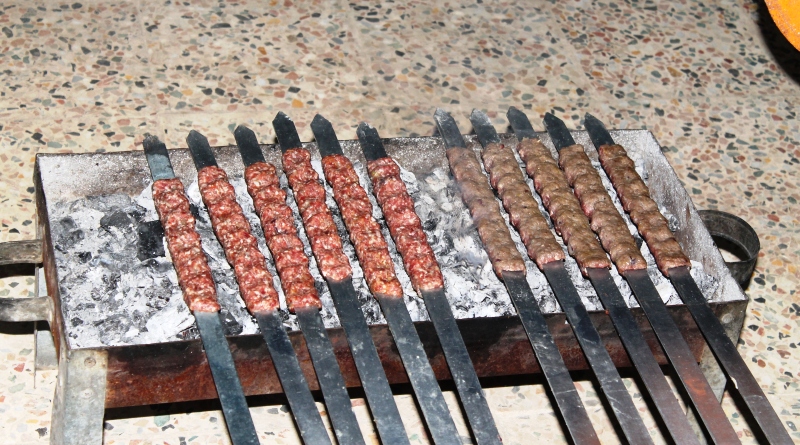 Ali's mother showed me my room.   I stayed in Ali's room, it was neat and simple. His mother kept talking in Farsi, though I didn't understand the words but  I could catch her message. That was funny. I opened up my luggage and took out small gifts for the family. I was sorry that  I didn't anticipate other extended family members. 
Except Ali's mother and father, the others were busy preparing dinner. The food was served on a thin plastic sheet: the rice with saffron, bread, kebab, yoghurt, salat and pickles. They called pickles achar, the same word that we called it in Indonesia.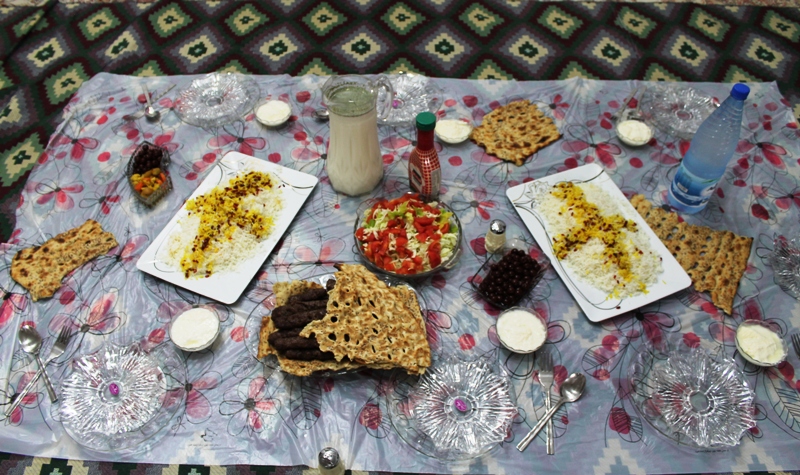 I didn't have real lunch, so I really enjoyed the dinner. It was delicious and it was fun to eat together with a complete family.
The family was very efficient, they already made the plan. Not long after dinner,  we drove to the park.  They brought with them all necessities for a picnic.   It looked like they were used with it. Ali's father didn't come with us.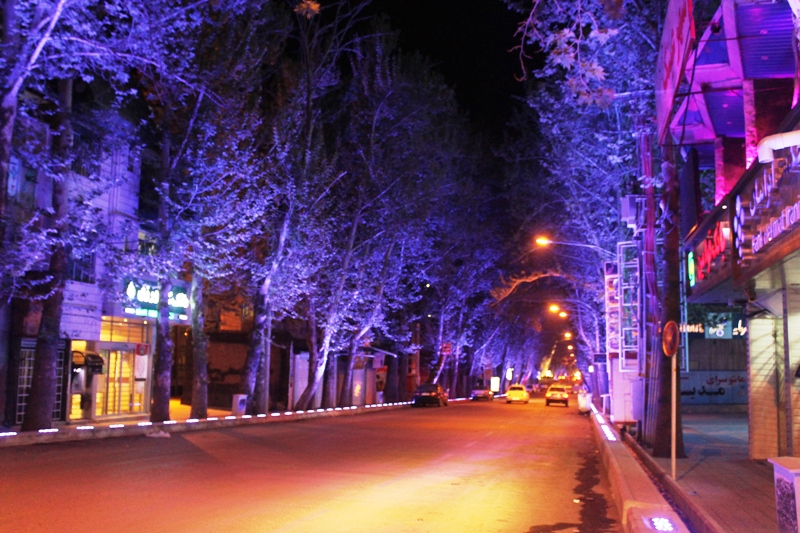 Keeyow Lake
The main attraction of the city,  our destination tonite,  is Keeyow Lake in the northwest of Khorramabad. Any city in the world gives a distinct impression between day and night. And I first navigated Khorramabad  at night. It was a long weekend in Iran and the city was alive. We passed by the city's main street that was lit with colorful lamps. It was pretty. We stopped by to take some photos. Khorramabad was rich in water resources.  Ali's brother told me that the water on the ditches on both sides of the street came from natural spring water.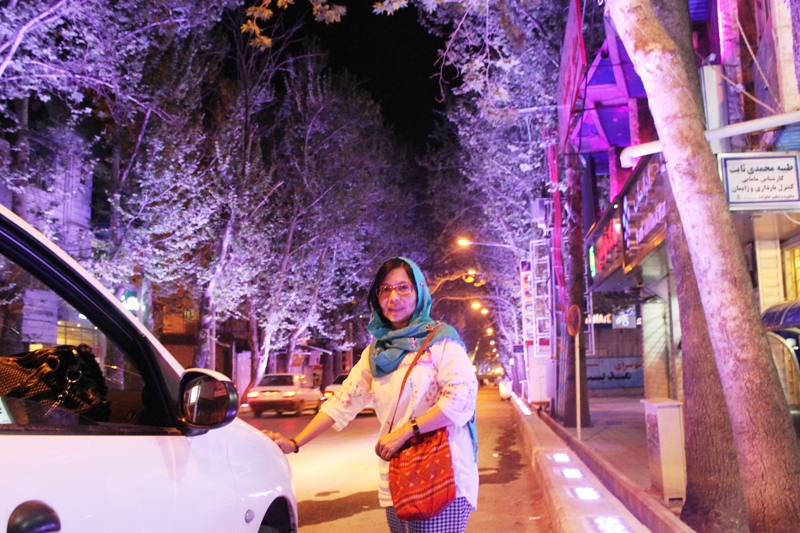 Keeyow Lake is a recreational center for people of Khorramabad. The road  by the lake was quite full with cars of the visitors as  we arrived.  There were many people  who came with family to the site. They had  the same  intention: having a picnic. It was my first time to join a real picnic with an Iranian family. It was exciting. And picnics for Iranians could be serious. Some of them brought stuff for grilling, stereo music players, their own chairs, and the chilly weather didn't seem to matter to them.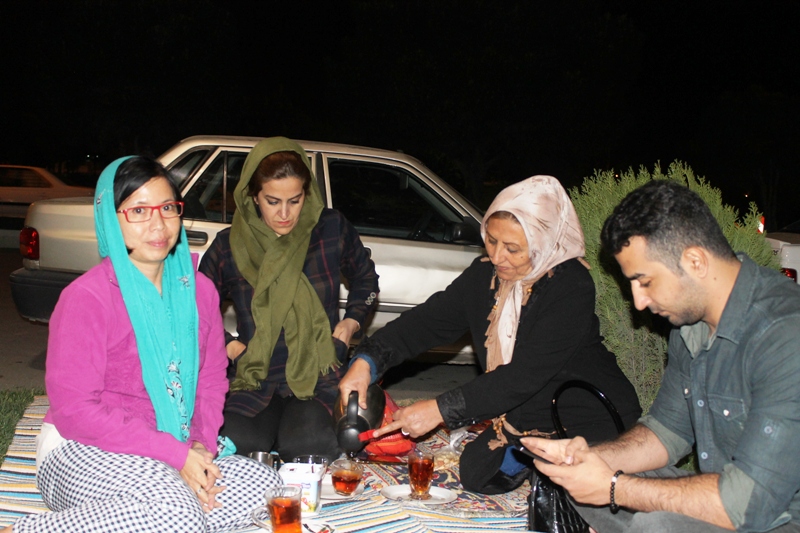 After finding a good site, Ali's brother parked  the car. On the grass, we rolled out the mat and Elham started to arrange glasses for tea and some snacks. I was amazed at how prepared they were with the picnic thing.  We sipped the hot teas and enjoyed the breeze. On both of our sides, there were other families as well.  It was pretty occupied. And people kept coming. It was not only family but also groups of friends who wanted to enjoy the night by Keeyow Lake.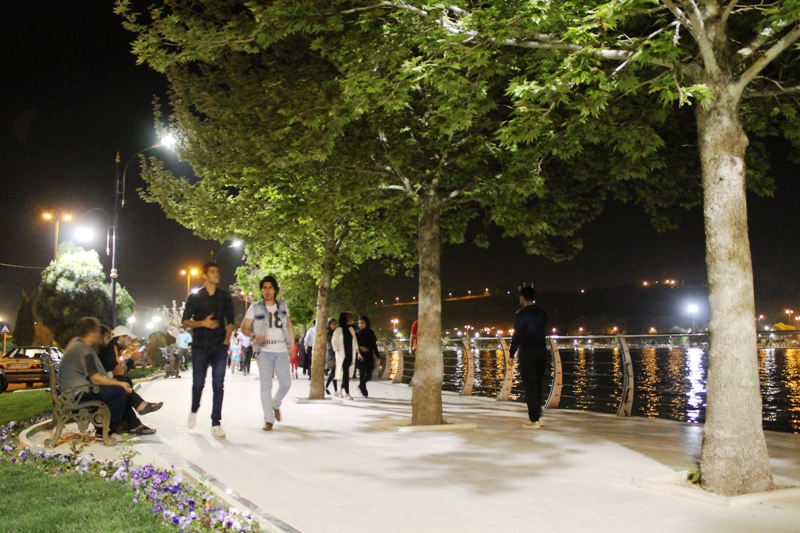 Keeyow Lake covers an area of seven hectare and it is 3-7-meter depth. In Luri dialect, keeyow means clear. The water comes from the springs in a nearby mountain, Makhmal Kuh. The elongated lake was separated from the promenade that surrounded it with a fence. "Let's take a walk, Iji," said Mahza. Accompanied by Mahza and Ali's brother, we strolled the well-tended  and clean promenade that encircled Keeyow Lake.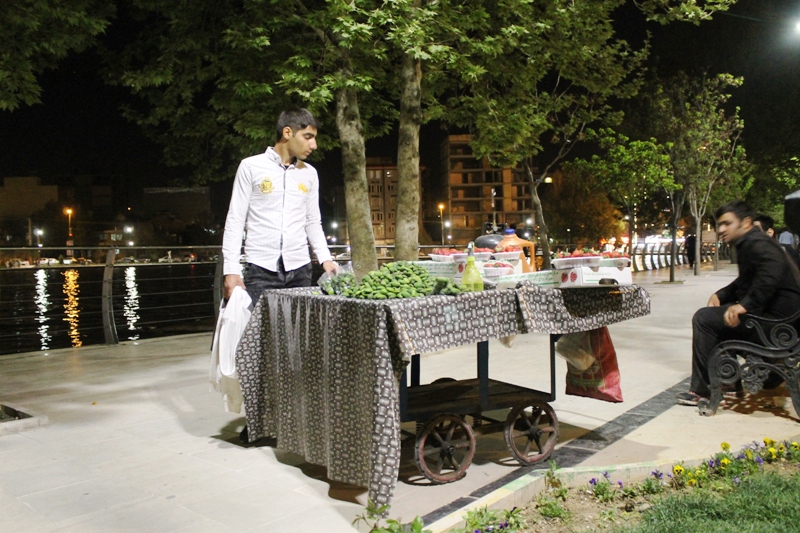 Banks were provided in some spots on the promenade.  The promenade was wide enough to occupy the walkers, cyclists and joggers. Visitors who didn't bring food didn't have to worry as there were some street vendors too.  Some families looked like they were having a party. They played blasting local music from their car. Everyone seemed to hang out by the lake.  Small boats to explore were also available for some fee.  Since the lake is situated on the hill, I could see the skyline of Khorramabad from the promenade on Keeyow Lake.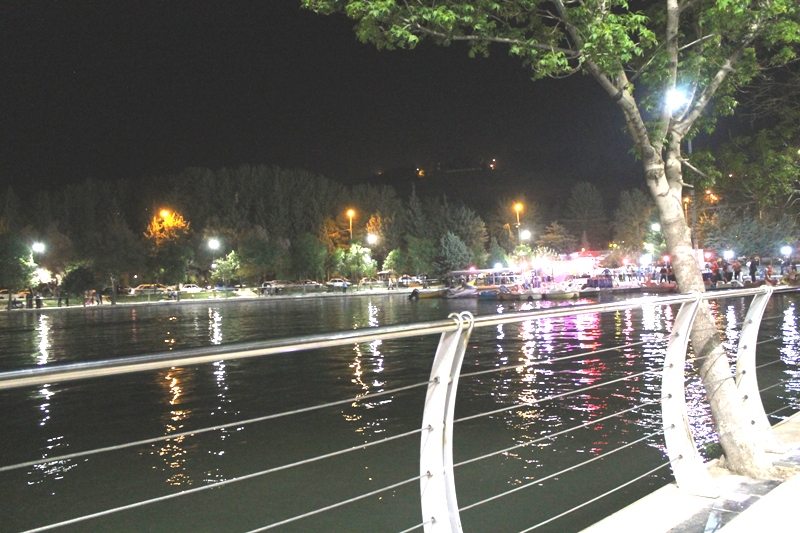 While walking some small children greeted me with "Hello".  It was good to see how the locals enjoyed their time and I felt a joyful atmosphere. Mahza's phone rang, it was from the mother. "Mother and Elham were already wrapped up. It was getting cold" Mahza said. As we walked slowly it took almost one hour to finish walking  the surrounding promenade.
It was really an amusing night, witnessing a normal local life in an Iranian city. We went back home. It was late already. Next day, the family would take me to Shoush, a small city in Khuzestan, the neighboring province of Lorestan. Khuzestan Province borders directly with Iraq. I was really looking forward to traveling to Shoush. 
To be continued