After exploring in and around Al Hamidiyah Souq, we were looking for a refreshment. I saw an ice cream parlor Bakdash that was crowded by people. It was hard to enter as the door was blocked by people who queued to order and buy.
Inside there were tables and chairs for customers who wanted to dine.  All tables were fully occupied. This ice cream parlor specialized in ice cream that is popularly called bakdash, a first-rate ice cream topped with pistachio of Damascus.
The parlor was not fancy. It looked old fashion with many framed photos put on the wall telling the journey of this parlor since the beginning. Muhammad Hamdi Bakdash opened the ice cream parlor  in Al Hamidiyah Souq in 1895 from where the name of this special ice cream was adopted. He developed the recipe and the method to make it.
Bakdash is not an ordinary ice cream parlor, it keeps historical value. When it was opened, Syria was under the  rule  of Ottoman Empire, it was the place where  the Ottoman officials enjoyed their ice cream. The King Faisal of Iraq and Syria came here in 1918 to try the ice cream as well as Lawrence the Arabia. When the Ottoman Empire collapsed and French occupied Syria, the business has kept continuing. Even today, when Syrian economy collapsed and war is on the brink, people still come to eat bakdash.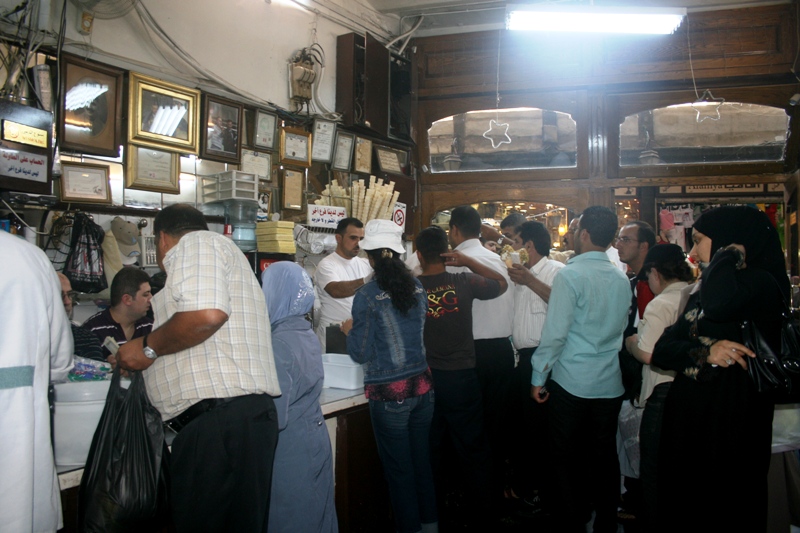 Bakdash is made of  a mix of confection of milk and heavy cream, mastic–an aromatic from resin tree, and sahlab–flour ground from tuber of orchid. It is traditionally made. The frozen confection of milk and heavy cream was pounded manually with long handled mallets. Visitors could see how they pound this confection with hand.
Three people, two men and a young boy were pounding the confection that is as white as the snow.  They have been using the method for hundred of years. The process was open for public to see.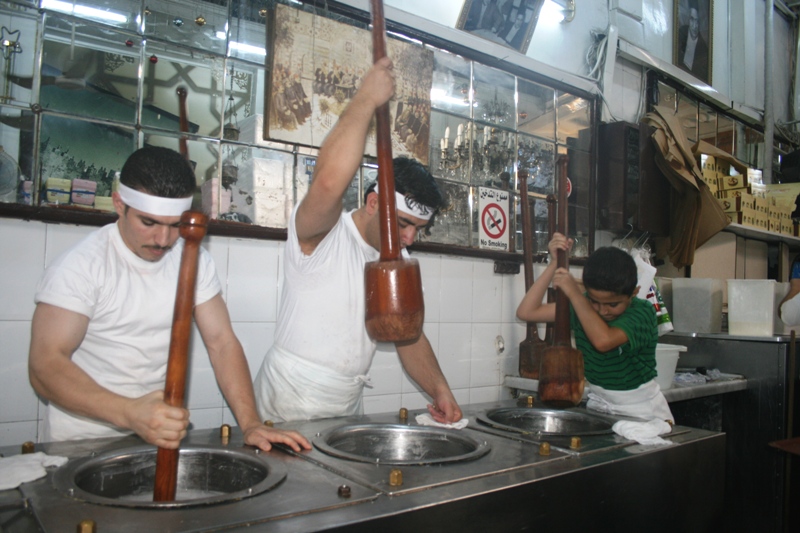 Bakdash is served in cone or bowl and when I saw the attendant carrying the bowls on the tray, my mouth was watered. It was so tempting. Despite so many visitors came in to buy, the service was quite quick. We waited around 10 minutes to get our high cone of ice cream.
How was the taste? Heaven! I have tried different best ice cream but Bakdash Damascus is the best of its own. It was so soft and exceptionally delicious on my palate. Those who have tasted Bakdash Damascus will have second look in other ice cream. I must say that Bakdash Damascus is the best ice cream in the world. No wonder they still serve 15,000 customers per day.